One of my End of Year Resolutions was to go to Yoga once a week. I have been putting it off because yoga takes so long! 90 minute classes plus driving to and from the studio – it feels like it takes all day.
That, and Yoga scares me. I think yoga is difficult and I hate feeling frustrated during what is supposed to be a relaxing time.
But, I set a goal and I was determined to achieve it. So, I went to yoga. After class I rewarded myself with a tea from Cha for Tea – I missed my studio and this tea place so much!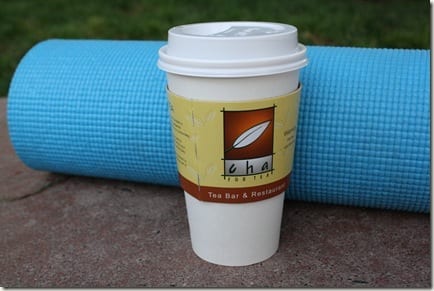 I always feel better after yoga and am glad I went. I need to remind myself – Yoga is good!
I fueled up for yoga with a huge salad and an english muffin with butter, stevia and cinnamon.
Right before yoga I had an apple and some grapes, but that didn't stop me from dreaming about dinner. I don't feel bad about thinking about food on runs, but during yoga felt kinda wrong.
I was craving PIZZA and was determined to get my hands on some.
I tried to get Ben to take me out, but he wanted to stay in. My pizza mission would not be stopped and I stopped at TJ's for some dough. So.Good.
Pizza is my favorite food.
I also picked up these Dark Chocolate Lacy Almond Cookies from Trader Joes. These cookies are insanely good. Like, Ben was moaning as he ate them. Don't buy them if eating a whole container of cookies in one night is something you'd like to avoid.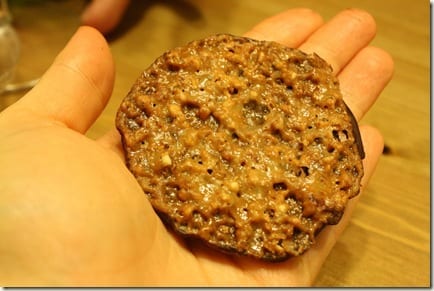 Tomorrow morning is my last weekend run before the mary. I wish I was running the  Chicago Marathon with my blog friends this weekend!
Good luck to anyone running Chicago! I'm going to be following along via text messages and I can't wait! Wish I was there!!
I had the best appointment with Evelyn Tribole today, but I am trying to cuddle with Ben and watch a tragic old movie that I don't want to admit to right now.
Question: Is there an exercise or class you avoid because it's difficult for you?