Since I've been coaching Ben to his first 5K I've been getting a lot of questions about Couch to 5K for new runners. Here are some tips if you are wondering where to start?
You start right here
Lace up your shoes and get ready to run!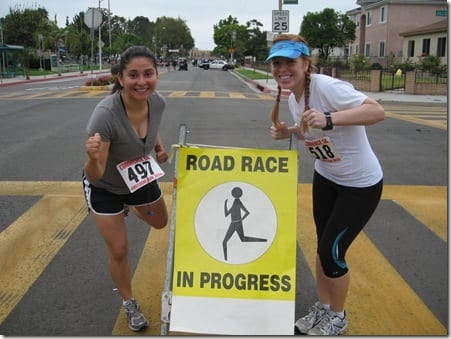 What is it? A 5K race is 3.1 miles. It is the most common short distance road race and very popular. Most runners who go on to do longer races start here.
People of all ages and abilities complete 5K races. If you don't believe me, go watch a local 5K – you'll be pleasantly surprised that you can jump right in with that crowd and be a runner too!
Training: There are a ton of "Couch to 5K" or "C25K" training programs online.
Here is the Cool Running C25K program.
Here is the From Couch to 5K site.
These programs use the Walk/Run method where you walk x minutes and then run x minutes. It's a great way to start.
The program you choose should be based on your current ability and goals. If you do not currently run at all then I would suggest picking a reputable program and sticking with it. As training goes on you may  be tempted to challenge yourself and do more, but for your first race I say stick with a program that has been proven to work.
Most of these programs call for you to run 3 days a week. Yes, that is plenty of training to get you to the finish line.
If you are in shape and want to do more you can add cross training or strength exercises on a couple of the days you don't run. Just be sure to take Rest Days every week. Rest days help prevent physical and mental fatigue. Trust.
As with anything else, you should consult a doctor before starting a new exercise program. Safety first.
Running Clothes: What do I wear to run?
Well, you can wear whatever you want. Even this…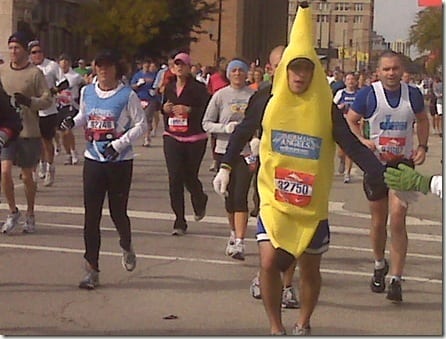 (source)
But, you should try and stick with comfortable sweat wicking fabrics to avoid chafing.
Shoes are the most important part of your gear. If you are prone to injury or have the cash to spend on a good pair of running shoes I suggest going to a Running specific store and getting properly fitted and the correct shoe for your type.
Other Running Gear: If you've been paying attention to other runners or running blogs you know that runners LOVE their gear. There's everything from the high tech stuff like – heart rate monitors, GPS watches, ipods, magic shoes  to the usual suspects like hand-held water bottles and visors – you  name it we go it.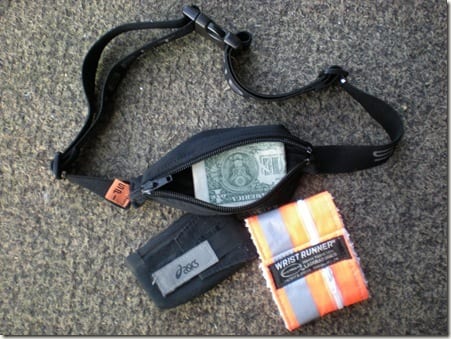 But, what do you NEED?
Well, you don't NEED any of it. The great thing about running is you just need to lace up your shoes and go!
But if you WANT any of that fancy gear I would suggest running for a while to be aware of exactly you gotta have and then reading reviews and shopping around.
Running can be as expensive or as cheap as you make it.
Fueling: You don't need to eat Gu or other energy foods during training or racing for a 5K. But you should make sure to be properly fueled for your training and refuel after.
Everyone is different in terms of what their body can handle before and after a run, so you have to figure out what is best for your belly.
The suggested post-run meal / snack is a ratio of carbs to protein 4:1.
Sign Up: There are many online resources for finding races. Most of the "big" races are available online at Active.com. You can also find about smaller local races in your city's newspaper or through area running groups.
The smaller races are often cheaper and less hectic in terms of crowds, so that might be a good place to start casually.
Tips for your First 5K Race Day:
1. Get your gear ready the night before. Lay out your clothes, breakfast, sunblock and anything else you need.
2. Look up directions and know where you're going, where to park and where the START is located.
3. Get there early on race day and get in the Porta Potty line. Even if you don't have to go, try.
4. Have fun! Running is a hobby, it's supposed to be fun. You're not getting paid to run, so enjoy it.
Last thoughts: You don't have to run to be fit or happy or healthy or cool.  Most of my friends do not run and they're some of my favorite people in the world
  These are just some tips I put together because I get a lot of questions about starting out.
Just like some bloggers eat meat, are vegan, hate swimming, eat raw, drink iced coffee, don't touch caffeine, do yoga… We are all different. And that's okay. Do your own thing because it's the only way you'll make yourself happy.
Question: Do you have any tips for first time 5k-ers?