So, I just randomly ran 10 miles this morning. I know it's not that big a deal since I just ran 15 miles this weekend, but it was unplanned and I never run that long during the week! Long runs are like going out to me, I always think "I can't do that on a weeknight (or day as the case may be)".
I realized that I am going to miss my scheduled long run this weekend when I'm in Boston. I will be doing a 10 mile race, but was supposed to do 16 miles on Saturday. I figure 10 and 10 equals 16 in some twisted way? No? Oh well.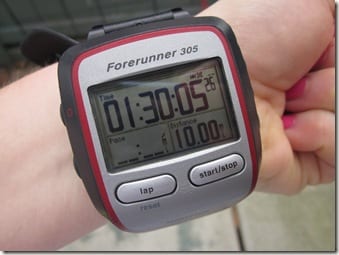 Post-run I went straight to the kitchen for FOOD! I wasn't sure how much I was going to run so I didn't bring any gatorade or gels. I needed refuel fast! I was lucky there are 2 water fountains on my route, but that definitely wasn't enough and I was a chugging champion when I got back.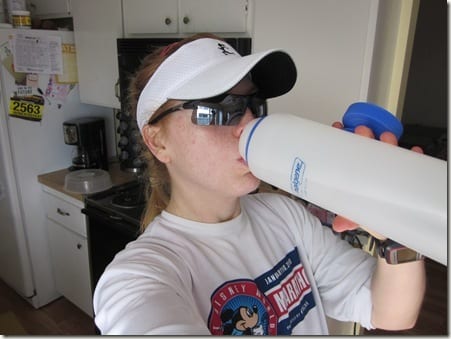 I made an open faced egg sandwich with laughing cow cheese the other side had butter, a sprinkle of splenda and cinnamon.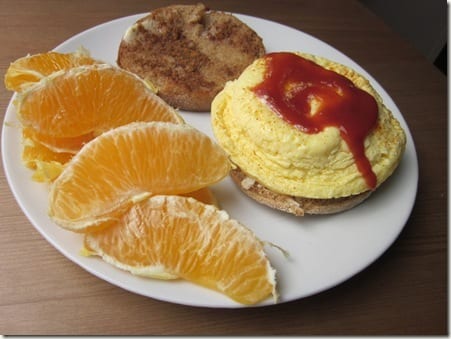 I ended up going back for another piece of bread with PB after this was gone in 3 seconds.
I am going to Boston tonight! Tina, Chandra and I will be running a 10 mile race on Sunday. But this means I'll be running in the cold again!!! If you're new to RER I had to run in the cold last winter when I lived in Maryland for a year.
I never enjoyed running in the cold, but I was training for the Disney Marathon during a pretty tough snow season so I had to learn how to survive.
Here are my tips for Cold Weather Running:
1. Gear Up! (See below)
2. Check the Weather – I know this may be obvious to most, but coming from Southern California, I only check the weather when I hear rumors of rain which isn't often.
Be prepared to change your plans according the to weather. Be flexible with your training.
3. Join a gym and hit the treadmill. Sorry, if that's not what you want to hear but cold weather running is brutal to me.
4. Be Careful! Snow and ice and rain make sidewalks very slippery. Go slower, be overly cautious and live to run another day.
Gear Up for Running in the Cold! Make sure you start with a base layer of a sports bra (if you have boobs, even little ones like me) and a long sleeve sweat-wicking top.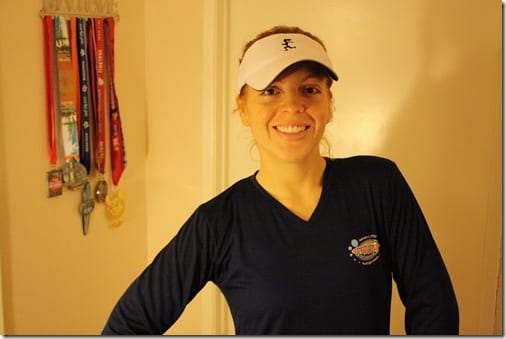 Then, pile on the rest in layers…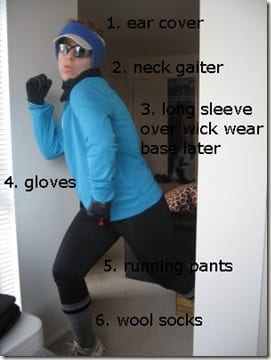 1. Ear Covers – your eyes will burn if they are left out in the cold! I got this at Old Navy a few years back.
2. Neck Gaiter – I got this at Target in MD. They don't sell stuff like this at Target in CA, so you will have to find it at a specialty store.
3. Long Sleeve Top Layer – Make this wick-wear if it's not too cold OR Waterproof if it's rainy or snowing.
4. Gloves – Nike brand from Big 5. Gloves saved my chubby little blogging fingers from falling off, but these must be quality. The cheapie dollar store ones are useless.
5. Running pants – Target, reviewed here. There are many different thicknesses you can choose from depending on how cold it's going to get.
6. Wool Socks – These were my snowboarding socks that I turned into running socks when I moved to MD. I have never seen anyone else pull wool socks over their pants, but I swear it's good (even if you look like a running fool).
When it got super cold I added a wind breaker and/or thick vest to the ensemble.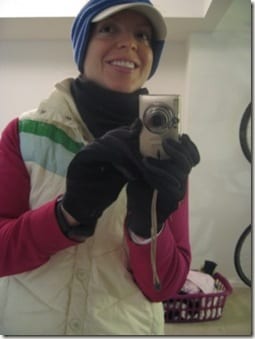 Now I must track down all this gear in the depths of my closet and pack it up for Boston! I've never been there before and am super excited!!!
See ya later
Do you have any tips for cold weather running?