Hello! So… I hurt my foot and can't run. It's sad, frustrating, scary and that's just the process of finding out what exactly the injury is! Today I'm sharing what my foot pain first felt like and how it progressed into an injury. PLUS a FREE printable planner for injured runners (get it below).
This is a timeline of when my foot started to ache, my run after that and the progression to a full blown injury. Then, I'm limping ya through what I did right away – RICE, Urgent Care, my doctor's appointment and physical therapy. I'm trying to figure out if it's tendonitis or a stress fracture.
My Foot Injury Update Video: 
And because I've received so many comments and questions asking me how to survive NOT RUNNING…
I'm sharing a FREE printable pdf where you can plan how to stay active when you can't run.
Print it out and actually write in the answers.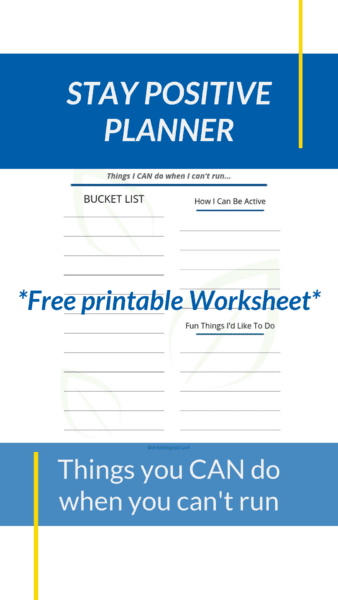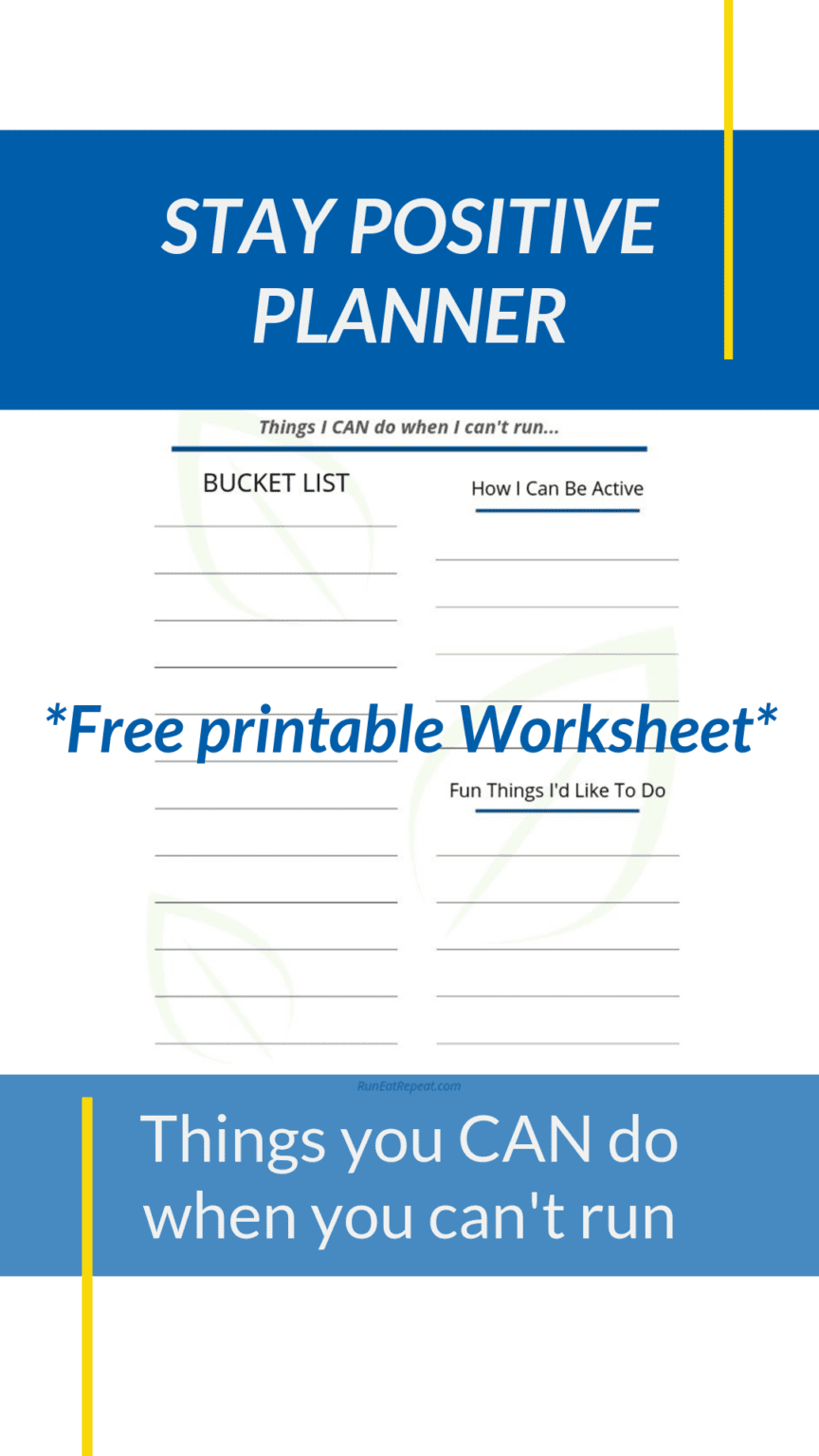 Tips for Injured Runners
It's really hard to stay positive when you get a diagnosis that keeps you from running for 6 to 8 weeks. It sucks! So you have to fight against that by focusing on what you can do. You may seek Cary physical therapy services to find out how you can recover more quickly.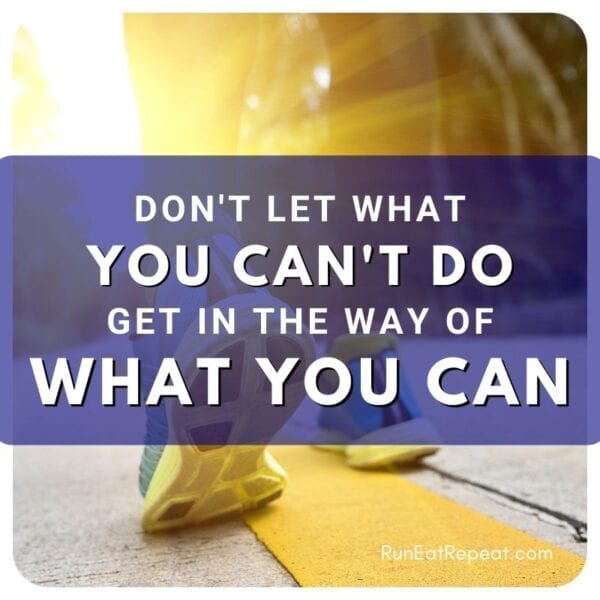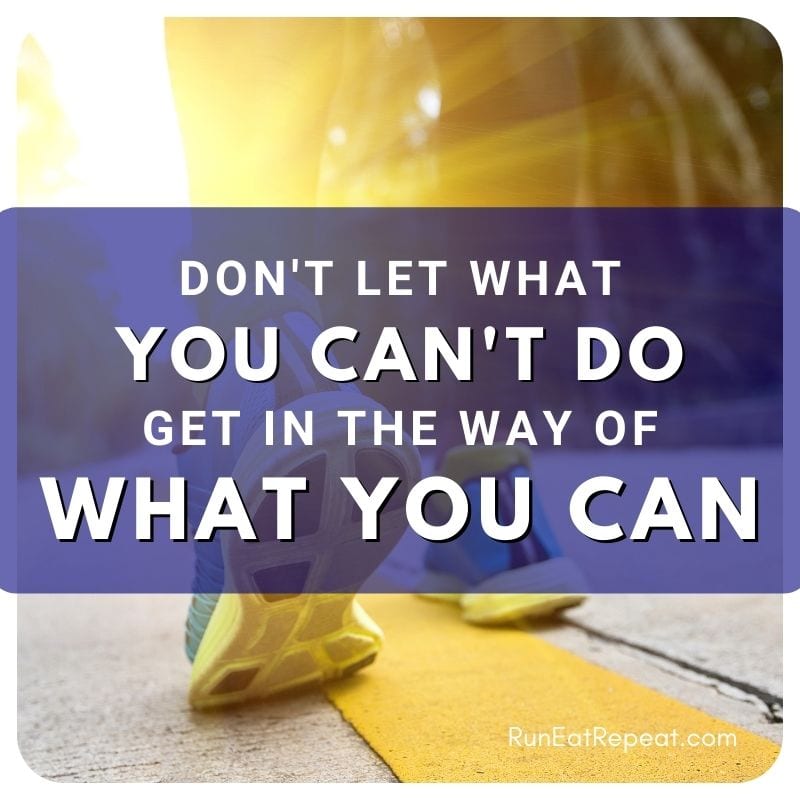 If you can't run – yeah it sucks. But what can you do? Focus on the activities your doctor cleared you to do. Make a bucket list! If you already have one – pick a few things to cross off!
Get outside of your bubble and spend time with people you care about. Volunteer. Learn something new!
What To DO When You Can't Run – Planner & Ideas
Bucket List:
Make your bucket list (a list of things you want to do before you die).  Then, pick something to do and cross it off the list!
Workouts I Can Do:
Make a list of exercises, workout classes, ways to be active that you are okay to do. If you didn't ask your doctor what you can do – write down some ideas and then contact them to be sure you're cleared for those workouts.
Note: Be sure they are all things your doctor has approved so you don't hurt yourself again, make it worse or prolong healing time. Safety first. Remember your long term goal is to get back to running strong and healthy.
Things To Do Just For Fun:
Make a list of fun things you'd like to do! Brainstorm all the interesting things you might want to see/do/learn about/watch/try/etc.
Things to think about to create your list…
What are your non-running interests?
Are there local museums or points of interest you've never seen? Be a tourist in your town!
Are there people in your life you'd like to spend more time with? Make plans with them.
What other hobbies interest you?
Is there an area of your life you've been wanting to work on?
What do you want to learn? Is there a class you can take?
Travel! Visit someone out of town. Go somewhere you love or somewhere new.
Foot Injury Posts:
Foot Injury Info for Runners with Top of Foot Pain
What You Can Do If You're Injured and Can't Run Podcast 
Check out Training Plans, Recipes and Life Updates on RunEatRepeat.com 
For more fun Follow @RunEatRepeat on Instagram and join the closed Run Eat Repeat Facebook Group to connect with other runners and eaters! Thanks!
Discounts & Deals Alerts
Subscribe to get updates on new discounts, coupon codes and deals from Run Eat Repeat.com