Hello! I have a new half marathon training plan plus a few tips and reminders for half marathon training and race day. The schedule is an intermediate level plan with a day of stretch training and a day of stretching. It's about 10 weeks long so if you start this week you can be ready to run the Lexus Lace Up Half Marathon in December (use discount code RER10 when you register).
Check out the notes below to make sure you're ready to train for a half right now. And let me know if you have any questions!
Leave it in the comments, email [email protected] or ask me on Instagram – @RunEatRepeat !!
There are a lot of races and fun runs coming up! If you have a goal to run a half marathon – get specific on your goal (timeline, race, goal for that race, etc), make a plan and go for it!
This half marathon training plan is 10 weeks long with the race on Sunday of the 11th week. Change it to meet your needs.
Before starting this plan you should be regularly running 4 to 5 days a week, able to run about 5 miles, free from injury and have the time to dedicate to your training. Always consult your doctor and any relevant medical professionals before starting this or any other exercise or diet plan.
Half Marathon Training Plan – 10 week schedule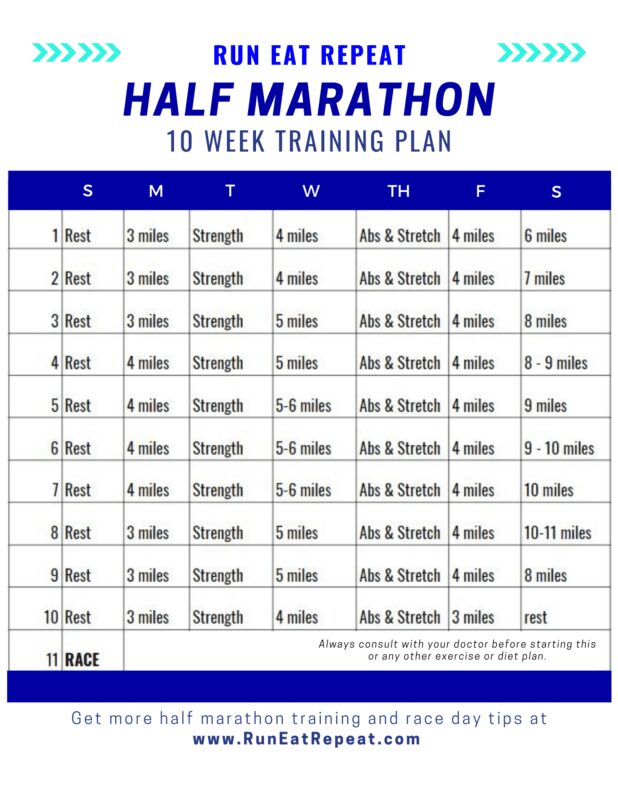 Want more guidance with a 12 Week Running and Strength & Conditioning Plan?
Half Marathon Training Plan Notes:
This training plan doesn't have specific speed work. If you are going for a PR or want to run a sub 2 hour half marathon or have some other time goal – you might want to find a plan specifically for a certain time goal or change this plan to prepare you for that.
For the strength training days – If you already do strength training regularly I'd suggest continuing your current strength program on the appropriate days.
If you are new to strength training – focus on body weight exercises and do full body strength session or alternate upper body / lower body / abs. Be very careful when you are increasing activity and listen to your body. This should be helping your running and fitness – it should work as a compliment to the cardio portion of the plan.
Training Log / Journal:
Use a training log to track your progress, set-backs and anything else that can help you learn about what's working and what might not be working. You can do this in a notebook, app on your phone, excel spreadsheet, etc.
How a run or workout went & anything noteworthy about it. Ex. heavy legs, great runs, weather, dehydration, fatigue, stomach issues, random pains, etc.
Soreness or Pain – document when and specifics on body part and how intense the soreness or pain feels.
Fuel – what did you eat before? what did you eat during? Any stomach issues? Energy level? progress, set-backs, soreness, fuel & how it worked for you.
Half Marathon Tips and Reminders
Half Marathon Pace Chart – check out this pace chart to know how fast you need to run each mile to hit a certain finish time.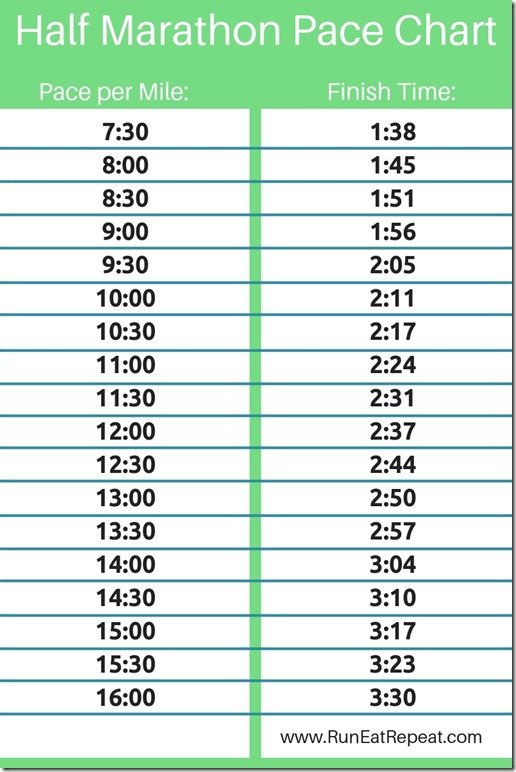 Set your Half Marathon Goal
Check out this post and podcast on Setting SMART Running Goals
How to fuel for a Half Marathon or Marathon
What to each the night before a race or long run, what to eat race morning and more!
Check out this post and podcast on What to Eat Before a Race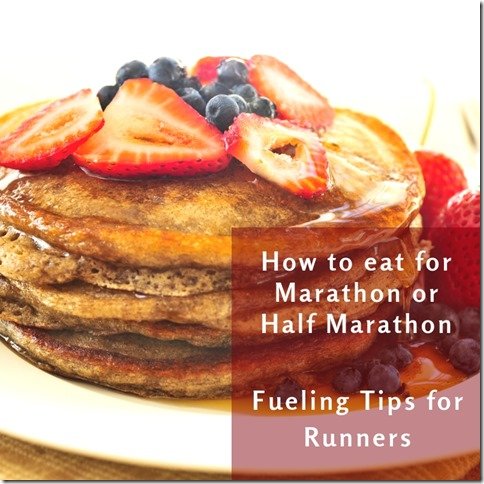 Race Day Packing List
Pin this post or save this page and make sure you have everything you need for race day.
* Get the Race Day Packing List – printable PDF here *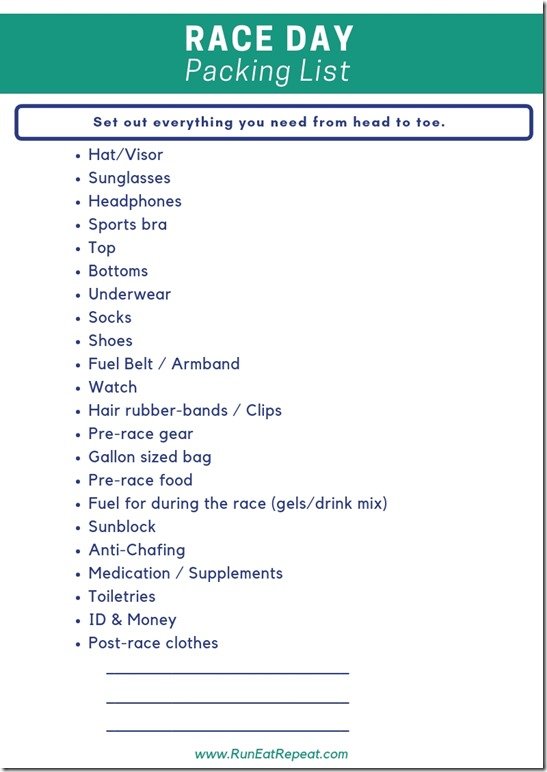 Half Marathon and Marathon Gear Must Haves
The #1 rule of running a race of any distance  is – Never do anything new on race day.
So make sure you run in all the gear you plan on wearing for the race. Eat the same things the night before and morning of the race. Pack the fuel you used in training for during the race.
I get a lot of emails and messages from runners the week of their race (sometimes the night before!) asking me what I wear for a half marathon or what fuel I eat during a marathon… but ideally you should already know what worked for you during training. Practice fueling on long runs and do a dress rehearsal with your race day gear.
I like to do the 'trial and error' for ya so you know the gear and food I recommend is my favorite! I just want to encourage you to try it during your training so you are more confident on race day. So if you need running clothes or fuel get it now, use it and figure out if it fits your needs. 
My race day must haves:
Pre-run: Iced coffee with essential aminos

toast with almond butter and banana

Spark Drink Mix (I drink it on the way to the race and after the race)
Spark stick packs are good for out of town races
O2 Gold supplement  – it's supposed to help your body's use of oxygen


Run Eat Repeat Visor

Sunglasses – 100% UV protection & glare proof

Sunblock – sports sweat-proof sunblock

Sports-bra – with adjustable straps

Sweat wicking tank

Running shorts

Pro Compression socks

Running shoes

Running Belt

Garmin GPS watch

Chapstick with SPF
Check out My Running and Race Day Favorites on the Run Eat Repeat Amazon Shop List here:
Click here for my Run Eat Repeat Amazon Idea List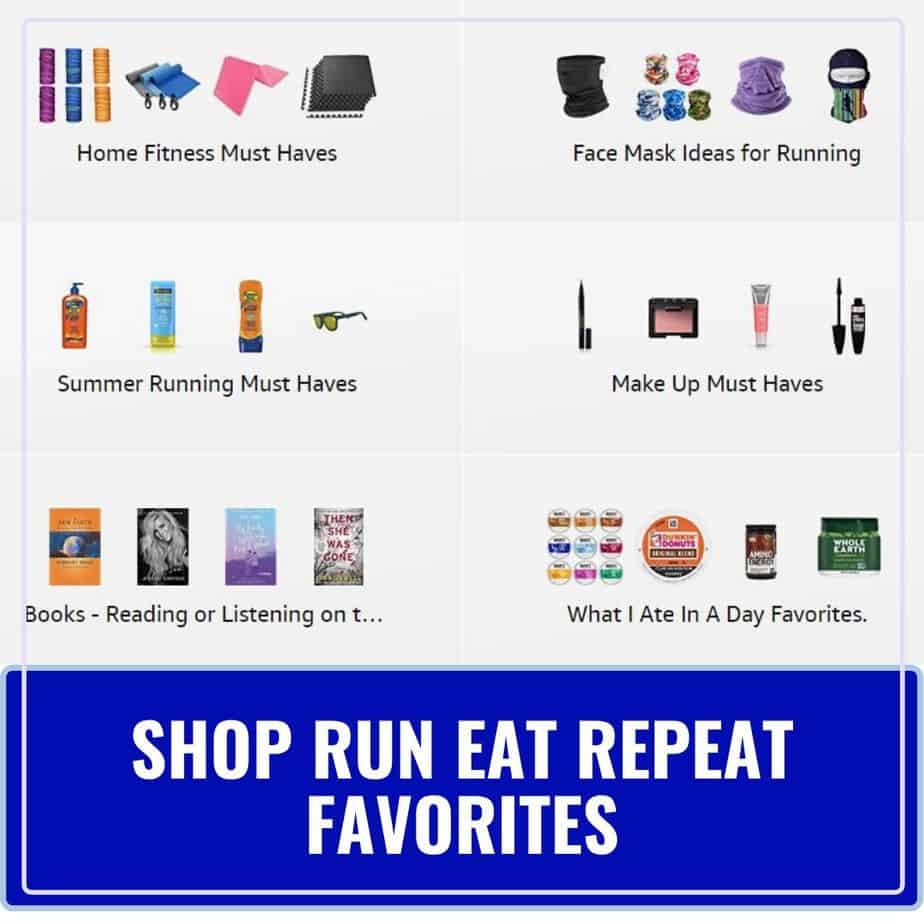 Question: What are you training for right now?
Always consult your doctor and any medical professionals you're working with before starting this or any other exercise or diet plan. Be safe and smart in all ways.
Next Steps: 
Want more guidance? Check out The Ultimate Running Plan here: