Podcast: Play in new window | Download
Subscribe: Apple Podcasts | Google Podcasts | Stitcher | RSS
Hello! Today is part 3 in the Nutrition for Runners series on the Run Eat Repeat podcast. We are talking about what to eat before, during and after your long run, marathon or half marathon to perform your best, run your fastest, finish strong and feel good.
Today I'm going to tell you exactly how I eat during a long run or marathon or half marathon. I have info below on when I fuel and my go-to gels and chews.
Warm up:
1. Giveaway for the Hot Chocolate 15k / 5k is on RunEatRepeat Instagram right now!
2. I have another half marathon coming up. If you are in the area check out the Race Discounts page!
3. S Town… So I'm very late to the S Town party … I mean, podcast! But I'm done with it.
I went in knowing it was going to be sad so I wasn't left really wanting more? I don't know…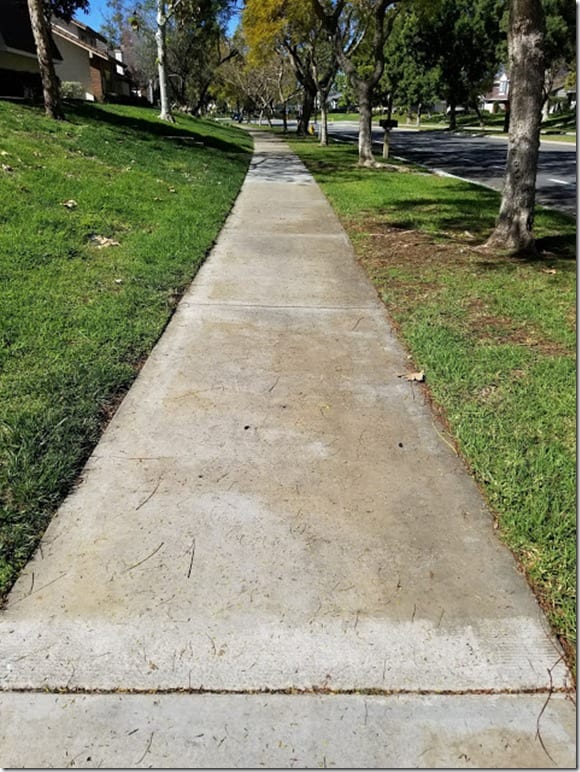 Podcast Question:
Hi Monica!
My name is Heather and I am a runner from Michigan!  I love listening to your podcast and all the great tips you give (and truly enjoy your random tangents and Vegas stories!).  I'm writing because I just signed up for my first race, and besides freaking out a little bit, was wondering if you could see about addressing some of the questions I have on the podcast?
I consider myself a beginner runner simply because I have never ran a race before, nor have I been very competitive in my running (mainly because I am super slow!).  However, I have been running 5-10k for the past 8 years or so.  I have always talked about running a half or a full marathon but have always been too afraid to sign up.  But, considering I am about to graduate medical school and start residency, in addition to getting married, I decided now was the time to pull the trigger and I signed up for a half marathon in Ann Arbor, MI on June 3!
My questions are relating to heart rate logistics and some of the runs based on "race pace."  The training plan that I am following states that certain runs should be run at specific heart rates.  For example, long runs should be run at 70-85% of your maximum HR (base on age).  My question is, if I am doing a particular run and my HR is greater than what is suggested, does that mean I'm running too fast? I usually run my "base" runs at about 80-85% of my max HR, but the plan says to only run it at 60-70%, so does that mean I need to slow down during those runs?
My other question that I was hoping you could address is "race pace."  I have never run a race before, so I don't really have a race pace, but suppose I could figure one out if I ran a 5k to see what it would be.  However, I don't really know what my goal half marathon time would be because I've never run that distance before.  Do you have any suggestions on ways to figure out what time I should shoot for for my first half marathon based off of just my regular daily run times?
Monica:
CONGRATULATIONS!!!
Yes, if your heart rate is too high you need to slow down. It could be elevated because of elevation gain too. Either way – get your heart rate to the target zone by backing off a bit.
Race pace = your goal pace … but, I don't think you should have a time goal for your first half marathon – especially if you haven't run a lot of 5ks or 10ks either. The main thing should be to finish with a big smile! Does your plan require certain runs be at 'race pace'? Or are you just curious how to pace yourself on race day?
Good luck!! Let me know if you want to touch base on specifics!
Some things to remember when planning your meals or snacks while training for a half marathon or marathon:
Race Nutrition Tips:
1. Practice your fuel plan. Eat the foods you're going to eat before race day during training.
Never do anything new on race day. So if you'll be out of town for the race – plan to bring your fuel with you or how you'll get your pre-race meal.
2. Food is fuel when you're training for a half marathon or full marathon.
Food is awesome! I don't want to take the fun out of delicious food – especially if you're a runner who loves to eat or considers themselves a foodie. But you need to remember that food is fuel for your body. If you're asking athletic things of your body you must treat it like an athlete's body and that includes what you're eating.
3. What you eat before, during and after a run all can work to help you run faster, stronger and recover better. Make sure you are working on all aspects of fueling.
How to figure out what to eat BEFORE a run:
1. How much fuel do you need?
2. When do you need to eat. Timing is important.
How much time before your run or race do you need to eat? Does your body need a lot of time to digest? Do you need to wake up super early to make and eat something? Do you need to pack a snack so you can run after work?
3. Is your body happy with this fuel before a run? Does it sit well in your stomach?
And now check out this list of 20 foods to eat before a workout and see what works for you…
20 Pre-Run Food Ideas:
Bagel with PB
Toast with PB & banana
Oatmeal topped with nut butter
Yogurt topped with granola
Avocado Toast
Granola bar
Smoothie
Orange juice and toast
Frozen waffles
Leftovers
Rice cakes with PB and banana
Rice
DIY trail mix with cereal and dried fruit
PB&J sandwich
Crackers with hummus
Overnight oats
Eggs and toast
Fruit and yogurt
Energy gels or chews
Potatoes (breakfast potatoes)
What I Eat Before a Run lately…
What I eat before a run or race changes based on the season or what I'm craving. Lately I've been having toast with PB&J or a bagel or rice cakes – it mainly depends on what I have at home.
And I drink iced coffee or Spark – – actually both before long runs!
My exact fueling foods and plan for half marathons and marathon races…
5 miles or 45 minutes into the race – Margarita Shot Blocks
10 miles or 90 minutes into the race – Margarita Shot Blocks
15 miles or 2 hours into the race – Mocha Gel
18 to 20 miles or 2.5-3 hours into a marathon – Mocha Gel or food on the course or sports drink …
I bring Margarita shot blocks and Mocha Gu for races.
Sometimes I'll use this exact plan, sometimes I'll use things on the course like drinks or chews they hand out. I usually only bring Spark in a waterbottle if it's a super hot day or I'm dehydrated or something out of the usual for me.
Try a variety pack before going all in on one flavor to see what you like…
Podcast Awards for this week:
Thank you for all the love and shout outs in Instagram and Insta Stories lately! There are some fun favorites posts people are doing and I super appreciate it!
Thank you @NatalieDutt, @Run_Riss_Run, @runandlivehappy , @Jennifer.l.theil, @alanna.rfod, @erikamaduro, @emhurlaw for mentioning Run Eat Repeat on your current favorite things list!!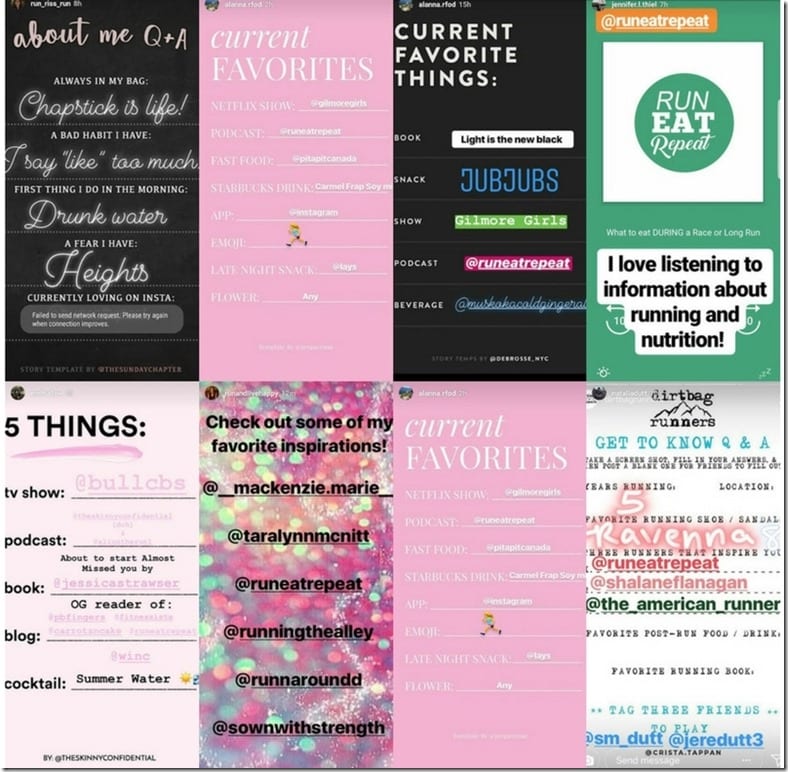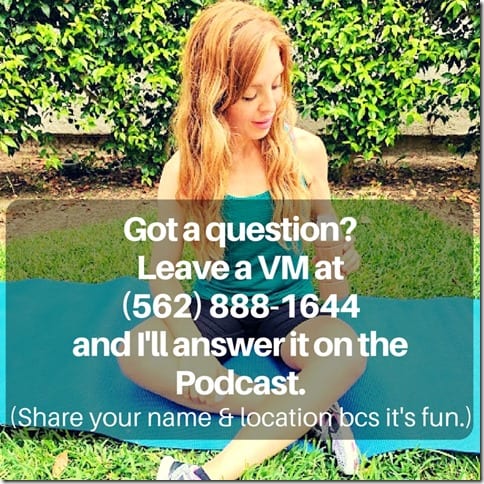 Got a question for me? Call the RER vm at 562 888 1644 or email [email protected]
Please subscribe to the show and leave a rating! Thank you!!
Check out the other episodes in this series on Runner Nutrition here…
1. How I fueled wrong for the Tustin Half Marathon
2. Carb-loading 101 and the 10-30-45 fuel strategy with Coach Steve
3. Today I'm sharing what I eat before and during a run…