Here is my Hood to Coast Relay Race Recap! But really, there is no way to truly share all the FUN and epic parts of a 199 mile relay with 11 other runners. These are the highlights/parts I remember….
(source Runner's World instagram)
I was on the Runner's World belVita Team. The team included RW and belVita employees – including the legendary Bart Yasso and um, me. Not sure how I managed to snag an invite to this party, but I am so glad I did!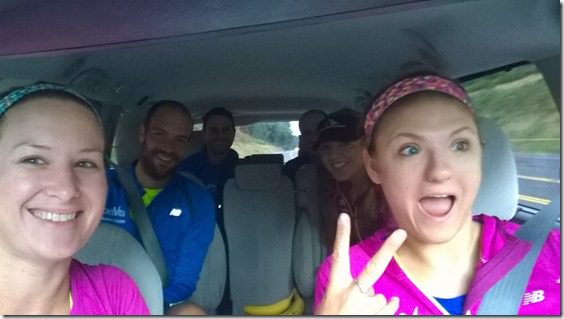 First thing in the morning we headed up to Mt. Hood. The race starts on the mountain HOOD and goes all the way to the COAST, hence the name.
I was in Van 1, runner #2. So, I was ready to run first thing since I would be going on the first hand off.
We saw our first runner start and then headed to the hand off so I could get ready.
My first leg was all downhill, which I love. I flew down the mountain thanks to gravity. I knew that I would regret going out so fast on leg 2 and 3, but I couldn't help it. I just focused on keeping my body relaxed and going with it. My pace is super fast for me and I realize that's as good as it gets so I am okay with it (even though my quads did get super tight after!).
(source Runner's World instagram)
Plus I had to show Bart Yasso I was cool enough to hang out with him! Totally worth the burn.
Leg 1 done and done – time to cross it off the list!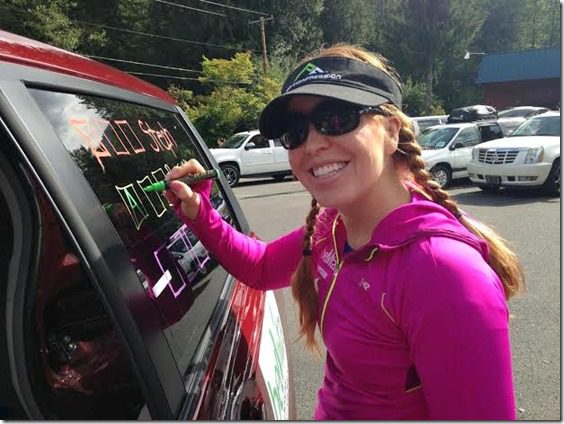 Everyone in our van killed their first leg! Laura Beachy was the last runner in our van. We handed off to Van #2 at the transition and wished them luck on their first legs.
(source Scott's instagram)
By the time we finished our first leg it was around 1pm and we were HUNGRY. We decided food before anything else and were on a mission to get fuel.
Someone spotted an Olive Garden and it was pretty much unanimous. We needed to make this happen.
We all thought going to the Olive Garden was super funny though – no one had been there in years. So, we needed to toast to the endless salad and bread-sticks.
Follow my relay team runners on instagram here… Scott, Robert, RER, Steph, Seth and Beachy
I got this Chicken Abruzzu-something or other dish and it was delicious.
From lunch we headed to Portland for a quick shower stop. Yes, you read that right – showers on a relay race??!! We had a hotel room to hold our stuff and had about a half an hour to shower leave our gross clothes and meet up with Van 2. Isn't that fancy?! #PerksofRunningwiththeBigBoys
We had some time to wait before the Van 2 back to 1 transition so we hung out, hydrated for our leg and enjoyed the fun HTC ambiance.
My second leg was fairly flat with a few rolling hills. But my legs felt pretty heavy from the first downhill leg. It was a little challenging and I didn't push it because I wanted to save something in the tank for my last DARK leg (because I was scared).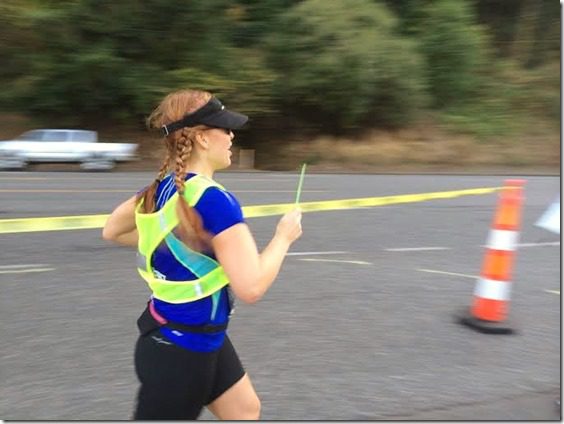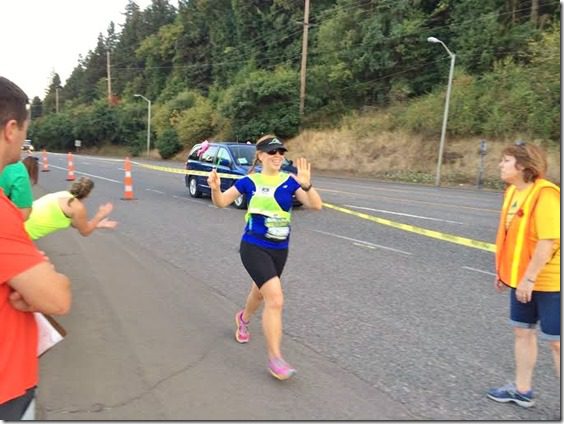 But, I did try to finish strong and when I got close I sped it up to hand off to Scott. I saw him just a little bit away and heard our team number being called out so he could be ready. He had his arm ready – we took our slap bracelet hand-off seriously – so I ran toward him and the volunteer reached out and grabbed me to stop me. They were directing traffic and I guess a car was just given the "go" and I didn't see or hear it! I had to stop for a second and then made the hand-off on the other side of the street.
And it's a good thing I didn't die because right after I was done with leg 2 I met reader Jordan! She was actually tackling 4 legs!!
Our next runners finished up their legs just as it was getting dark. I thought my second leg would be the dark one, but that's not how the time worked out this time. Both of my previous relays had me doing my second run at night.
We got our last runner, handed off to the other team and then headed to the next big transition.
Robert ready to go for his dark shift.
Check out my insta video for 15 seconds of a hand-off.
After our van was done with leg 2 we tried to get some sleep before we had to run again. I came somewhat prepared with a sleep mask and ear plugs. Except I should have brought a heavier jacket because I was freezing.
I'm pretty excited that I did get a little tiny bit of sleep – probably about a 40 minute power nap.
But it was quickly our turn to run again. I didn't want to get out of the car because it was so cold and dark so I talked myself up and rallied.
I told everyone about my first night leg experience and how scared I was to run in the dark. Robert suggested I find someone to run with so as soon as I got the bracelet I took off to catch up with someone. A guy ended up coming up behind me and handing me my blinker that fell off and running ahead. So, I tried (desperately) to stay with him. I heard the miles tick off on my Garmin (but I couldn't see it at all in the dark of night) 3 times. Finally I had to just fall behind (I kinda think he was pushing it so I couldn't pass him but I just wanted a friend!). I found someone else and it turns out she was in my favorite van name.
She had to walk so I kept going. But I was terrified. I glanced back once to see if anyone was coming up behind me so I could slow to run with them but that was even scarier to just see pitch black behind you.
Moral of the story: Don't look at where you've been, just keep going. #ThatsDeep
I finished!!! I just kept thinking "Chase your fears" and I did it.
I was so glad it was over!!! You don't even know.
After my leg we stopped at a high school to get coffee. I changed there and got eggs. It was delicious – especially since we hadn't eaten a real meal since yesterday at lunch and it was about 5am at this point.
Steph scored pancakes from another quick stop.
From there I happily enjoyed cheering for my other team members. I had the hard part done and could just enjoy the rest of the relay!!!
I guess there was a team of red heads running! I spotted this van decorated with pro red head cheers. Boom.
When the last runner of our van was done we high-fived the other team and saw our other van off!
I tried one of the soft baked belVita breakfast biscuits in the van too. Have you tried these? I only had the hard ones that come 3 to a pack before. Rumor has it the banana bread flavor is the best.
Pro tip: Put some Nutella on a crunchy belVita and your taste buds will thank you.
There are a few transitions with places for people to sleep. One of them even had a whole tent city! This was our last hand-off and I just took a peek.
Done and tired and headed to the coast!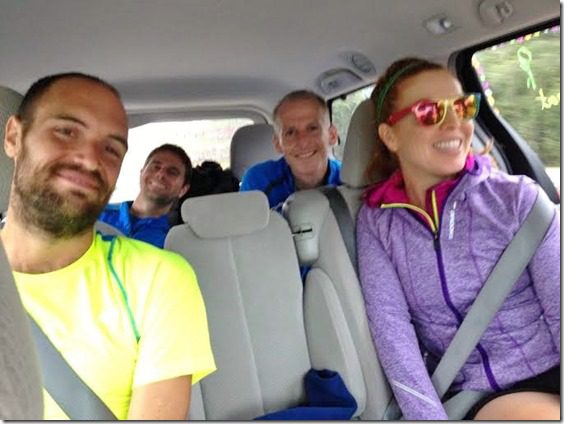 The victory lap!
Since our van was done and had a lot of time before van 2 would be at the finish line we found a diner for breakfast. It was amazing.
And about an hour later we were at the beach! We made it and waited for our teammates to get there.
The Runner's World belVita team crossed the finish together! We did it!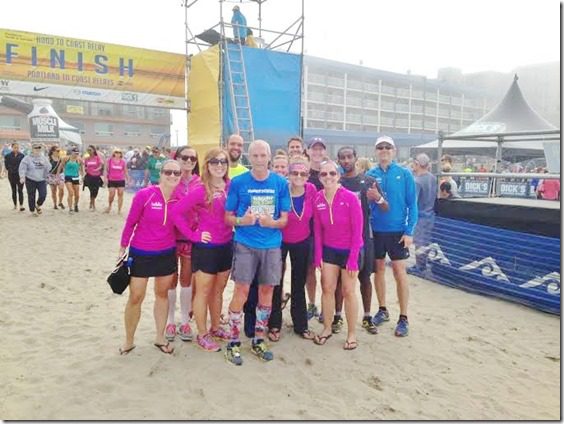 Bart Yasso was our anchor and ran the last leg. He crossed the finish and led us to the beach to get in the water. Ice bath!
I had so so so much fun! It is awesome how running and living in a van together for 24 hours can bring people together!! I consider all my teammates friends now. "We can't stop!!!" <- not a motivational phrase, an inside joke.
Thank you to Runner's World, belVita and the awesome people who put up with me for the last 48 hours!
Question: What was the best thing you ate this weekend?
Anyone run? How'd it go?