A few years ago I gave up sugar as my New Year's resolution. I wanted to lose weight and decided to go all out and just cut out all sugar from my diet. I read every nutrition label. I turned down dessert. I ate fruit instead of chocolate. I didn't eat my favorite cereal. I completely eliminated all sweets from my life. I avoided dressings and sauces with a lot of added sugar. I was obsessed.
Looking back on that now it sounds a little sad.
But I thought cold turkey was the way to go. I don't know what I thought the long term plan was, but I knew I needed to lose 20 pounds and knew not eating sugar would help me get to my goal weight.
I did great! When I did need a treat I found an alternative to white sugar. I created dessert out of the foods that were 'okay' (as defined by me). I was the first person I knew that was actually sticking to a hard New Year's resolution. No one sticks to their resolution, right? Well, I was.
I had given up sugar successfully! But it wasn't all smooth sailing.
Even though my body was probably not as addicted to sugar as before, I still craved it months later. I missed treats. I missed having dessert. I wanted a bite of cake!
I stayed strong and tried hard to stick to my resolution.
It was around this time of year when things changed… on Easter of that year my boyfriend's mom gave me an Easter basket filled with candy and goodies. I had dinner with his family. Then, he dropped me off at home with my basket of happiness.
All of the months of restriction and denial had built up and I didn't have any willpower left. Everything came crashing down as I ate every single piece of candy in the basket alone in my room that night. I made myself sick. I couldn't stop. The 'all or nothing' attitude toward sugar took me from nothing to ALL THE THINGS in one day.
I completely fell off the wagon and found myself in Binge City, population 1.
Ugh. I was so disappointed and mad at myself for failing. I had given up. I could not deny myself anymore. Every single little drop of my willpower had been used up in those previous three months.
I've actually heard willpower is a limited resource and you only have a certain amount. So you shouldn't test your willpower if you don't need to. And you should set up healthy checks and balances that work for you.
Well, I used it all up that year denying myself cookies at home and cake at birthday parties and more… I still feel like I don't have as strong of willpower as I used to. Over the course of my dieting history of the past I think I've used up my whole lifetime supply.
I was reminded of this today as I was shopping for Easter treats for my family. I could have prevented that huge, pro-longed binge if I would have made smarter, more reasonable choices. It is about moderation. It is about knowing your own body, mind and your needs. Everyone is different. The all or nothing approach can lead you down a bad path. Sure for others it might be the only thing that works (as in the case of alcohol for someone with a drinking problem).  But allowing yourself to find a balance that works for you and your life is important for LONG TERM health.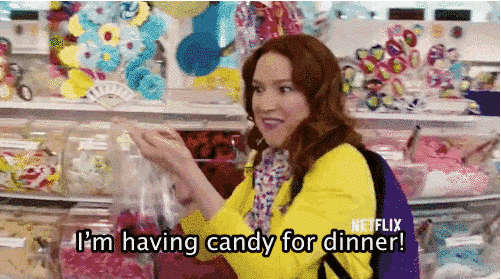 Do you. Always do you.
If you are trying to improve make sure it's coming from a place of love. Love your body and treat it kindly. Don't torture yourself with food or exercise. Allow yourself treats and love and indulgences and enough sleep and your favorite foods and anything else that's important to you.
xoxoxo