Podcast: Play in new window | Download
Subscribe: Apple Podcasts | Google Podcasts | Stitcher | RSS
Hello! This is Monica your virtual running buddy for today! I started RunEatRepeat.com about 10 years ago to document training for my first marathon and trying to lose 20 pounds. I accidentally fell in love with running and a lot of people accidentally started reading my blog. Now 30 marathons and 50 half marathons later it's my full time job and a podcast too!
Today I'm talking with Sandy Runs 26.2 all about how she hit her PR and qualified for the Boston Marathon at the Revel Mt. Charleston marathon. After a few disappointing races and BQs that weren't fast enough to get her to register for Boston – she changed up a few things during marathon training. Now she's faster than ever and has a better mindset on running and her abilities! She's sharing what she did differently this marathon training session to run faster and stronger!
Warm Up: 
1. The 21 Day Stretch Challenge is on now! Today's stretch is a side stretch. There's still time to join if you haven't!
Sign up for the 21 Day Stretch Challenge to get the calendar here.
2. And I'm working with Massage Envy right now – I just did a post with them on their new Assisted Stretching sessions.
Check out this post for more – Massage Envy Assisted Stretch Session.
3. I have great race discounts for the Lexus Lace Up Race Series and Revel Race Series. Sign up. Start training. Good luck!
Check out my Race Discounts Page for coupon codes and discount codes on all the races!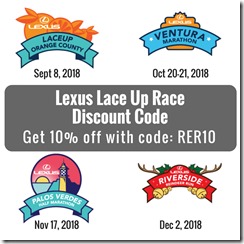 Now – let's stretch!
It's Day 5 of the stretching challenge for runners and this one is a good one. When I do a good side stretch I can feel it all along my body – especially in my side near my lower back. Do this one and leave a comment on the daily run report sharing:
Side Stretch:
Where do you feel it most?
What side is tighter?
Stretch Challenge: Side Stretch
With feet about hip width apart bring your arms up overhead and slowly lower your upper body towards the ground to the right of your right foot. Breathe. Relax into it and let your body stretch and loosen up any tight areas. Relax into the stretch for 15 – 30 seconds. Then, repeat on the other side. Center your body, pull your arms overhead and slowly lower your upper body towards the ground to the left. Breathe and relax into it. Hold for 15 – 30 seconds. Repeat as needed.
Stretch AFTER you are warmed up – either after your workout or after a very thorough warm up.
Always consult with your doctor before starting a new diet or exercise program. Stop if there is any pain. Be smart, safe and kind to your body.
Now let's talk with a runner for tips on how she got fast in less time on her recent marathon training cycle!
Main Event: We're talking to Sandy Segawa. She's run 13 full marathons, 36 half marathons, a couple relay races and recently qualified for the Boston Marathon for the 3rd time. She lives and runs in Southern California.
Sandy hit her new PR and BQ  at Revel Mt. Charleston – a marathon just outside of Las Vegas, NV. This training cycle she did a lot of hard work to run an amazing race and it really helped her hit her goal. She trained differently and incorporated mental training which she says really helped.
I'm really excited to share what she did to get faster, run strong and happier!
Let's go…
Sandy Runs 26.2 answers all these running questions and more…
How long have you been running? How did you get started?
When was your first race?
I want to talk about your shiny new BQ… Had you try to qualify for Boston in the past? Tell me about that.
You ran a strong race and hit your goal at Revel recently…
What training plan did you use? Did you do anything different in training this time versus other times?
Was there anything different about race day?
How did you keep pushing when it got hard? Do you have a mantra or how did you stay positive?
Do you have any tips for someone who is training for a marathon?
What's next? Do you have any races or anything exciting on the schedule?
Next up – Mountains to Beach Marathon… and of course the Boston Marathon!!
Thank you Sandy!
You can follow her on Instagram  @SandyRuns26.2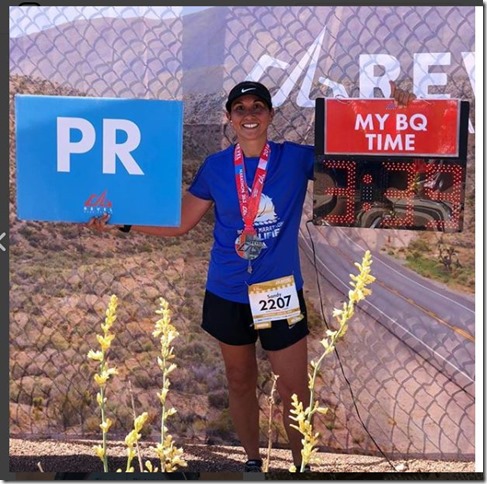 Weekly Podcast Awards:
1. Juicy Scoop with Heather McDonald podcast – loving old episodes.
2. Iced tea
3. Cherries at the 99 Cent Store!
If you have a question for me – Email or Leave a voice message.
[email protected] with "Podcast Question" in the email or leave a message at 562 888 1644
Question: Did you do the stretch?
Starts June 4th!
Sign up to get the 21 Day Challenge Stretch Calendar & reminders!