Podcast: Play in new window | Download
Subscribe: Apple Podcasts | Google Podcasts | Stitcher | RSS
Need to pee on the run? Don't want to duck behind a neighbor's roses?? Here are my thoughts on the Travel Jane Disposable Urinal – Review. Plus a marathon training update! Go to RunEatRepeat.com for notes, links and photos.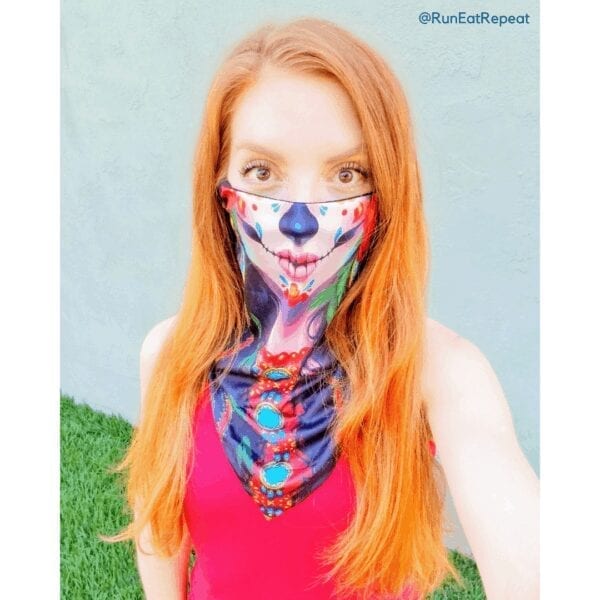 I didn't mention it on the episode but I stepped up my mask game and have the BEST new face mask.I randomly found this cute face mask online and 1000% had to have it because:
A.) It's a Dia de los muertos design
B.) I'm a redheaded Mexican on a mission to step up my mask game
C.) All my other face masks have lip-gloss marks on them
D.) I knew my nieces would love it since we dance to Poco Loco (from the movie Coco)
Bonus: See the site for the song as performed in the movie here – Poco Loco. It's the best!
*See that Stylish Face Mask Neck Gaiter for Women or Men on Amazon here*
Recently all public restrooms were closed due to the pandemic – but what's a runner to do if you have to pee while out on a run?! So today I'm reviewing a disposable urinal that might prevent you from having to decide between peeing behind a tree and risking arrest or cutting your run short. Don't make it weird. Okay – let's start off with a warm up!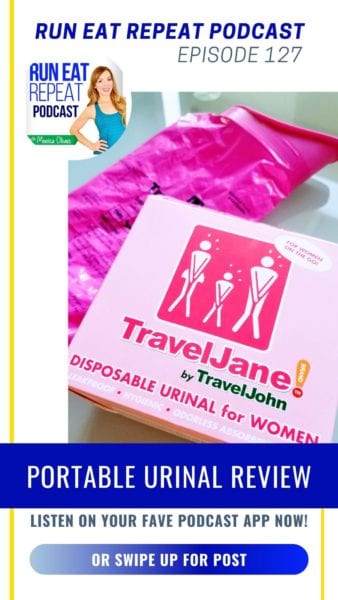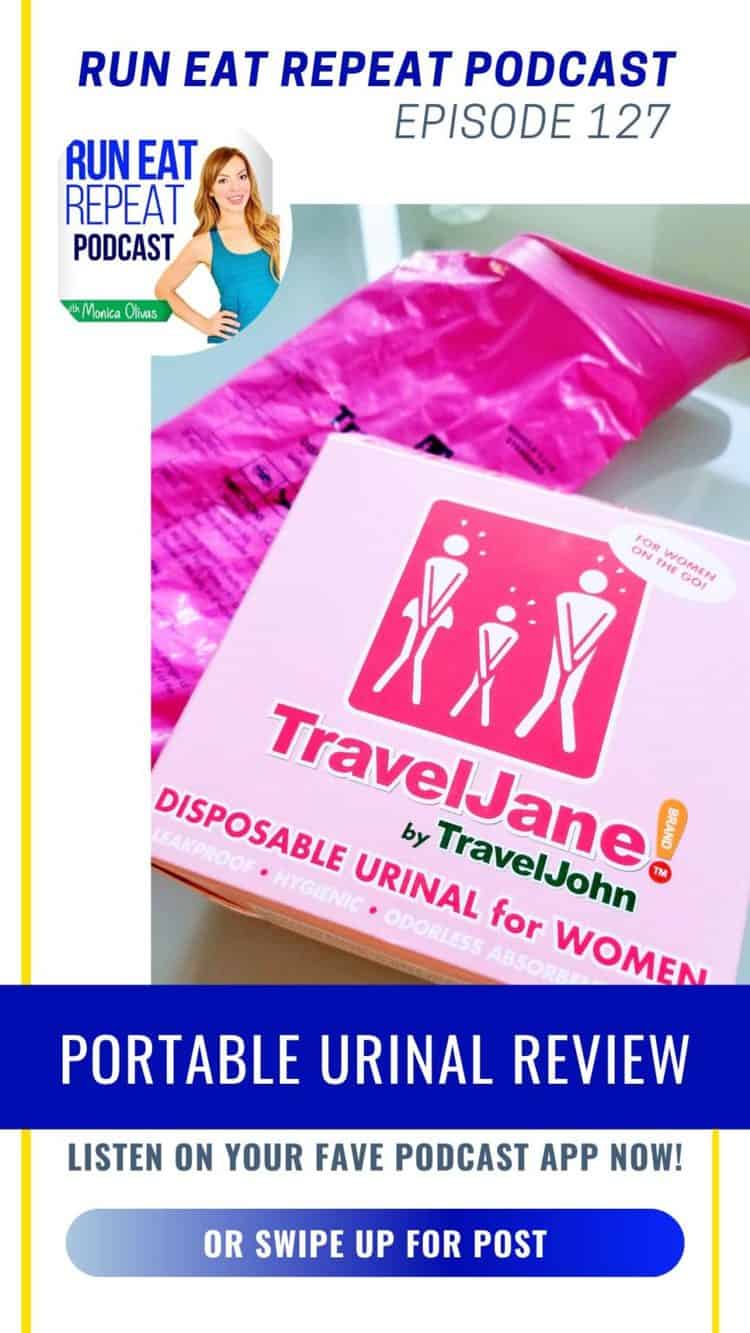 Warm-Up: 
I've decided to just move forward and train for a fall marathon as if the world is happy and healthy. My rough draft plan for this year was to run a half marathon every month as a solid training run and run a marathon in the fall and one in the winter. 
But we've all been foiled by the evil villain – Coronavirus. Boo.
So marathons and half marathons… races of all distances have been cancelled or changed to virtual runs all around the world. 
Note: In case you missed it and are interested in a virtual race… check out my Virtual Race Tips podcast episodes 123 and 124. 
I'll put links on Run Eat Repeat.com so you can check those out. 
Anyway… 
The New York City Marathon, originally scheduled for Nov 1st was officially cancelled this week. 
Many runners barely started training for it since it's a full training cycle out! 
Just like I said about the Boston Marathon cancellation in a previous episode – this seems like bad news for other races scheduled before or around that date.
All of this is to say – I'm sorry if you were planning on running Boston, NYC or any other race that's been cancelled this year. It sucks. 
And it sucks that we don't know when life will get back to 'normal' or at least a new normal. We don't know when big races will be able to host thousands of runners at their start line. Having a specific date or light at the end of the tunnel would be great. 
Since there are more unknowns than knowns – we're kind of all on our own to decide what to train for, how hard to train, what races to register for, if we should take time off or use this time to get in the best race ready shape ever!
As someone who runs best when I'm running a lot of races – it's hard for me to improve without them. 
My 'speed work' if you could call it that has mainly been half marathon races as tempo runs in the past. (Just doing that and not mid-week speed work meant I had a great workout but wasn't also fatiguing myself during training runs and had time to recover. I wouldn't recommend this for everyone but it worked with my type C personality and need to be social at races because I don't have friends.)
Anyway. 
It's tempting for me to fall off the marathon training wagon and just run random miles everyday for fun. But that's what I was doing last year and this year I wanted to train hard. 
So I have a choice – 
I can accept that there are no races and just run for fitness and fun… 
OR 
I can train for a fall marathon like I originally planned and if all the races are cancelled – run it virtually to see where my fitness is on race day. 
And I've decided to train to run a marathon in the fall. I'd love to run a 'real' in person big city marathon… but I realize that's highly unlikely and I don't want to do it at the cost of my health or anyone else's health. So it might be virtual and that's okay. 
I just don't want to wait until I know 100% for sure the race will be held – because we might not know that until next year. 
I think if I had an amazing race year last year I'd be more likely to just run for fun. And I think that might be the wiser choice! But given the speed bumps I faced last year – freezing my eggs and then breaking a bone in my foot… I feel so out of shape. I want to train for a marathon even if it is the first Run Eat Repeat Marathon Fiesta!
So… I started a short daily check-in to document my marathon training on Run Eat Repeat.com. That's why I originally started RER – to document training for my first marathon 10 years ago!!
And over the years I've blogged about so much running and eating. But I personally prefer to get updates on video or podcasts – so I'm doing it that way this time. 
For now it's a daily check-in on Run Eat Repeat (every week day) on video. I might share the audio on the podcast down the road – the check-ins are fairly short so I don't know if it would be worth it to do that. But you can see it on Run Eat Repeat.com – I'll put a link in the show notes. 
Marathon Training Journal Day 1
How to Train for a Virtual Race part 1
How to Run Your Best Virtual Race part 2
Running Podcast 127 Main Event:
Disposable Urinal Review – aka portable pee bag
Click here to watch the Travel Jane Portable Urinal Review VIDEO
Travel Jane Portable Urinal – Review for Runners.
I tried the Travel Jane – a portable personal urinal for women and have a review, tips on how to use it and where to get it.
I'm training for a marathon and with the recent closure of public restrooms, restaurants, stores and more – there was nowhere to go pee while out on a run. So I decided to BYOPB (bring your own pee bag) and try this disposable urinal bag.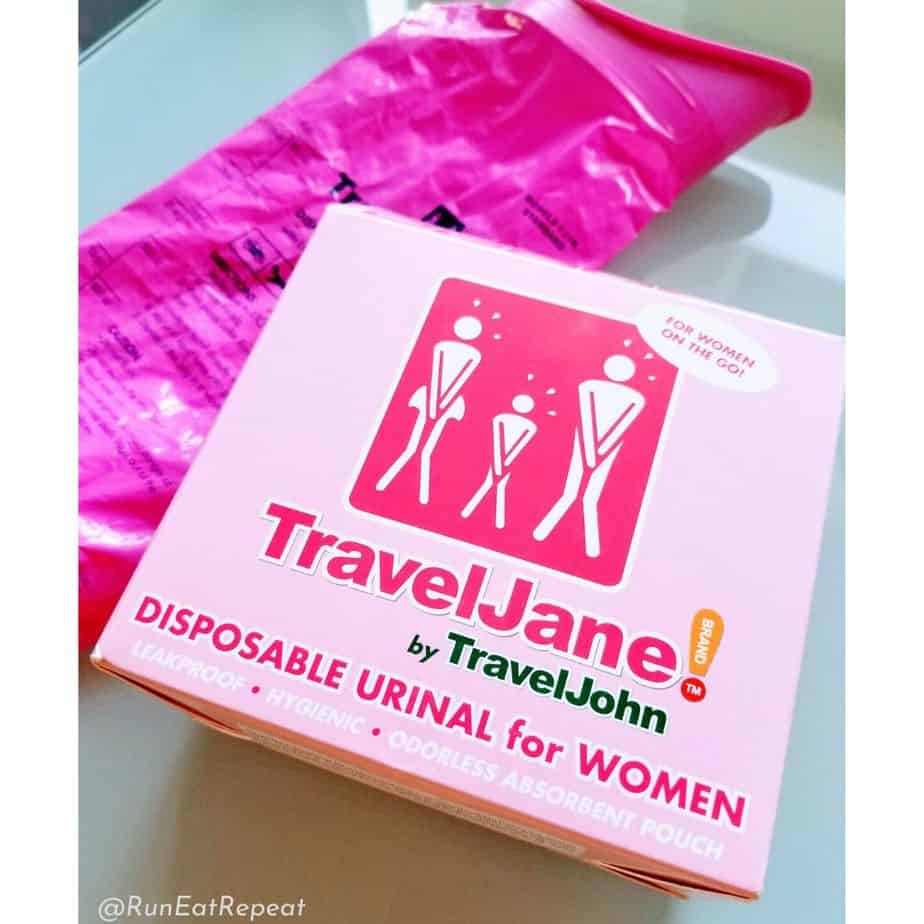 You can get the Travel Jane on Amazon here.
Awards: 
Sunblock – isn't it weird we can put on a cream that blocks the sun??

Paper towels – that was a great idea.

The funniest person you know. They def deserve an award. 
Run Eat Repeat Podcast 
Please follow @RunEatRepeat on Instagram and tell me something funny, TMI or kind on today's post!
If you have 1 minute – please be sure to subscribe to this lil running podcast. 
If you have 2 minutes – please leave a review in Apple Podcasts with 5 stars and ridiculous praise (you can leave out today's topic so it doesn't scare anyone off).
If you have 3 minutes – take a selfie and share it on Instagram tagging @RunEatRepeat so we can see what you're doing while you listen. 
Have a great run! 
Links mentioned on this podcast:
July Running Calendar printable
Keep Going with these:
Marathon Training Day 1 video journal
7 Steps to Train for Your Best Virtual Race
7 Tips to Run Your Best on Virtual Race Day