I used to almost always order the healthiest thing on the menu. I would never go into a restaurant and read the menu looking for what I really wanted. Nope. I would always scan it just looking for my healthy options (read healthy as: low calorie).
But, so often I would eat my "healthy" choice then go back home and snack on other things. Even if I was full – I wasn't satisfied.
Intuitive Eating is about really getting in touch with your body, what you're craving and what your nutritional needs are. Since I am starting from such a far point from that it's difficult to just do it. But, I'm getting better.
This morning we went out to breakfast and I spotted Buckwheat Pancakes on the menu. I nudged Ben and told him "Oooh that sounds good."
But, then I went on to consider oatmeal. I wanted the pancakes, but knew oatmeal was the "smarter" choice. Well, I knew I wouldn't be happy with oatmeal (especially when the restaurant was still full of so many good smells). So, I ordered a vegetable omelet and whole wheat toast.
I thought it was a good compromise. And it was, but I have to admit that those pancakes are still on my mind. I'm very happy that I'm moving the right direction, being honest with myself, but not using Intuitive Eating as an excuse to binge on whatever indulgent foods I want.
It's still about balance and honoring health is part of I.E. Today I honored my health tomorrow I'll honor my craving 🙂
I actually ran to breakfast! Ben's dad goes to breakfast with his artist friends every Thursday and wanted us to go since we're never around for it. When it looked like I was going to be too late to get back in time, Ben looked up how far it was to the restaurant and suggested I run to meet them there. He said it was 3.5 miles. Wrong, it was 4.5. Which isn't a big deal normally, but I didn't want to do much more than 3 miles since it's taper time. Oh well, it was GREAT TO RUN OUTSIDE!!!
Nutty Bits! Look at this new find I got from Trader Joe's yesterday – Nutty Bits! Ha, even if it wasn't for the dark chocolate and nuts inside the package I would have bought it for the name.
This stuff is a.mazing! It is described as "sweet crunchy buts, smooth dark chocolate and a hint of Fleur de Sal". Try it try it.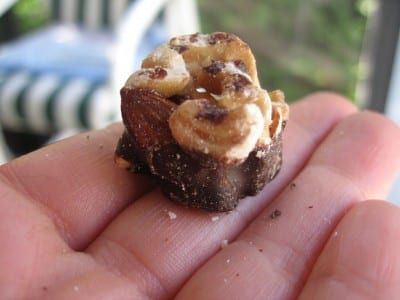 Since we missed out on Christmas with Ben's fam, we're celebrating it tonight. His mom is making a turkey dinner so I am off to the store to pick up some vegetarian foodies for myself 🙂