When we last spoke I was freaking out about the fact that I was going to have to bike around other people when it's really hard for me to turn. (Heck, it's hard for me to go straight!)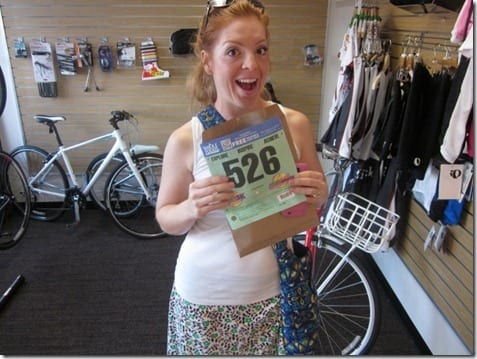 Luckily this morning I remembered that I needed to raise my bike seat, so Ben helped me out. It's still too low but I was scared to raise it a lot.
The race was in Irvine – just the city next to where I live so we got these in 15 minutes. I got to the transition and Pam showed me how to prop up my bike.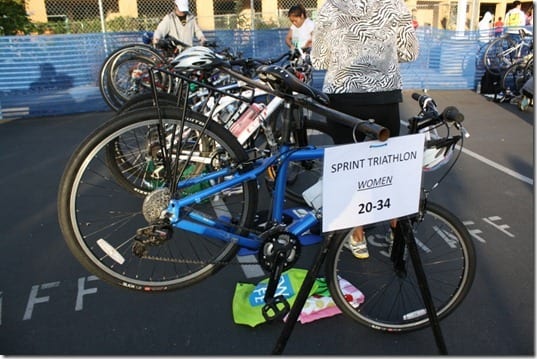 Since this was a sprint tri for women, I thought it would feel more "beginner". Nope, shit just got real when I set up my bike and saw all the transition signs.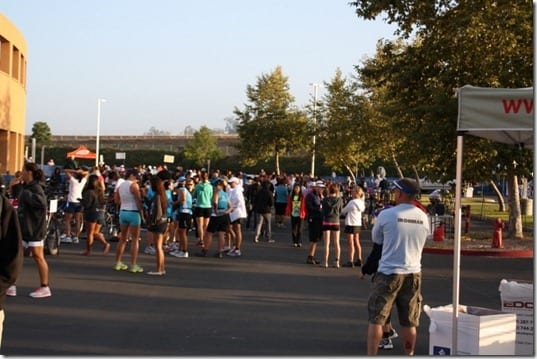 I mount my bike like I need training wheels so I was extra nervous about this part.
Ankle timing band and everything!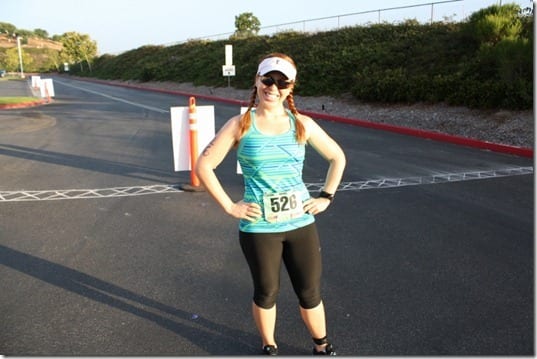 They even wrote my number on my arm. Buuut, Ben rubbed it off when he was hugging me.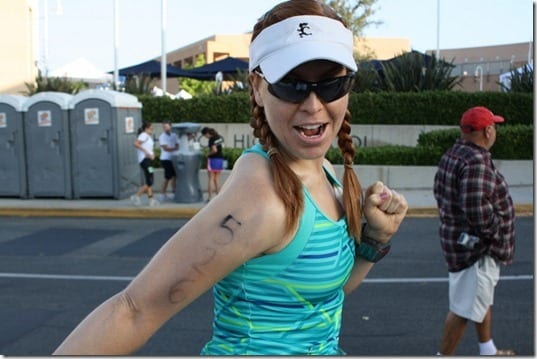 Finally it was time to line up!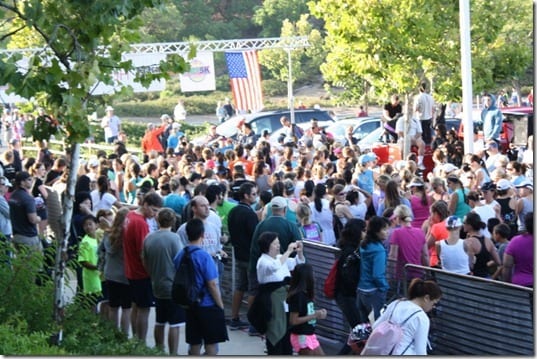 The 5k run went well. I kind of wish it wasn't a reverse tri because I spent the run worrying if I was going too fast and tiring out my legs for the bike. The course is hilly, so I didn't want to kill my legs and walk my bike up the hills!
Before I knew it the run was over and I was clumsily mounting my bike. The bike course was two 4.5 mile laps. The first 2 miles feel like a gradual incline the entire time. It takes a long time to get some downhill action.
This is embarrassing but, I can't ride my bike standing up so when it got tough I just watched longingly at the others doing that around me.
9 miles later I was back in the transition area and headed to the pool.
The last part was a 200m swim in a pool. I ran to the pool with my shoes and kicked them off right before I jumped in since it was about 200m away from the transition area.
On the second lap I started to freak out and swam for a bit with my head out of water (a crazy dog paddle on some level). Then, I realized I still had a long way to go and just slowed down and tried to get it together.
DONE! It took over an hour, maybe an hour and a half, I don't have my time yet.
Thoughts on the race: This was the FIRST iTrythlon and I was very impressed with the race organization. The course was well marked, there were a good number of volunteers and everything seemed to flow smoothly.
I loved that it was a small race and that it is marketed to a new triathlete. These two things are was made me feel comfortable enough to go for it.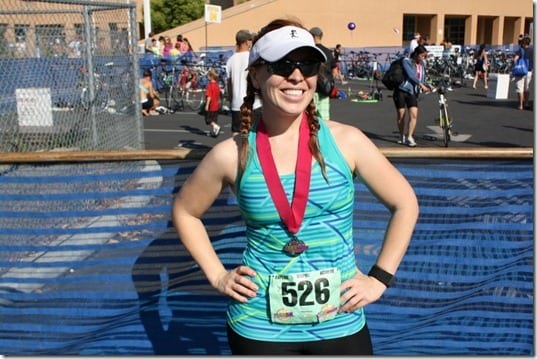 Thoughts on how I did:
Run – Good. It was hilly and I still maintained a good pace. I have never ran a 5k full out before so I'm not sure what pace I should have been aiming for. I did 7:59, 8:22, 7:59 I think??
Bike – I didn't fall on the turns, so that is a plus.
I need to work on riding more so I am more confident maneuvering around things and people. I need to learn how to stand and change gears.
Swim – I totally rushed it and didn't just swim well. I told myself I was going to just go out and focus on form and breathing, but I freaked.
I need to work on my swimming form and breathing.
This part of the triathlon made me realize how important it is to RUN DO YOUR OWN RACE. We are all different and have different strengths and abilities.
I cannot keep up with a strong biker or swimmer. Heck, a little girl totally smoked me on the swim! I should not and could not have safely kept up with her. In the water it's more than tiring your legs – you can drown if you don't do your own thing.
Same thing on the run – run your own race.
Overall: I had a great experience. When I finished I was so proud of myself just because I was so scared to do this. On the second loop of the bike I thought, "I can't believe I'm doing this. This is going to count for a month's worth of scary stuff!" (I was thinking about the phrase: Do one thing that scares you a day.)
I do think I want to keep swimming and biking to get better. I would like to do another triathlon in the future and now I have a very clear picture of my current abilities. Just because I can run 13 miles DOES NOT mean I can also swim and bike. Cardio wise I'm fit, but I am a very beginner at these other things.
After the race we went to brunch. Ben was my cheering section and he was hungry! We went to Break of Dawn in Laguna Hills thanks to some quick Yelping (it's a verb).
Luckily they have outdoor seating because we still had my bike and it doesn't lock on the rack.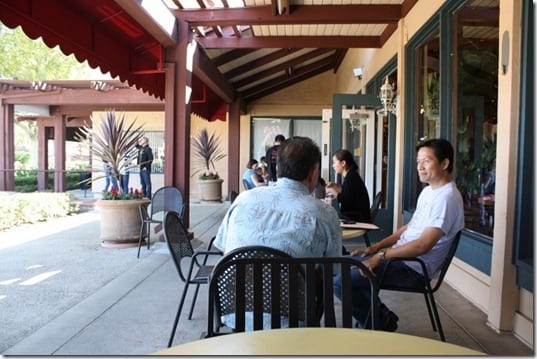 For being called "Break of Dawn" I thought the breakfast options were very limited
They had one omelet on the menu and it was a chorizo one. I ended up getting the veggie casserole.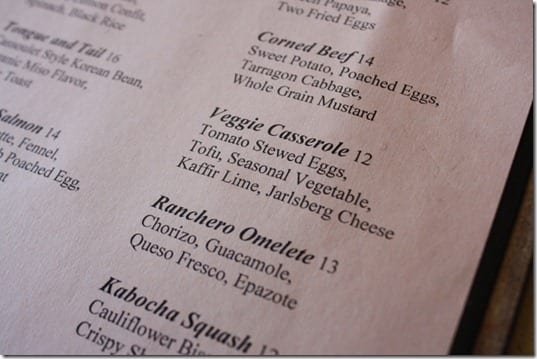 Ben ordered a Vietnamese coffee. Super sweet, super good.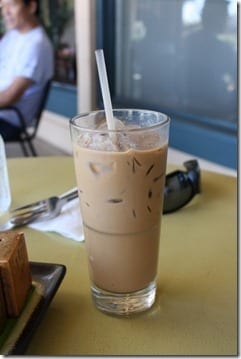 And the skillet. Usually I make the better order, but today it was all him.
The veggie casserole was good, but did not feel like a breakfast dish. I wanted a big ol' egg scramble and this left me unsatisfied.
But, this is a gorgeous meal so there's that.
I have to give a big thank you to Renegade Racing for inviting me to complete the iTryathlon and Coach Pam for helping me figure out this new adventure.