Hello! I just ran the LA Marathon!! Here are my LA Marathon results, recap and all the best eats from the day/weekend/fun!
First. I headed to LA Marathon expo Saturday afternoon super last minute. I was just in and out to get my bib.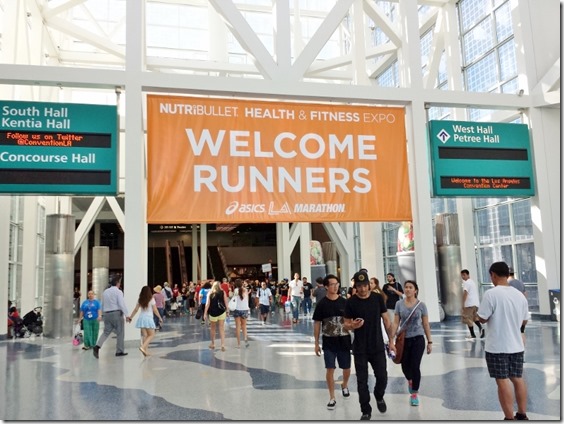 Well, I was just there to get my bib and a California dog. Actually, I'm usually super reckless with my eats before a race since I run so much but my stomach's been hurting on and off this week so I skipped this (not everyone in my party did though). Sads.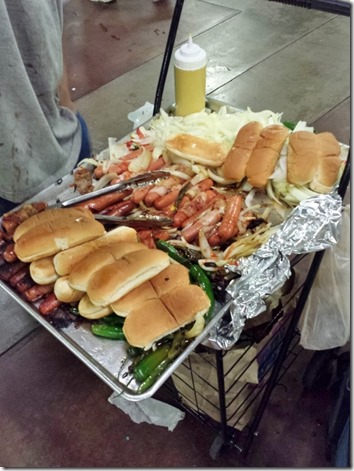 Second. Hydration nation.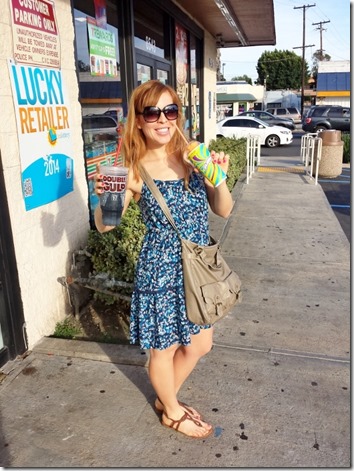 Dad: "What do you want to eat before the LA Marathon?"
Monican: "Mostly carbs and like rice…"
Dad: "Okay, I might have some fish to grill too…"
Dinner: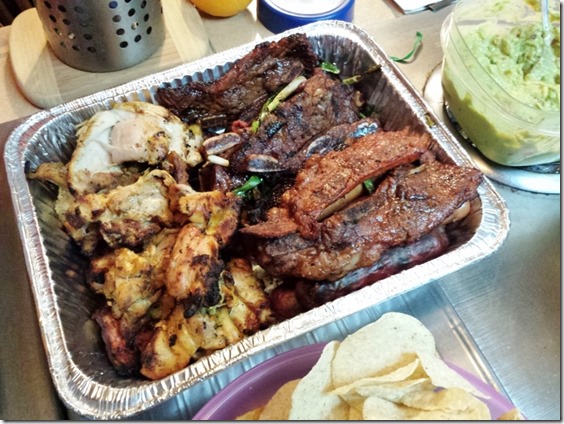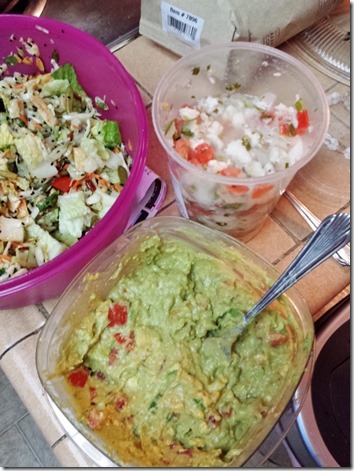 We don't mess around.
I stayed at my parent's since it's a lot closer to Dodger Stadium, where there race starts. This morning I decided to go with my ProCompression low socks and Hokas.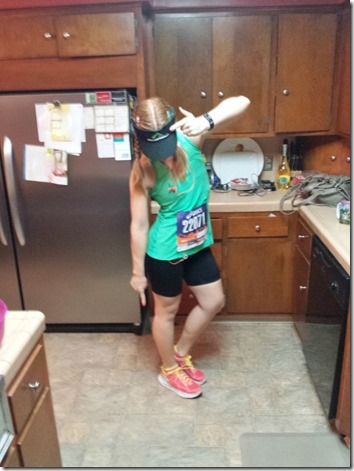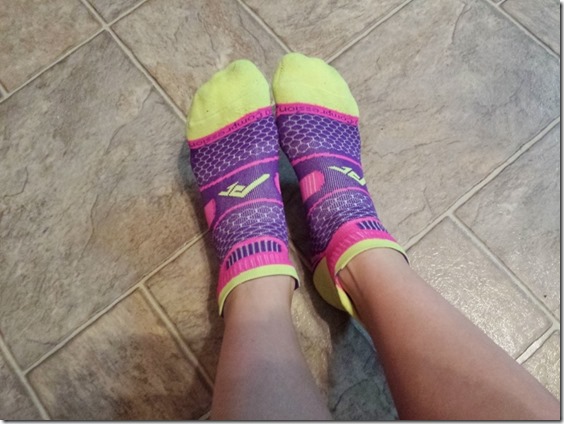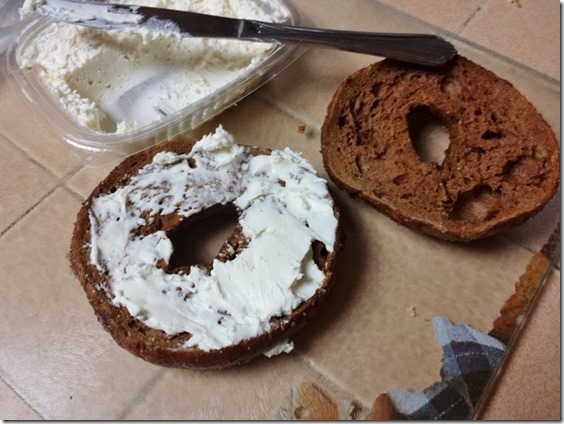 There was major major traffic getting off the freeway and into the stadium for runner parking and drop off at the LA Marathon start line. I barely had time to hit up the restroom and get to the start by the new earlier start time (made earlier to beat the heat a bit).
But, I was stuck on the wrong side of the fence and didn't actually get to start until probably like 10 minutes after the gun. And I was in the like 6 hour marathon corral at that point behind all walkers (people that are walking, not like people who are doing a marathon using a walker). It was frustrating, but there really wasn't anything I could do about it. I weaved in and out of people as much as I could without being super rude. My first mile was over 10 minutes.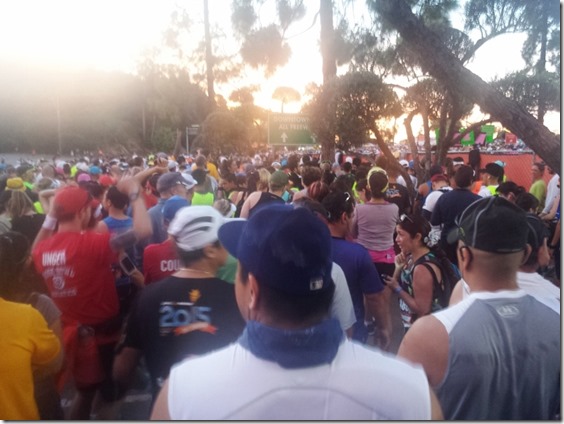 I knew it was a super HOT race day and I am not in PR shape anyway so I didn't worry about it. The only time I really get stressed about finishing at a certain time is when people are waiting for me.
I have decided I really love the LA Marathon. I have a little SoCal pride in the course. Parts of it bring out certain memories for me. I walked the course in high school as part of a fundraiser and that gives me some warm fuzzies.
Mile 8 – spot the Hollywood Sign!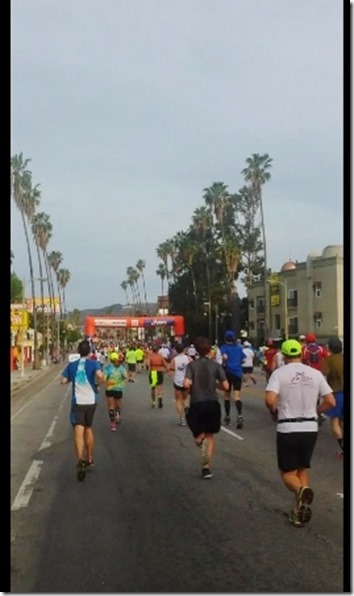 It really was a HOT day! Luckily the LA Marathon organizers were super prepared. There were a lot of water stations – long ones too – that's the best.
A lot of people spraying water… Fire hydrants spraying water too! Unfortunately, I still saw a few people go down on the course. Very sad and scary.
Since Ben is around this weekend he was a sweetheart and came with me to the race. Bonus: he got a few pictures of me near the finish in Santa Monica.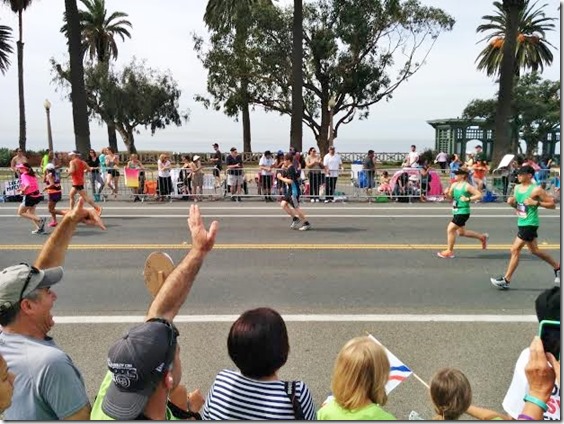 LA Marathon results : 3:54:12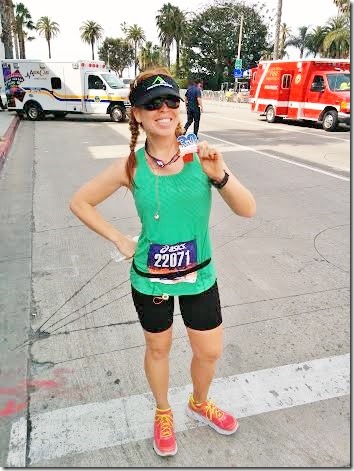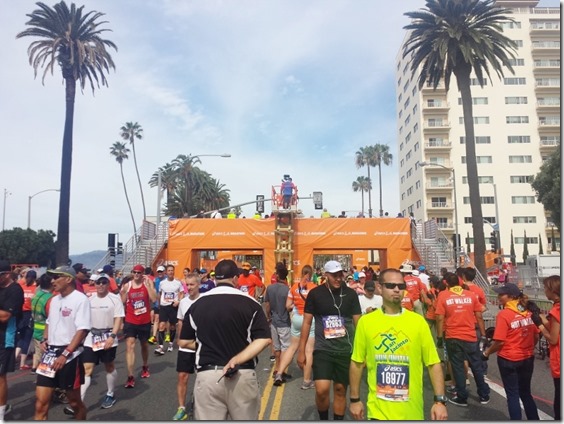 Post race relaxing with DD and ProCompression socks.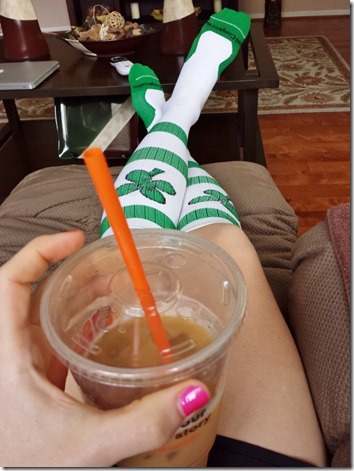 And all the stolen fries from Ben's lunch!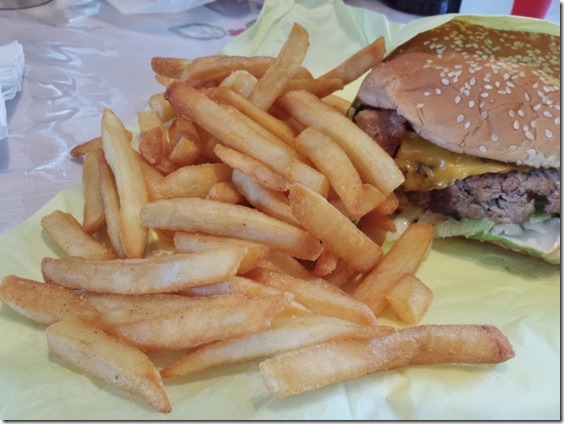 It was the 30th Anniversary of the LA Marathon too! This is a pretty medal
Question: Did you workout or run this weekend? What did you do?
What was the best thing you ate?