Maybe I really am Irish because today was my lucky day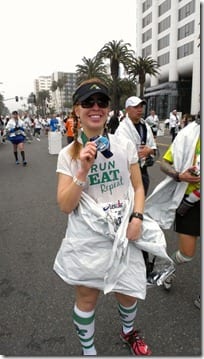 I PRd at the Los Angeles Marathon on St. Patrick's Day with a new time of 3:42:15!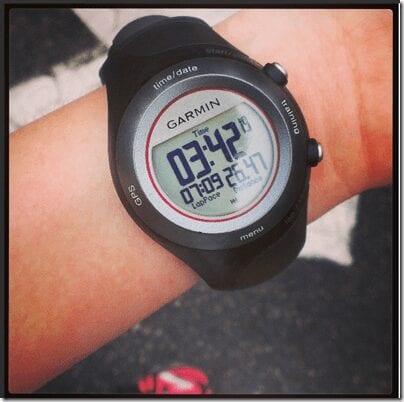 I'm either officially a leprechaun or a chupacabra. One of those.
Last night I stayed at Steve's because he has done the LA Marathon for 8 years and knows the drill. I've heard horror stories about the logistics of this race because it's a point to point course – starting at Dodger Stadium and ending 26 miles away in Santa Monica. (So you have to take a bus or find a way to get to Dodger Stadium and have your car parked near the beach or some other plan.)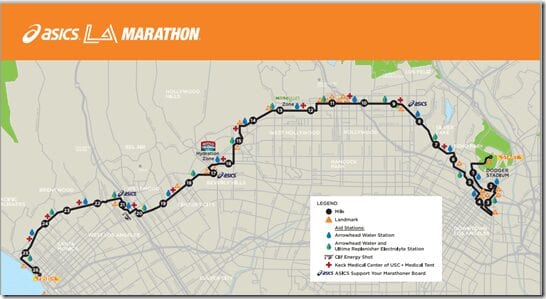 My friend Michelle left me a good luck note!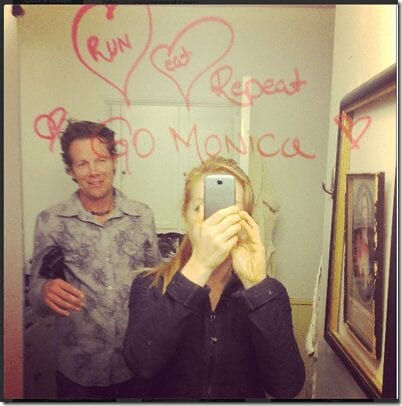 Steve knows me very well and was prepped with tons of watermelon for pre-race fuel.
So, Steve woke me up in the morning shouting, "Ready for a PR?!"
I told him No because I haven't been training hard for this race.
I really didn't expect to have such a good run because my legs have been taking a long time to recover and it was supposed to be really hot. I haven't been running with his group so he was just throwing it out there – I don't think either one of us expected me to have such a strong race.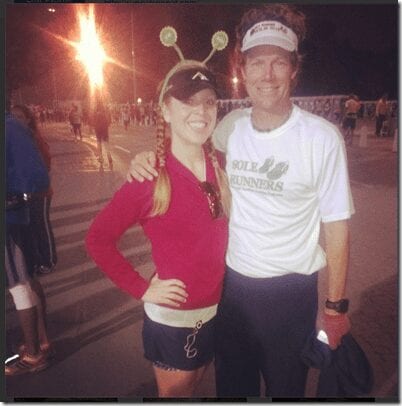 I was sporting my Pro Compression shamrock socks! Love them! That red sweater was my throw away gear.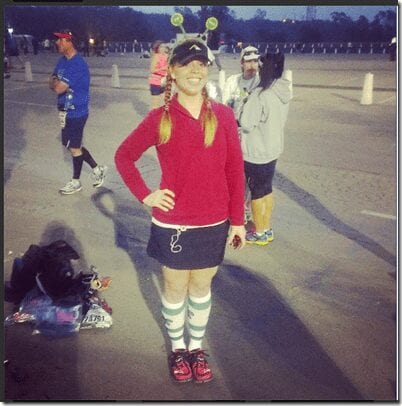 Skinny Runner and I were in corral C because she's a Cutie with a capital C.
(Update: Skinny Runner used to have the most popular running blog in the world. But she retired to focus on her family 2 years ago. She's still on Instagram as BarlesHambone though.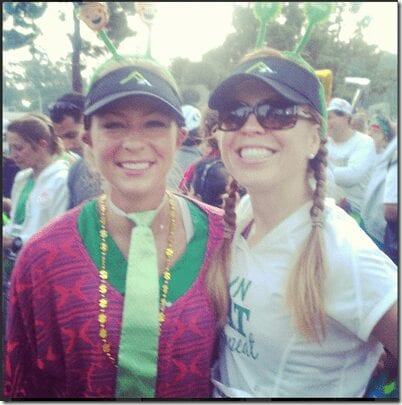 Okay now for the question you all want to know… how were you born with bright red hair unless your mom is hiding something?
Why / How did I PR again?!
I kinda think God is playing a joke on me on some level?
I really DO NOT know who is showing up on race day so I can't predict a good or bad race. Around mile 8 of any full marathon or half marathon I'll know who showed up.
On race day I realize one of the following:
A.) Fun fun Monican who's there for a good time (and will be running for a long time). "Listen I need to save some energy for my frozen yogurt marathon after the race – don't rush me!"
B.) Type "C" personality Monican that wants to do well, but doesn't care enough to get uncomfortable and do it to it.
C.) Serious as sht Monican who is in it to win it. <- This illusive Monican only shows up on very rare occasions after a crescent moon, Venus rising in the west and it's a perfect 55 degrees.
I actually started the race with the 3:45 pace group just because they were right by me. I stayed with them for a while but I thought they were going out way too fast. After the first crowded/slow mile they were at 8:00/miles flat! No bueno. So, I decided to do my own thing and try to stick to a 3:45 pace on my own.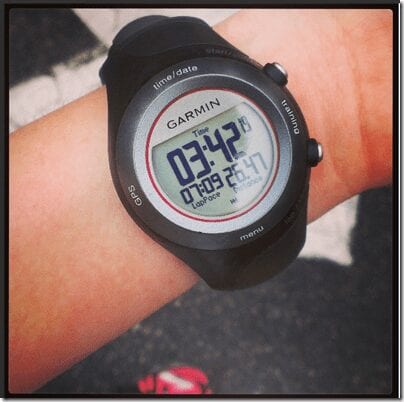 Obviously I am on a PR high so right now I will say I LOVED the Los Angeles marathon!!! Mostly because the last 2 miles were downhill.
I honestly don't know why I am rocking races lately. I credit my fueling and I also have been running more – but that's it!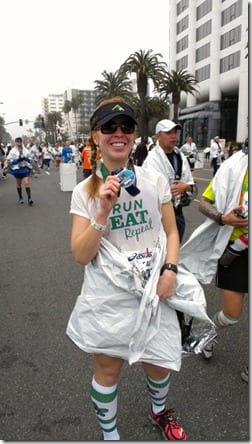 The medals and marathon shirts both say with St. Patrick's Day!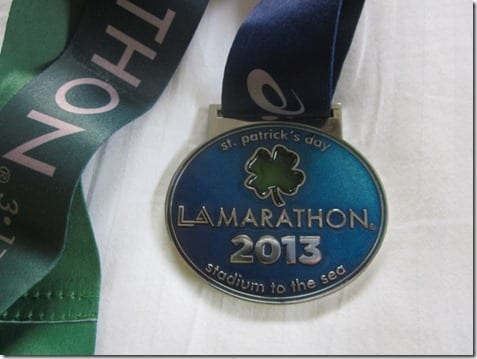 The shamrock in the middle is a green piece of glass. See?
Now for the victory lap…
Check out this huge burrito – size matters and this is big one!
The real question is – What do I do now?
I have been running very strong and I'm happy about it. But, I'm hesitant to give myself a specific time goal PR. My big goal last year was just to break 4 hours. I did that and I am very proud of it – but I feel like that just happened. I didn't think of a goal beyond that.
Today right after the race my mom asked if I was going to try and qualify for Boston. The Boston qualifying time for me is 3:35:00 – that's still A LOT of time to take off a race. A LOT.
I have a 30 mile ultra race coming up in May so for now I'm going to focus on that. Beyond that I'm not sure where life is taking me so we'll hold off on another PR for now until I figure it out.
> In other super exciting news Aleksandra Duliba won the LA Marathon for the women! The race has a sex challenge where they give the elite woman 18 minute head start on the elite males.
Question: It's St. Patrick's Day!!! What are you doing to celebrate?