I signed up for the Malibu Half Marathon on a whim. My mom sent me the Groupon email and I had 2 hours to decide to do it or not. Obviously, I went for it
But, since it was only 4 weeks after the Long Beach Marathon I didn't plan on trying to PR. Thank God because that course was HILLY (read: heeeeeeaaaalllly)!
I don't know if I've mentioned it before, but I'm not the biggest fan of hills (sarcasm, it's what's for dinner).  But I'm done, and happy.
The day started off with a bagel stuffed with Almond Butter and Pumpkin Butter.
Then, we proceeded to get ridiculously lost for 45 minutes on the way to the race. The curvy roads of the Malibu hills are not the best situation for a nervous runner's stomach. Boo.
I'm sure the bites I took of Ben's bran muffin didn't help either.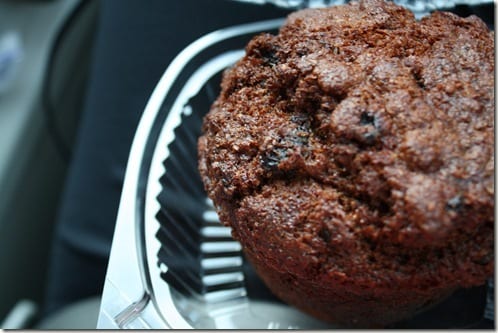 It was close, but luckily I didn't go #2 in the new car. Thank you and you're welcome.
When I got the the starting line I met blog reader, Katie! I didn't have the camera with me or I would have taken a pic. She was speedy so we parted ways at the Start. How'd you do Katie?!
The first part of the race was perfect. I was too fast (okay that part wasn't perfect), but I saw dolphins! Watching dolphins swim in the ocean beside you negates my poor pacing and the hills (okay, maybe not the hills).
The race is right along Pacific Coast Highway (PCH for the locals), on the cliffs overlooking Malibu.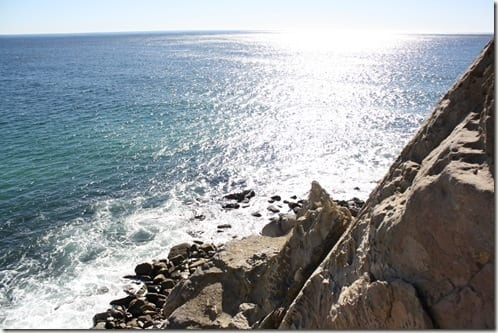 The race uses the slogan "Run in Paradise" and it really is. The first 4 miles or so had the most amazing view of the beach and lapping waves – with dolphins! Gorgeous.
But, I didn't read the "be prepared to pay for all those beautiful views with hills" part of the slogan. The hill at mile 8 killed me and I walked it. After that I kind of figured it was not going to be a PR and walked any hill I wanted.
I started feeling a little bad about it until I thought, "I said I was doing this race for fun, I better start having fun then!" And just enjoyed the rest of it
My splits are embarrassing – I go from 8:17, 8:23 and 8:01 for the first three miles to 10:21, 9:21 and 9:46. Someone needs to get her pacing together!
That someone also needs to learn how to wave like a normal person, and not like she's dancing, but bad at it…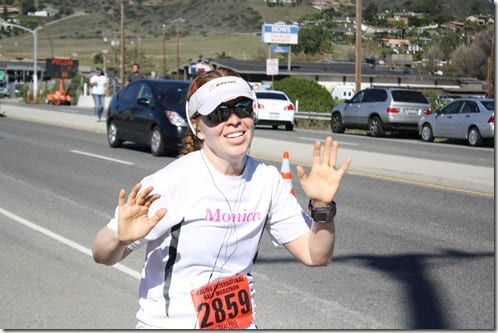 I came in just under 2 hours, but accidentally turned my Garmin back on during the drive home, so I don't have an official time.
After I crossed the finish line I stopped at the Siggi's booth for a free yogurt and grabbed a few coupons
Then, I "iced" my legs in the Pacific Ocean.
The ocean here is super cold so I never go into the water, but this was the perfect time.
I didn't want to go too deep, but I wanted to get my knees.
It's cold!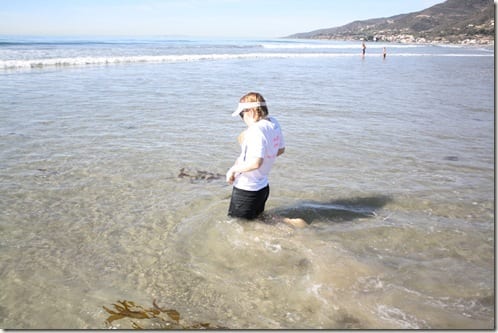 But my knees need it after those hills!
"Thank you God for letting me run a race today."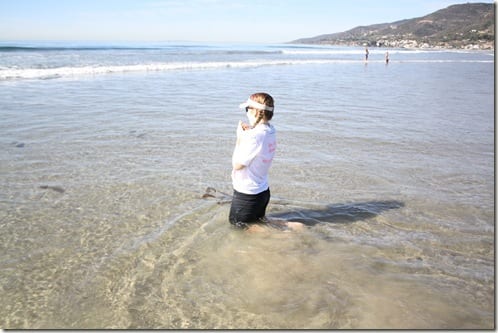 "…and Thank You for Ben, the best husband I could ask for. Amen"
After running and icing we headed to Starbucks so I could change. Ben got a pumpkin spice latte and I had some of that. Does anyone else think they're too "ginger-y"?
I also ate a naner.
We headed home from there, but first stopped at Subway for lunch. Eating Subway after running made me feel like I was channeling my inner Jared
I got my favorite Subway sandwich – Tuna on Omega-3 bread with all the veggies except olives. I could eat this every day, but it's especially delicious after a run!
Now I'm hanging out at my mom's for a bit until we head home.
Hope you had a fantastic Sunday!