Hello from New Orleans!!! This place is the best for eating and running and I'm having a great time. Let me fill you in on the all the food and my RnR New Orleans Marathon Recap…
Yesterday I carb loaded at a hole in the wall with some Jambalaya. The service and food were just mediocre so I won't mention the place. But, this was my first Jambalaya experience and I liked it!
Then, we went to the world famous Cafe Du Monde
I LOVED the beignets! LOVED. The fresh donuts come in an order of 3 covered in powdered sugar and are served warm. Heaven.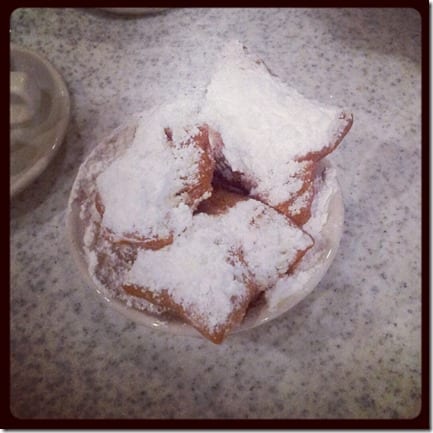 This is in the top 5 foods I've ever eaten. Possibly #1, but I need to review my list. Boom.
Then, we had a little teeny bit of fun on Bourbon Street
I carb-loaded some more with some beverages and a banana.
Rock N Roll New Orleans Marathon Recap / Review
Now for the race – I ended up running the Rock N Roll New Orleans full marathon. It was a last minute decision I made at the expo this weekend. My friend Dave from the #INGClassof2013 was throwing around going for a PR and I offered to pace him to a 4:20 marathon. He took me up on the offer and it was decided.  (You can switch from the half/full/full/half beforehand for RnR races or at the expo for a fee.)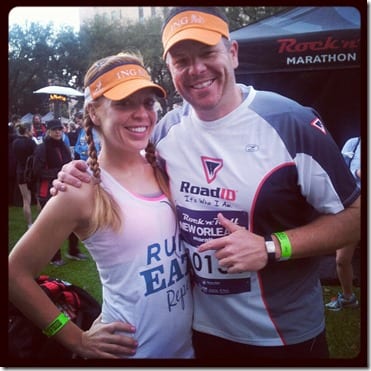 Race morning I met Team Refuel member Jeremy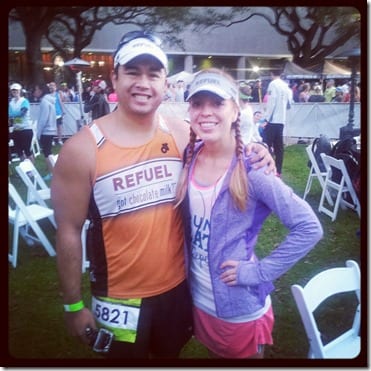 Right now in my life I'm into having oatmeal before races.
I met reader Ciry this morning and saw a lot of other readers along the course.
Hello Sarah! Jackie, did you get your PR?!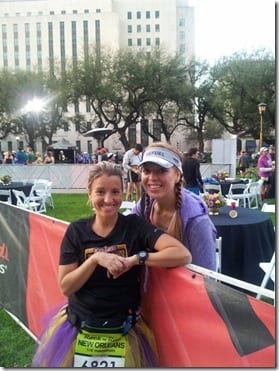 Chandra and I in the VIP area where I was 20 feet from Kara Goucher. Since Chandra was running the half she waited for me after the race and met her! LUCKEEE!!!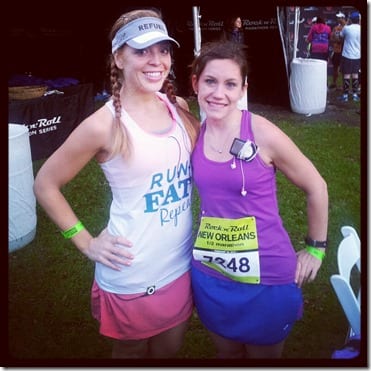 (She's sitting the yellow jacket!) Yes, I'm sorry I'm a creeper.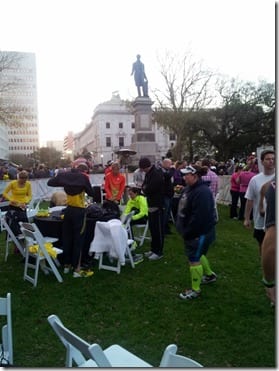 The race was awesome!!! The course was super flat (#1 reason I offered to pace Dave) and it was great running around NOLA.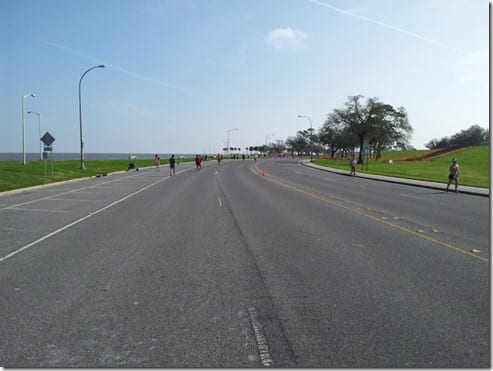 I wore my bib on the back because of my new Run Eat Repeat tank. It probably wasn't the best idea because I sweat right through the white fabric and even though I was wearing a really good sports bra (so it wasn't see-through) I felt uncomfortable.
And Dave got his new PR in the full 4:20:38!!!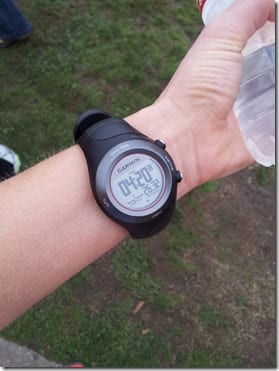 I think I'm going to get a job as a pacer because it was super fun to help someone hit a running goal. I only had to say 2 bad words to him to keep him going, the rest of the time I was positive and encouraging
He might report differently, but who you gonna believe?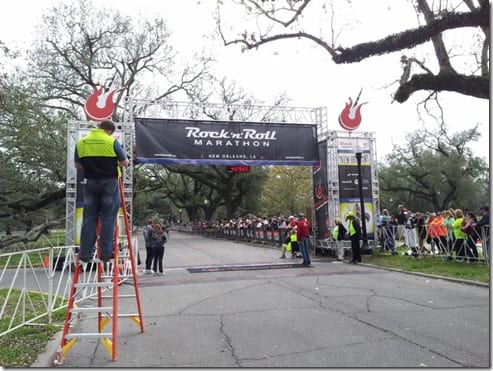 After the race I hung out with two of the most impressive runners ever – Dave and Marathon Man! These guys will run more races by May then I'll run in my life.
Okay – time to explore the city!
Question: What was the best thing you've eaten this weekend?