I did it! I PR'd in the half marathon– but let's start from the beginning…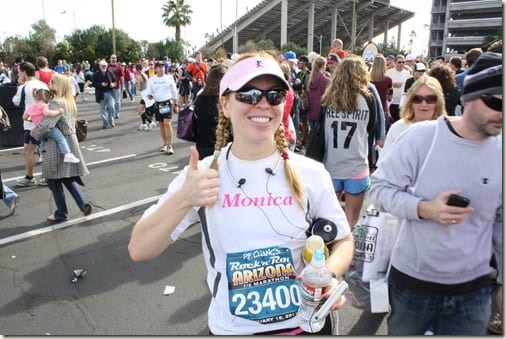 First thing you do on half marathon morning is go the restroom. The second thing is put on sunblock. I put it on before I put my shirt on so I don't miss the spots around my neck. Don't let these Mexican genes fool you – I burn like a box full of newspaper.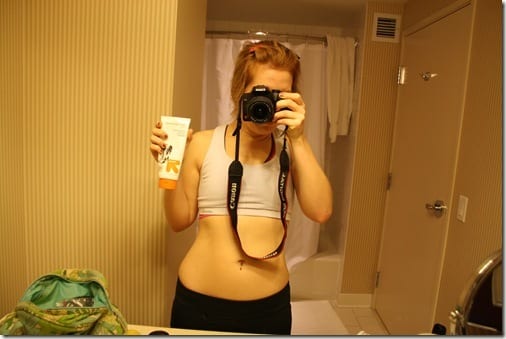 Unfortunately, I forgot my spray sunblock and had to slather lotion on my part in my hair. Boo. Once I was properly slathered with the white stuff I brewed some coffee for fuel.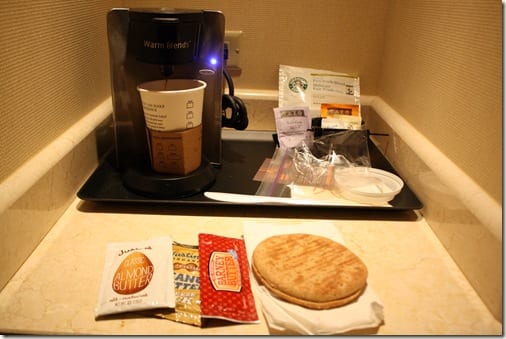 I always fuel up for a long run with toast and almond butter (or PB). I wasn't sure what I would want so I brought a variety of options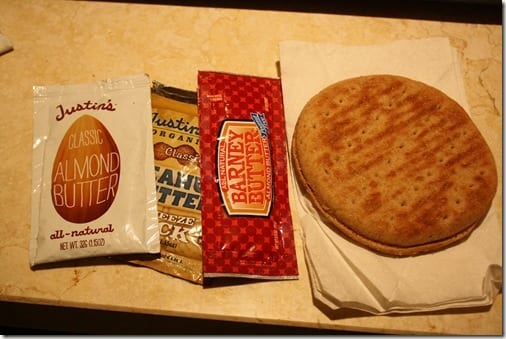 I took the shuttle from the hotel to the starting line. Once I was there I got in the porta potty line. Finally it was time to line up! Even though I'm a little burnt out on races I am glad I've been racing more.  (If you're new to RER – here is my last marathon recap and the reason I'm burnt out.) It's really helped with my nerves. Usually I'm a mess, but today I was just in it to have fun.
I lined up in my corral and realized the 1:45 pacer was there too. I decided to stay behind that group. I know I'm not ready for a 1:45 half just yet – but I am notorious for starting out way too fast. No. Today I would run a smart race. I made sure to NOT pass that group and I think it paid off.
I finished with a time of 1:49:28. Not too shabby. (Pressed start again on accident after I crossed the line.)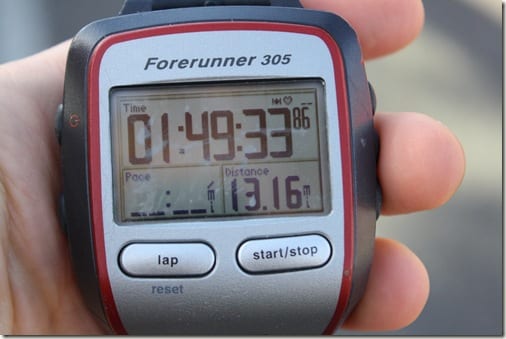 My half marathon in Las Vegas was 1:51:16. So, I PR'd just a month later!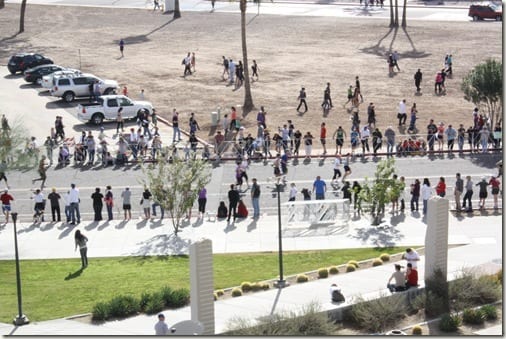 After I crossed the finish line I grabbed a protein bar and Cytomax drink, stretched, peed and went to find Tina.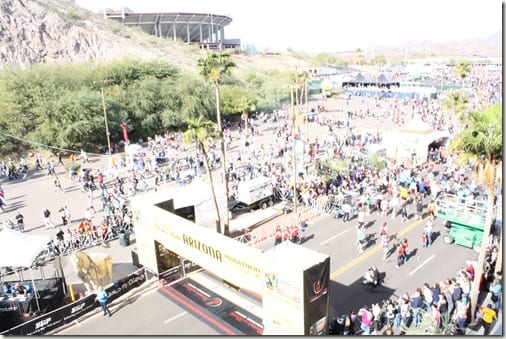 I planned to find her around mile 23, but the street I walked up took me to mile 24 – it worked.
After cheering on some amazing running strangers (and a reader spotted me too! Hi!!) I spotted Tina. She said she didn't feel that great, but she still looked good.
I ran the last 2 miles with her.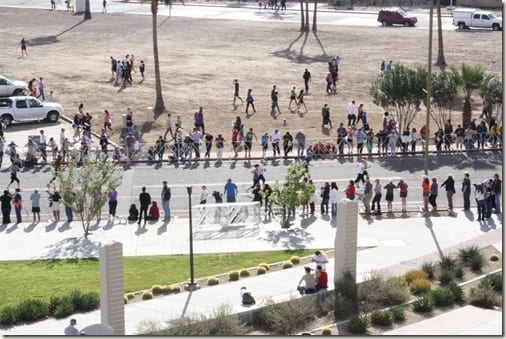 Ben rented a helicopter to cover this event spotted us from the parking structure right before the finish line!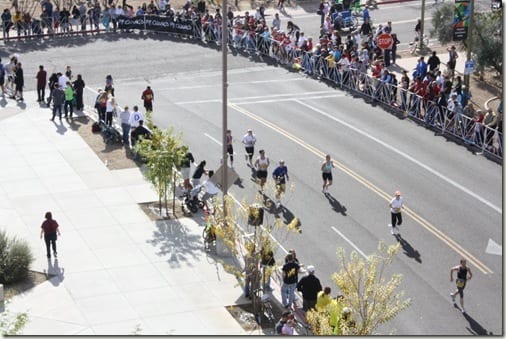 There we are!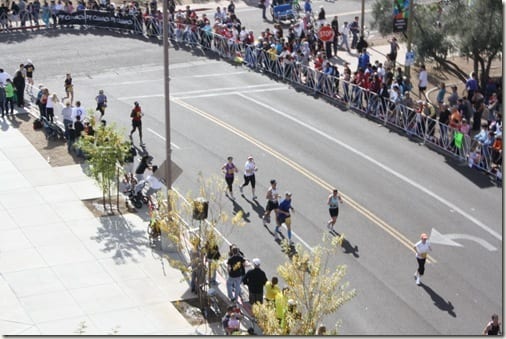 Go go go! Finish strong!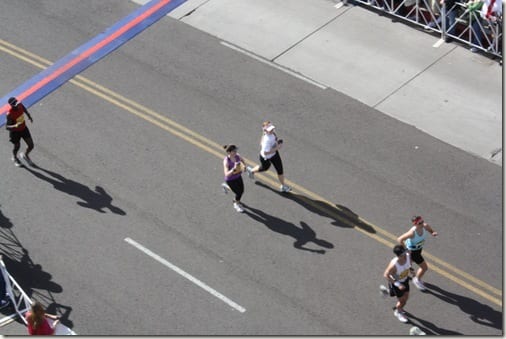 I've never ran a race with anyone before so it was fun to have a non-stranger to talk to for a bit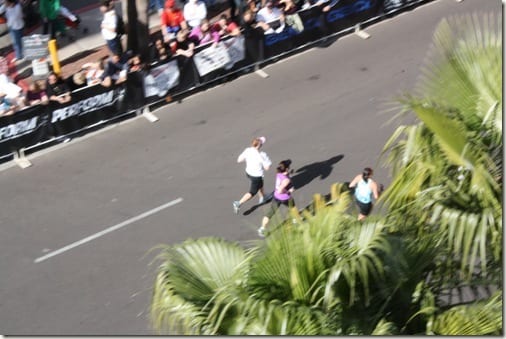 It felt really good to PR and run with Tina on her first full marathon! She totally beat her goal too – read her recap & tell her Congrats at CarrotsNCake.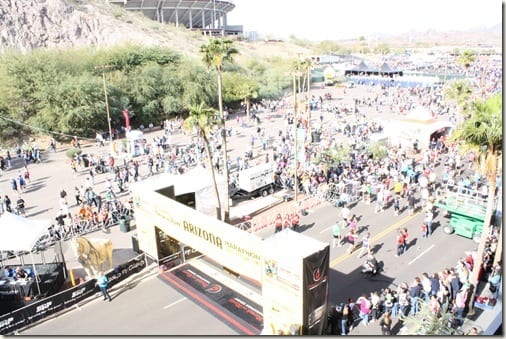 After 13.1 miles, plus a few more I found Ben in a sea of people. At this point I needed a shower and some food asap.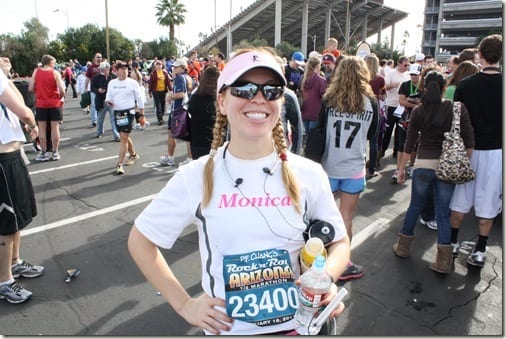 The only negative of the day was the ridiculous traffic trying to get out of the parking structure. It took us at least 30 minutes. Then, we encountered the usual bad race day traffic because so many streets are closed. We are going home today and only had the hotel room until 2pm so we had to rush back so I could take a quick shower and grab our stuff! I seriously got ready in 10 minutes.
I always say you should wear your medal for the rest of the day even if you take it off to shower and change. Put it back on after. You earned it! And it's really the only day you're ever going to actually wear it.  (Unless you're Flava Flav or something.)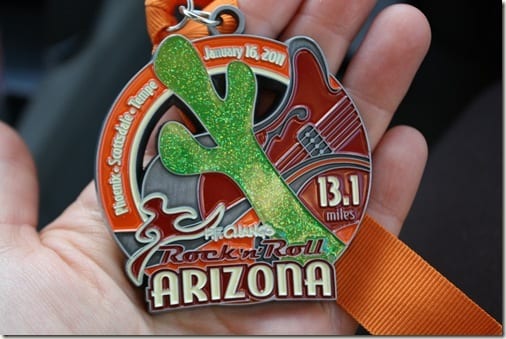 We got on the road and then I realized, "I am pretty much going to pass out if I don't eat right now."
We got off the freeway and found a random burger joint – Smash Burger.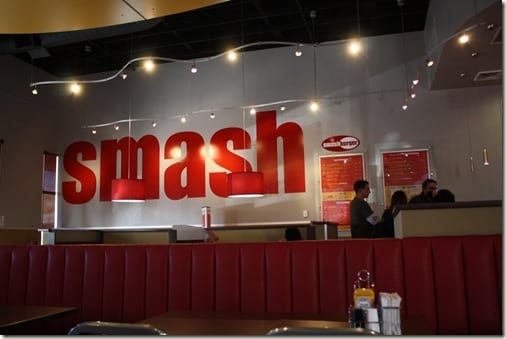 Ben ordered veggie fries. They were tragic. Just greasy veggies. Supposedly "flash fried", but the seemed a little too soggy for that.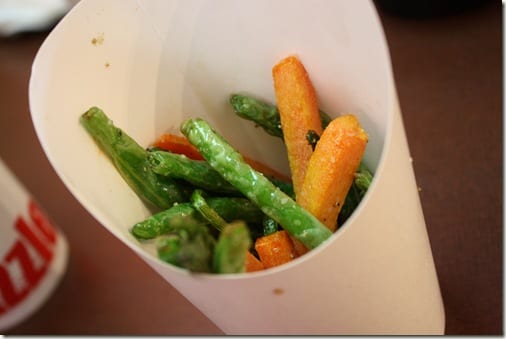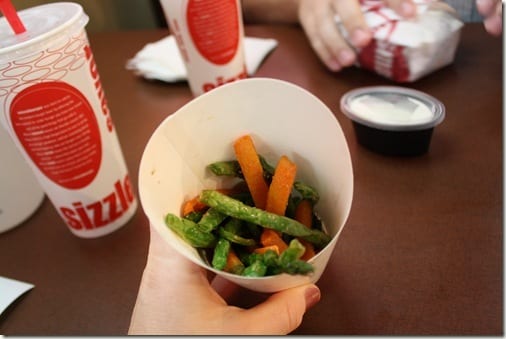 And the portion was skimpy too. Live and learn.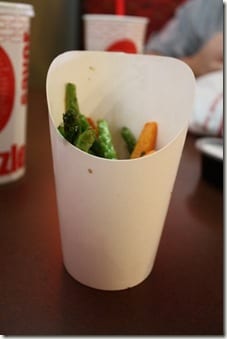 I don't mess around when it comes to fries and I got sweet potato.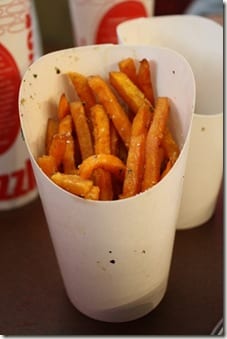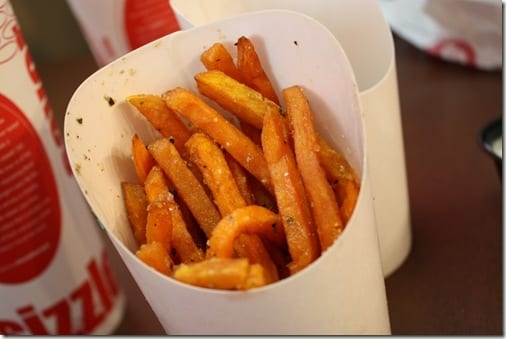 And a salad. I think I'm still a little dehydrated because I just wanted a big salad with tons of veggies. Ah. So good.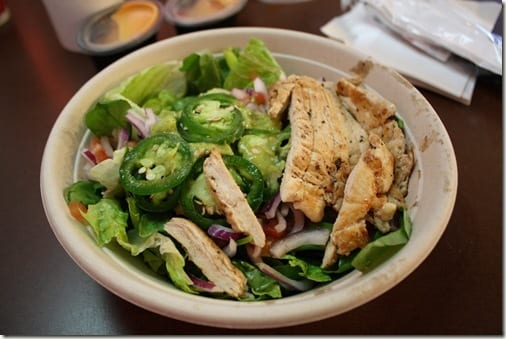 While running the half I spotted someone with a Dunkin Donuts cup. Is it sad that I was in a race and noticed what someone was drinking? Maybe. And that's okay.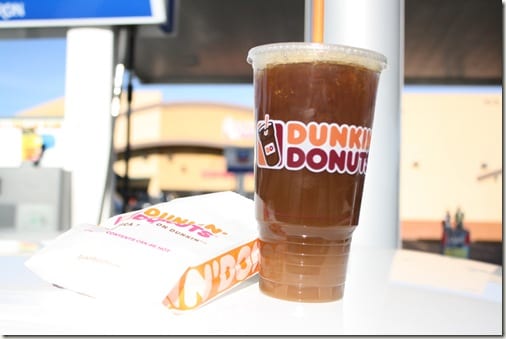 I became obsessed with DD when I lived in Maryland (thanks in part to Tina raving about it all the time). I had to have a large iced coffee.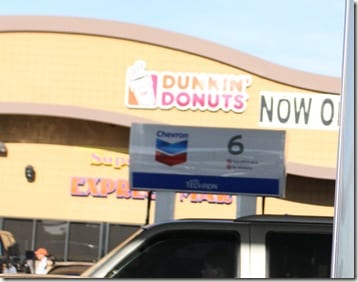 I also got a few donut holes for dessert. Race PRs, races in general or even just getting out of bed in the morning all justify donut holes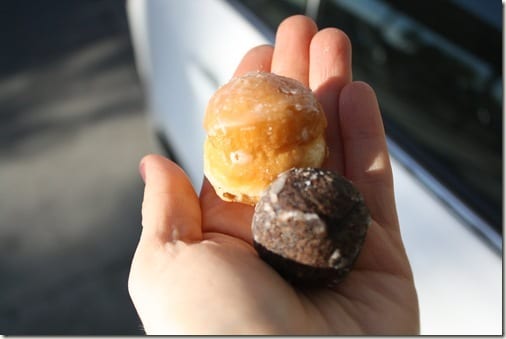 Today was a great day and this was just icing on the cake  iced coffee on the cake!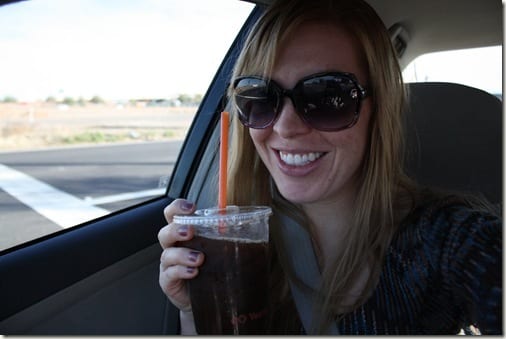 Now I'm blogging while Ben drives us back to Southern California.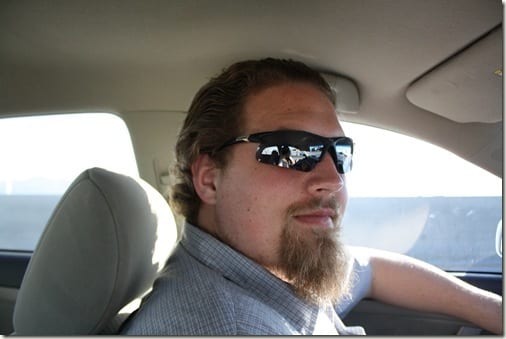 Congratulations to all the racers today! A few blog readers and runners said they saw me too – hope you guys rocked it!!!