Rock N' Roll San Diego Marathon done and done. (And I'm glad it's over!)
The full marathon started at 6:15am so I had a ridic early wake up call. RIDIC. Luckily we scored awesome parking and it was a short walk to the shuttles.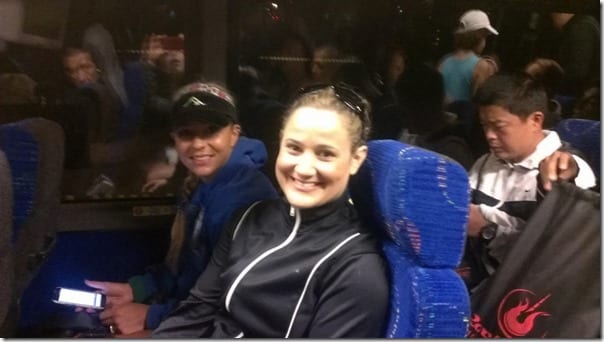 Pre-race, all smiles.
Rock N' Roll San Diego Full Marathon thoughts
The corrals were nicely organized and easy to get into. There were a lot of porta potties, but there are also A LOT of people. So the lines were long, but that's to be expected. Everything seemed well organized from my POV.
The course was okay. We ran through Little Italy and cute areas, but there is still a few miles on the freeway and it's slanted so that kinda sucks. My legs were tired coming off BTR 2 weeks ago and Laguna Hills Half on Monday. So the slant hurt my IT band area/knees.
There was a long hill at mile 21 and it killed me. Yes. Killed. I'm actually writing this blog post from Heaven. Luckily there's calorie free fro-yo here, so I'm in a better place. RIP Monican.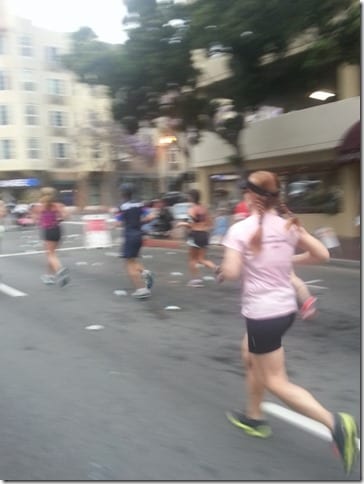 I walked a lot of that hill at 21 and really felt like crap about myself. I haven't walked in a race in a long time, so it was defeating. After the race I text Marathon Train Steve about it and he gave me some words of wisdom. Steve for the win. Always.
Skinny Runner ran with me most of the race even though I told her to give up on me. She is very nice. I am um, how do I put this? Um, less nice. So I got a little unpleasant when I hit the wall. YES. I hit the wall. It's been a while since I violently slammed into a brick wall during a race and today was that day.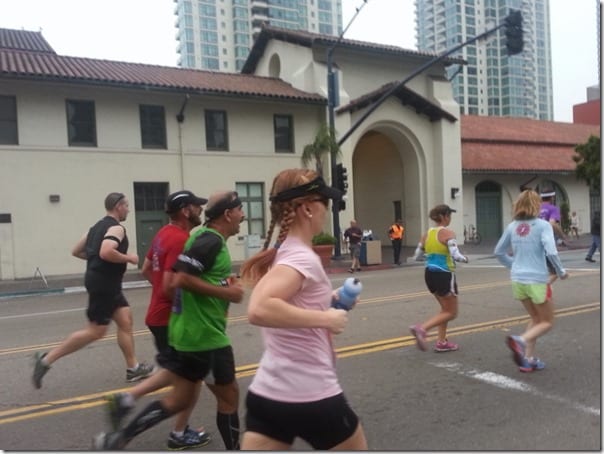 Final time: 3:45:13
It wasn't my best day since I walked a lot, but I can't be ashamed of that time. So I'm going to take from it what I can…
Lessons learned from this race:
1. I need to give myself more time to recover if I want to run a strong race. I can run a lot of races but I can't run a lot of them fast or strong when my legs are tired.
2. Still need to work on my hydration. I was very thirsty today.
3. The drive south from OC to San Diego is crazy with traffic, but I LOVE that area. I would consider moving there. Or running more races in San Diego as an excuse to head south
Post Race I grabbed some Chocolate Milk to REFUEL. I love it.
Elvis loves it too. All of them. Wonder if they pair it with a fried PB&Banana sandwich?
I met reader Sarah after the race!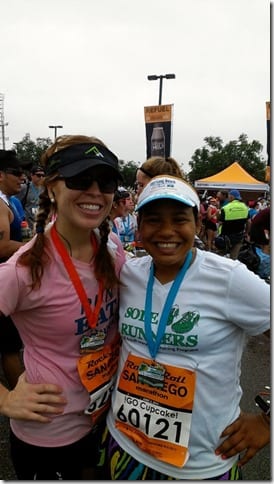 Hello to my other new friends – Eric, Carolina, Katie and Running Joe the amazing vet who runs with two flags at every race! I unofficially met Joe Laguna Hills Half and have seen him at a ton of races. Now we go way back! It's amazing what you learn about someone over a few miles. He has run from CA to TX. WOW!
I'm lucky that so many peeps want to be my fren even though I do stuff like this… I don't know.
After the race we headed to EAT. We ended up at Swami's Café in Oceanside.
You order at the counter and they bring the food out to you.
It's all outside / patio seating.
Food blogger busted! Caught in the middle of taking pictures by SR.
The menu is awesome! Tons of delicious and healthy sounding options. I went with a veggie omelet, fruit and a huge pancake.
Then, I relaxed in the backseat on the way home. I brought some ProCompression socks to help with recovery.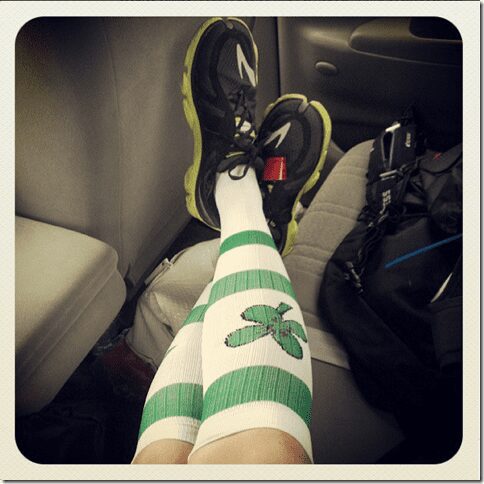 Overall: I had a great time! I never know what to expect on race day and I love that I met a new friend, spent some QT with a few old friends and learned a few lessons along the way. Thank you!
Now I'm taking it easy. Easy like a Sunday Morning.
Random. I know.