I ran the Wine and Dine Half Marathon in Orlando this weekend!
The race is part of the RunDisney race series, but this one is unique for a few reasons:
It starts at 10PM

After the race, in addition to the usual snack box you are handed

wine

(or beer).

The race coincides with the Food Festival at Epcot so runners and spectators can follow the race a tour of food from around the world.

You get to run through the Walt Disney World Parks at night.

The race has a more 'fun, enjoy it!" kind of atmosphere than a lot of other half marathons with a 'get outta my way' feel.
One of the best things about Disneyworld and Disneyland races is that the majority of runners are there to have fun and enjoy the race. That means a lot of people dress up. There are also a lot of run/walkers that are trying long distance running for the first time. I love when running welcomes everyone to come play!
I only did one thing in training for the Wine and Dine Half Marathon:
12 weeks of internet research to find a costume to run in.
I finally settled on Jesse from Toy Story and I'm so glad I went with her. It was a complete hit! The entire race people were yelling "GO JESSE!!!!!!" or "GOOD JOB JESSES!!!!"
It made me feel so good. So, I ran a lot faster than I planned.
Before the race I met a lot of readers! This was exciting because there are so many people I love when people I know say 'hello!', it makes it feel like it's a small world
Betsy ran her first half marathon at Wine and Dine!
I started the race with my friends, but they stopped at the Bear picture line and I wanted to skip that one and we never found each other after that.
SkinnyRunner, Run Gia, Sarah Fit and Race Pace Jess were all in on the fun.
I missed running with Meals and Miles , but we didn't start together and never found each other during the race. She's my OG FL friend and we really need to hit up another Triple D when I come out next time – Meghann, you in?
The one negative about this race: There are thousands of runners that have to go to the bathroom. This is standard, but the race is 67% women and that usually makes pee stops take a bit longer. So the porta lines were very very long and not moving quickly.
Time to line up at the start!
Disney Wine and Dine Half Marathon Recap
The course starts near ESPN Wide World of Sports and goes to Animal Kingdom, MGM and Epcot studios. It's very cool to run in the dark with the lights and decorations and music pumping.
But since it is dark you can't enjoy all the sights that you might see during the day. Cons – it's dark and you can't see all the rides and attractions very clear. Pros – Disney at night is pretty and romantical.
It is a flat, fast course. However, since it's at night there are challenges to running fast – fuel, rest. Plus the majority of people run this for fun so if you are in a later corral you may be dodging walkers.
Disney races have character stops where you can take a picture with their characters. They have a professional photographer, but you can also hand your camera to a Disney cast member and they'll take it with yours.
I have one mission for this race: Take a picture with my boyfriend Woody. Boom.
My favorite part of the course is probably the crazy Christmas lights street from the Osborne Family light spectacle.
I know it's cheesy, but running around Disney is magical. When we turned the corner and saw this I had to stop and take a picture. I am a big Disney fan and love all the touches and surprises they incorporate into races and theme parks.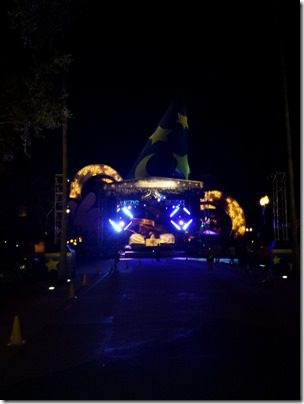 The end near Epcot is awesome! The crowds are super loud. The lights are exciting. It was a great finish line!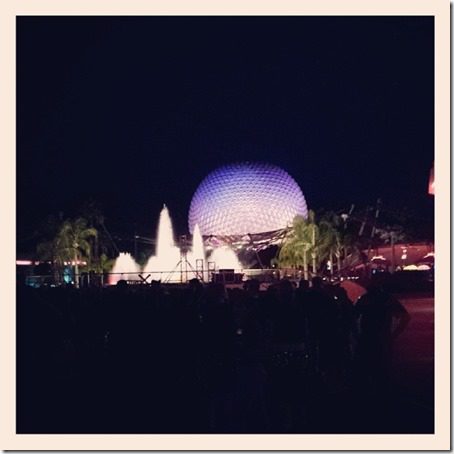 I brought my Garmin this time ('member I forgot it last weekend at NYCM). But I didn't wear it to the race because I don't know how to turn on the light (srsly) and I figured I'd be stopping for pictures. But I still had a great time – 1:53:30.
Once I crossed I got my medal, food box and a glass of wine! Yes.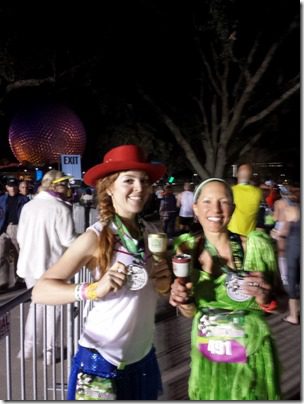 I 'ran' into Kristin from StuftMama and Kelly from According to Kelly at the finish too. Kelly is the girl behind Sparkle Athletic and helped me with my costume! I'll share more on that later.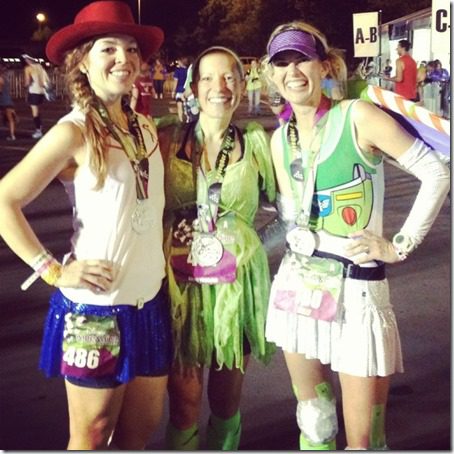 After the race it was time for the after party. First we hit up the NB party and then walked around Epcot tasting the world. My phone died so no pics. The only thing to note was the warm chocolate pudding, but it didn't change my life. It was from Ireland.
Overall: Blast in a glass race! It's more of a fun fun race then competitive PR race – not because of the course, but because of everything: the people, characters, location, night time and post-race party.
I had SO MUCH FUN. I would do it again for sure.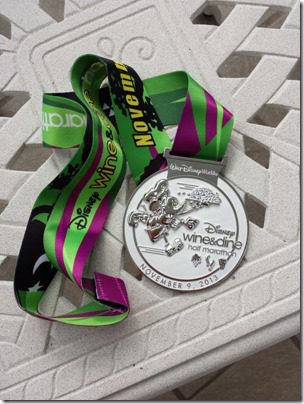 Question: If you had to eat one type of food for the rest of your life, what would it be?
I'd pick Eggaly or Watermeland where ever it's okay to eat eggs and watermelon all darn day.
Disclaimer: New Balance invited me to attend this and other race weekend events. I do not work for them. All opinions are my own.