My favorite new runner got bit by a dog this weekend.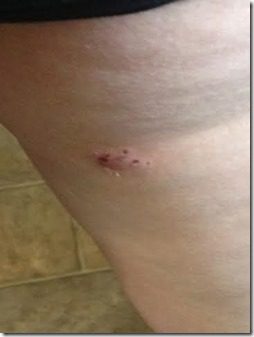 My mom was bit by a dog on Saturday. She was out running her usual route (the same route we walk the dogs, so we are very familiar) and out of no where a dog ran out of a house and bit her on the leg. (She gave me permission to use this photo and share this story.)
My old neighborhood (where my mom was running) does sometimes have dogs out so we are very cautious. Whenever we are walking or running we are always scanning the area to check for loose dogs. My mom was carrying dog spray in her pocket. But, the dog ran up and immediately bit her – there was no warning.
I'm very upset about this because it's my mom, hello. This is my WORST FEAR with running outside (yes, I am more afraid of dog attacks than people attacks, seriously).
She is okay and wanted me to pass on the message as a reminder to all outside exercisers. So, today we're having a refresher on how to avoid dog bites and what to do if you get bit.
What to do if you get bit by a dog:
Place a clean towel over the injury to stop any bleeding.
Try to keep the injured area elevated.
Wash the bite carefully with soap and water.
Apply a sterile bandage to the wound.
Apply antibiotic ointment to the injury every day to prevent infection.
Also – you need to find out if the dog is up to date on all their vaccinations!
The owner ran out when my mom screamed and she was able to find out that he was up to date on rabies shots.
How to Prevent Getting Bit By a Dog:
From Cesar Milan When Dogs Attack
If you are confronted by an aggressive dog, the most important thing to remember is this: Stay calm. Don't give in to fear or anxiety, and don't start yelling or kicking at the dog. An aggressive dog wants you to be stressed out before it attacks, but if you remain calm and in control, it slows them down and throws them off.

Also avoid direct eye contact with an aggressive dog. Stand slightly sideways (which also makes you a narrower target) while keeping the dog in your peripheral vision.

Once you have successfully used calm assertive energy to keep that dog back, claim your own space. If you happen to be carrying anything in your hands, like a cane or an umbrella, place it out in front of yourself to appear bigger and be more in command of your space.

What this tells the dog with your body language is, "I don't want your space, I just want this space that I am in." Maintain your very calm and assertive state; this energy creates a barrier that automatically demands the dog's respect by letting it know that you are not afraid.

When the dog senses that you aren't threatening it — and are not threatened by it — it will probably lose interest and the situation will de-escalate. Unfortunately, though, this process is not always possible.
Other Resources:
From the ASPCA Dogs Chasing Runners
From Runner's World Mean Dogs Bite 
Let's end this on a lighter note…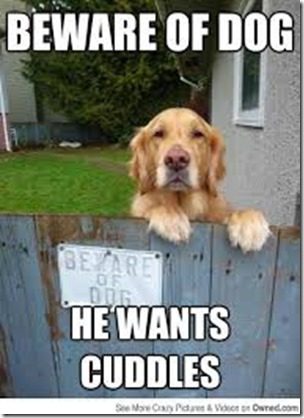 Winner of the Cascadian Farm Giveaway is Alison P. I'm emailing her now.
Question: Do you have a dog? Cat? Llama??