Podcast: Play in new window | Download
Subscribe: Apple Podcasts | Google Podcasts | Stitcher | RSS
Hello! Today we're talking about the OC Half Marathon – my race results and comparing them to previous races.  I'm answering a runner question about foam rolling versus stretching. And I'm super excited to give my friend the award for the week!!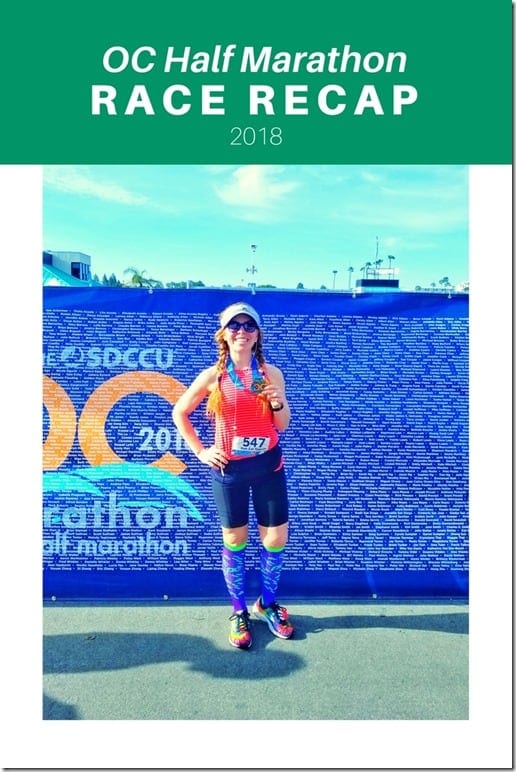 Note: I received a free entry to the race and a discount code to share with my followers. I've run this race in the past and paid for it and I would have run it and paid for it this year but since they offered I was all about it. I'm not getting paid to review the it though.
Warm Up: OC Half Marathon recap…
Here's my race wake up for the Orange County half marathon! I've run this race both the half marathon in the full marathon a few times so it's  a really good way to measure progress and fitness of level. I can compare how I felt and my finish time to the exact same course and see where I am with my running fitness.
I don't have a super detailed breakdown of each mile but wanted to share my overall thoughts on the race and my running.
Last year it rained but most of the time the weather is pretty warm on race day. I didn't think it was super hot but after the race I took a shuttle back to the start line and when I was on the bus realized I was drenched in sweat, 100% wet top and bottoms. Gross.
How I felt… Overall I felt pretty strong outside of the massive hill at mile 11.  On the bright side… when I was walking up the hill I met a follower who felt the same way. I realized trying to run was killing my quads and I was going slower than if I would just try to walk it… so I walked.
OC Half Marathon Results:
Finish time: 1:45:09
Average Mile Pace: 8:02
Results on this race versus a few recent half marathons and last year's OC half:
OC Half Marathon results 2018: 1:45:09 Pace: 8:02
OC Half Marathon recap 2017 – 1:47:25 Pace: 8:07
So I was faster this year, but I expected that since last year it was raining and I ran with a poncho for the first part of the race and was probably messing with that for a bit.
My most recent half marathons before this –
PCRF Half Marathon recap – 1:46:37 – average pace: 8:13 minutes per mile
Tustin Half Marathon recap podcast 71 – 1:48:47 – average pace 8:17
Surf City Half Marathon podcast episode 66 – Surf City Half Marathon finish time 1:43: 33  – average pace 7:53
Now I want to talk those facts and learn from them so I can do better on my next races!
How can I do better next time?
What do I need to work on?
What did I do well?
What I can learn: I'm okay on my fitness level – not way off from Surf City Half Marathon. I'm ready to work on my next running goal – physically and mentally.
Half Marathon Recap and Notes:
Love the OC Marathon and Half Marathon.
It's close and convenient.
It's well organized.
Pretty course – ocean views for part of it.
The post-race party is the OC Fair Grounds and had massages, food, recovery zone.
The website says 'net downhill' but I don't consider this a downhill or flat course. There are a few inclines and hills and a big hill at mile 11. I walked that one!
The course support is good.
The weather is usually warm – except for last year.
It's fun, on time, well organized and easy to plan logistics. I've parked at the start and finish different years.
Running Question – Foam Roll v. Stretch
This runner just ran the Mt. Charleston Half and is super sore. Now should you foam roll or stretch to help alleviate that soreness?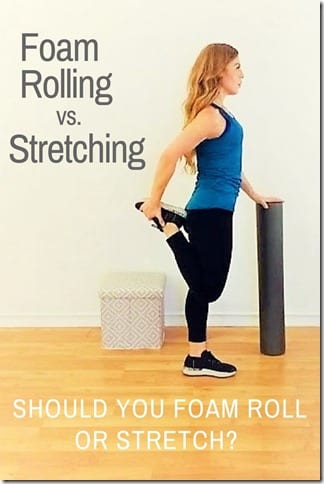 Should You Stretch OR Foam Roll After a Run?
Just finished the Mt Charleston Revel Half and am sooooooo sore. I was wondering if it's better to foam roll or stretch when you're sore and when to do which one.
I'm actually the only runner I know who loves to stretch (used to be a ballet dancer), but when I'm sore, it's hard to do either.
Also, if you have already, or are going to answer this on the podcast, I listen to my subscriptions in order (I'm weird) so I'm still listening to the end of March.
Thanks!
Joan

How to alleviate soreness after a race:
1. Have a post-run recovery plan that includes: refueling, stretching, compression, ice (or ice bath), elevation, rest… Do what works for your body and the areas you are sore.
2. Don't just sit or lay down for hours after the race. Get up and walk around every so often and stretch a bit if it feels right to your body. Try to keep yourself from getting too tight.
3. The next day – take a walk to warm up your muscles and then stretch your entire body head to toe focusing extra time on areas that are sore or tight. Don't just stretch your favorite muscle groups or what feels good.
4. Foam roll any areas that you couldn't get a good stretch AND areas that need special attention.
Should you foam roll OR stretch?
You should do both. They work together to help in recovery, rehab and injury prevention.
Benefits of foam rolling:
it's a form of myofascial release

relieves tightness in the soft tissue of one specific area

can help you target one specific area that's hard to stretch

increases blood flow to the area you're working on
Benefits of stretching (static):
helps with improve range of motion and flexibility

elongates warm muscle groups

training your muscles to fuller range of motion can help prevent injuries
For more info:
Study on foam rolling and stretching
Strength and conditioning research on Foam Rolling
My Foam Rollers:
Regular long foam roller – this is the most popular and common one
Foam roller with pressure points
**********************************************
Awards:
1. Steve for qualifying for the Boston Marathon at the Revel Marathon! Sooooo proud of him!!!!!
Coach Steve was on Podcast Episode # 72
He's the Sole Runners' Running Coach (that's their FB page) – they train for the Long Beach Marathon & Half Marathon (and LA Marathon but that just passed). Check it out if you want to join a running group with a great coach and super fun people.  [ Sole Runners website ]
2. My new stabby mat… I mean acupressure mat.
After trying an accupressure mat that you step on I decided to get this Nayoya Accupressure Mat to take it to the next level. I like it! It's weird! And I can't tell yet if I like it because it's weird or it really works or what … I need to use it for a while before I review but so far I like it!
3. The Whole Foods hot bar for being there for me after the race.
Thank you for listening!
If you have a question for me – email it to [email protected] with Podcast Question in the subject line OR leave a message on the Run Eat Repeat voicemail 562 888 1644
Please subscribe to the show!
And tag
@RunEatRepeat on instagram
letting me know what you're doing while you listen!