Today started out like any other race day, with PB&J and coffee.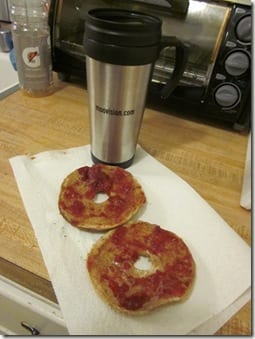 I also had a dilemma… I was signed up for the Full Marathon, but decided to do the half when I realized I wasn't ready and might risk injury and would have a very long recovery.
The decision was made, but I wasn't sure if I should wear my timing chip. I didn't want it to record the wrong time or to show that I missed the full marathon markers. So, I didn't wear it.
That was actually a good thing because I had a bad race and am glad I didn't have the added pressure of watching the clock.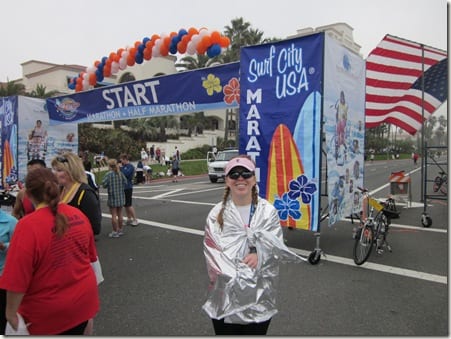 Since I didn't have the timing chip I don't have an official time, but it's okay with me. My stomach hurt, my hip felt tight and I just didn't have it in me today. I'll post more about it tomorrow.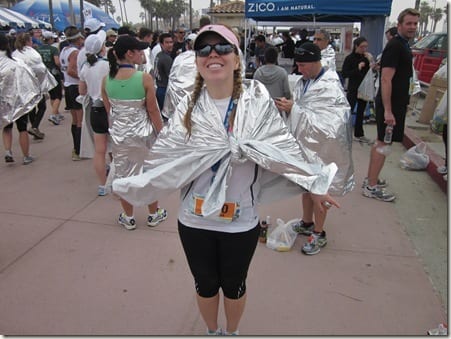 I was able to pay attention to the signs spectators were holding up. Some of them were great! My favorite race signs today:
"Don't Stop!" That's what she said.
"I am proud of you, complete stranger."
"Suck it up buttercup"
"I have great stamina too! Call me."
"I go nuts for tight butts"
There were a lot of clever spectators out today!
This isn't that bad of a time considering I was had rough race today.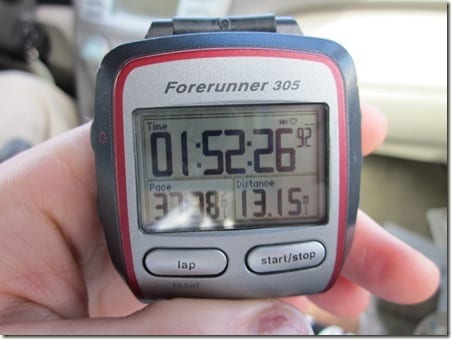 Here is the medal – it's a Surf Board of course
I went through the Half Marathon chute, but they still insisted on giving me the full marathon medal.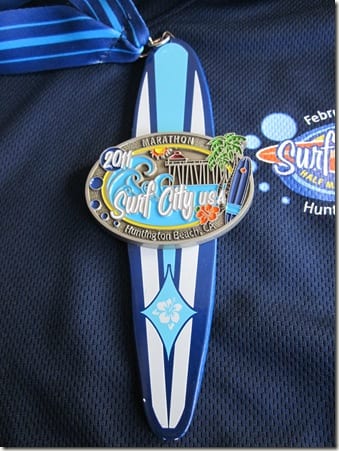 This morning on the way to race I realized I have done a race every month since October. That's 5 races in as many months. I am soooooo ready for a break now
October – Long Beach Marathon
November – Malibu Half Marathon
December – Las Vegas Half Marathon
January – Arizona RnR Half Marathon
February – Surf City Half
Now I'm going to rest…next races are TBD
Post race I had a Fig Newton that was in my goodie food bag…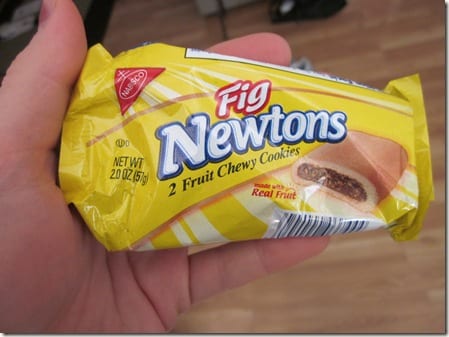 My stomach still hurts, but I am hungry. I just had a massive smoothie with sliced almonds.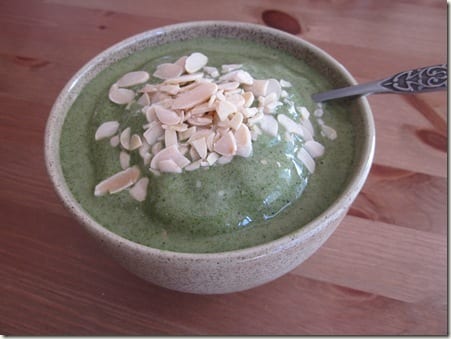 My belly better get it together soon I have big plans for Super Bowl snacks and pizza!