A Good Listen – Podcast and Book Review series. Today's book is Then She Was Gone by Lisa Jewell. It's a best selling book available on Audible, Amazon, Kindle and other book merchants.
Short review of the novel I listened to on Audible.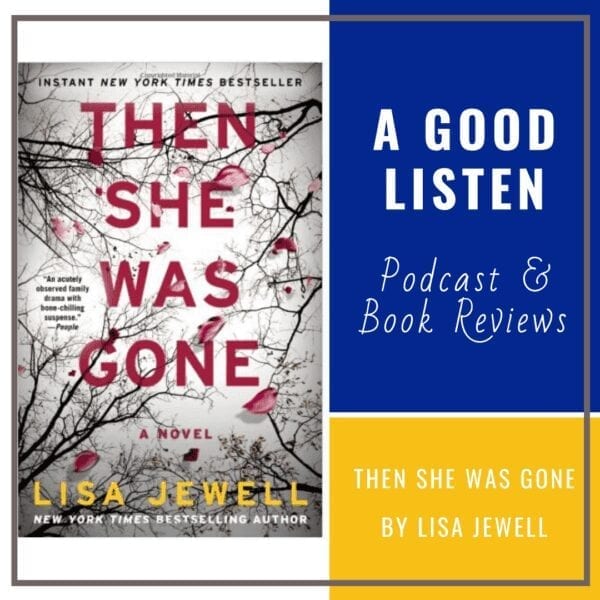 A Good Listen – audio book review
Then She Was Gone by Lisa Jewell
Short Summary:
A 15 year old girl goes missing and the story is about her life leading up to that and then closely follows her mom's life and struggle to move on.
The story is focused on the mom but also gives you the point of view of her kidnapper and other key characters.
Favorite Part / Character:
I love that it was suspenseful without being stressful. I listened to the whole thing in 1 weekend because I wanted to know what was going to happen. But it was never super violent or scary.
I love the accent of the reader. And slight changes in her voice for the different characters.
Didn't Love:
I didn't love that what happens to the girl seems anti-climactic. Anyone else??!
The new rating system is easy – Yes / No / Maybe.
Overall Recommendation:
Yes – I recommend this book.
Where can you get – Then She Was Gone:
More Good Listens…
Jessica Simpson's memoir – Open Book
My Lovely Wife in the Psych Ward
Midnight Son – Audible Original 
Book Review Round Up – Nonfiction – Podcast 115
Follow @RunEatRepeat on Instagram and Facebook for more tips, info and updates!
New episodes of A Good Listen are also available on the @RunEatRepeat IGTV channel!