You may have noticed that last night's post was published at 11:30pm!  Well, it turns out drinking iced coffee in the afternoon is not the best idea if you want to get to sleep at a decent hour. I was wide awake watching the Olympics (Go Aly!) and finally took a melatonin to wind down.
Olympic side note: I love Lolo! Love love.
I also like Mustafina even though it seemed everyone else at the Olympic Marathon party was not a fan. I thought her dirty looks and they way she shooed her coach away from touching her after she had a bad routine was entertaining. She's smiling now though…
(source)
Weight Loss Wednesday with Cara
My Run Happy Ambassadorship with Brooks shoes includes the opportunity to interview one of their Brooks I.D.member. I.D. stands for Inspire Daily
Recently I interviewed Cara, a mother of 4 from Oregon who works with Brooks. She has completed 9 marathons and works as a personal trainer and running coach.
Oh, and she lost 45 pounds.
Cara Before: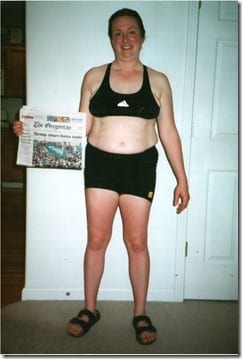 Cara After: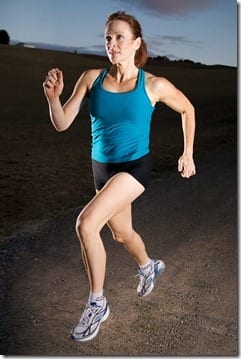 Here's her weight loss and running story…
How did you "find" running? What's your running story?
I love my running story!  Throughout high school, I despised running–and all athletics, actually.  Whenever I ran for P.E, I would develop knee swelling from a subluxing patella.  Thus, I obtained a doctor's note to excuse me from running, and that note carried me though all four years of high school with no running.

In early adulthood, I began walking several miles a day, but always insisted that I hated running and that I "couldn't" run.  Throughout the course of having children and hitting 30, I became overweight for the first time in my life.  When I finally began weight training and following better nutrition and portion sizes, I lost all that excess weight and became muscular!  Still I was sure that I hated running, though I hadn't tried it in years.

One day while on a long walk, I realized how late it was and that I must rush home so that my husband could get to work.  There was no option:  I had to run!  I ran about 2 miles, and when I finally slowed to walk in the last block, the walk felt like slow motion. It dawned on me that the run felt GREAT!!!
The next morning, I decided to try running again.  Loved it!  And so it went.

I got hooked on racing at my first race. Positive that I must be a slow runner, I was so afraid of being the last across the finish line!  Imagine my shock when I passed my running friends and ended up being among the top tier of finishers.  Race after race, I kept winning in my age division, and several times I actually won as the overall woman.  This has never ceased to shock me.  I still keep thinking that maybe all these races have just been flukes!  As I running coach, I know better, but as a woman who came from such a non-athletic history, I still can't get over the shock of it!
How did you lose the weight?
I began weight lifting 6 days a week, using free weights and cables rather than machines.  Also, I increased my general physical movement throughout the day, so that if it was time to read, I'd do so going in slow motion on a treadmill, rather than sitting.  I still did my regular walking back then, but I'd add more walks whenever possible.  Also, I reduced simple carbs and eliminated extra fats and sugars (such as honey, jam, butter, cheese, etc).  My diet was mostly comprised of fruits, veggies, and lean proteins.  No desserts at all until I reached my desired weight.
What was a typical day's meals when you were losing?
Breakfast was one slice whole wheat toast with banana; early lunch was a whole wheat tortilla with turkey breast and lettuce, along with a giant fruit salad.  Early dinner was a lean protein, a veggie, and a giant spinach salad.  I loosened my restrictions once I lost all the weight, and now I do allow myself to enjoy desserts!
What was a typical day's exercise?
The typical exercise (this was before I was a runner) was an hour of weight lifting and a 3.5 mile brisk walk.  Then, there was the extra very slow-paced stroll on the treadmill later in the day.  I'd even dance around the kitchen a bit while cooking dinner.
How do you maintain that loss now? What did you eat for Breakfast, Lunch, Dinner and snacks yesterday?
I am not extremely strict now with calories because I have so much lean muscle mass that my body is a calorie-burning machine!  But I do keep my eye on my weight almost daily just because it's a good diagnostic tool, and I don't want to discover that I have gradually put on weight.

On average, I enjoy about an hour of cardiovascular exercise every day–running, cycling, climbing stairs, or using the elliptical machine.  Sometimes it will be a tempo run, interval training, easy runs, or a longer endurance run.  I continue to lift weights daily, which is also a key in keeping weight off.  For every 10 pounds of lean muscle mass on our bodies, we burn an extra 500 calories a day!

My meals tend to be thus:
Breakfast:  a bowl of high-fiber, low-sugar cereal with walnuts or almonds and whatever fruit I can find–sometimes,  a dollop of plain Greek yogurt on top.
Lunch:  an apple, some toast with hummus, a handful of carrots.  If I want a little dessert, I will typically have it after lunch.
Dinner:  A stir-fry and salad; or grilled lean meat and salad; roasted meat and veggies and salad.

For snacks I eat a small handful of almonds, a fruit, a frozen banana and skim milk smoothie–these are wonderful things!

I aim for my most of my carbs to come primarily from fruit rather than from starchy sources like potatoes, corn, pasta, rice, or bread.
I do have a sweet tooth, but I don't eat junk food, and I don't drink caloric beverages (other than perhaps wine).  So, some great quality chocolate or some home baked yummy treats don't present problems  to me in maintaining my healthy weight.  But if something is very caloric, it must be delicious and special if I'm going to eat it!
How do you fit running into your busy life? Any tips?
My main tip is to fix it into life as a non-negotiable, just like eating and sleeping.  We must exercise for our health, just as we must eat and sleep.  I find that most people are successful if they do it first thing in the morning.  Those who wait till evening have a tendency to be less consistent.  Certainly some people are wonderfully successful who plan their evenings to work out, but I'm telling you without a doubt that they are the minority!
Question: Who's your favorite Olympian this year?
I love Aly.