Eating within 30 minutes after a hard run is critical to recovery. It refuels your body, helps your muscles rebuild and recover and can prevent wild runger (aka running hunger) later.
I've done some experimenting with not eating within that time frame and realized I do feel it on my next run. It's one of those things you need to pay attention to with your body. If I don't eat something with a good protein / carbs combo after running – on my next run it'll feel harder. My legs take longer to recover. A run that is normally at a '5' on the effort level scale turns into a '7.5'.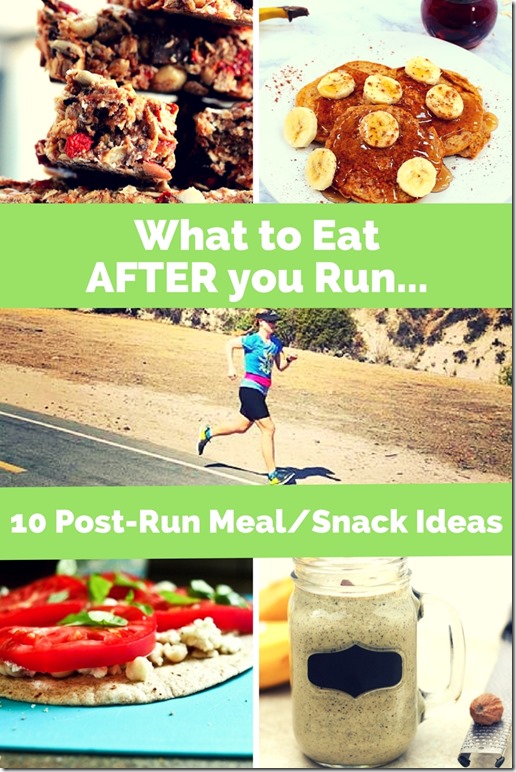 So here are 10 great post-run food ideas to help you recover faster, run more and feel stronger…
10 Ideas to Refuel After You Run
Take this to bRUNch –> Kale Frittata with Potato Crust via Women's Running (my recipe)
Yummy Breakfast idea –> Banana Bread Protein Pancakes via Peanut Butter Fingers
Need something 'grab and go' –> Nutty Protein Granola Bars via Fannetastic Food
Not hungry after a run? Try a smoothie –> Suja Sunset Protein Smoothie via Fitnessista
Want a protein packed snack after you run –> Pumpkin Protein Balls via Carrots N Cake
Want leftovers ready for after you run –> Healthy Lasagna Recipe via Hungry Runner Girl
Want a Vegetarian Lunch or Dinner option? –> Tomato and Bean Pizza for one via Kath Eats
Believe in eating chocolate anytime? –> Chocolate Protein Bars via Fitnessista
Throw this in the fridge before you run and it'll be ready to eat after –> Over Run Oats via Run Eat Repeat
Want something cold and sweet, like ice cream but good for you –> Cake Batter Smoothie via Run Eat Repeat
Bonus: When I asked my running friends to chime in with their favorite post-run meals Theodora suggested –> Rose wine. I whole heartedly agree with this suggestion.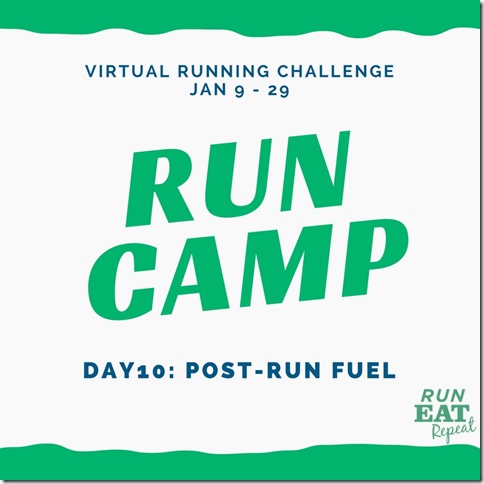 Run Camp Day 10
Run Camp Day 10 – Think about what you eat after a run. You should be aiming to eat within 30 minutes to an hour after a run. The ideal post-run fuel has a 4:1 or 3:1 protein to carbs ratio. If you're not a mathlete – it's okay. Eat something with both protein and carbs.
Does it have a good protein:carbs ratio?
Are you eating within an hour or less of finishing your run?
Do you feel like it is enough to refuel you?
Are you hungry soon after? Are you hungry the rest of the day?
Question: What is your go-to post run meal or snack?