How to Warm Up Before a Run
Do this Fast 5 Minute Warm Up for Runners before your next run! It's easy to follow and you can do it anywhere you have space to move around a bit.
Running Warm Up A – Video & Tips
This 5 minute warm up can help you get ready to run! There are 5 moves – 1 minute each. Follow along with the video OR use a timer and do them solo.
This is about YOU and getting YOUR BODY ready for a great run! If you need more time to warm-up, take more time.
5 Minute Running Warm-Up A
Running Warm Up Tips:
Start off with slower, smaller movements and slowly let your body warm up.
Adjust the moves as needed. If you need to do less – do less. If you feel ready to do more – do more.
LISTEN to your body. Your warm up is a good time to check in with yourself from head to toe. Use this information to help plan your runs and recovery.
If something hurts – stop. If something is sore – assess why and how bad it's sore. If one area feels tighter, sensitive, achy, weak, etc… – assess why and how bad.
Note any relevant info in your Running Log.
End the warm up with a positive affirmation.
After this pre-run warm up… take some time to do any additional warm-up moves your body needs to feel ready to run.
5 Minute Run Warm Up-A:
Do each move for 1 minute (some of the exercises are 30 seconds each side). Follow along with the video or use a timer to do it yourself. Feel free to pause the video and do a few extra reps as needed. Shake-out, move and adjust as needed to get your body ready for a great run!
Pin this Run Warm Up pic to save for later!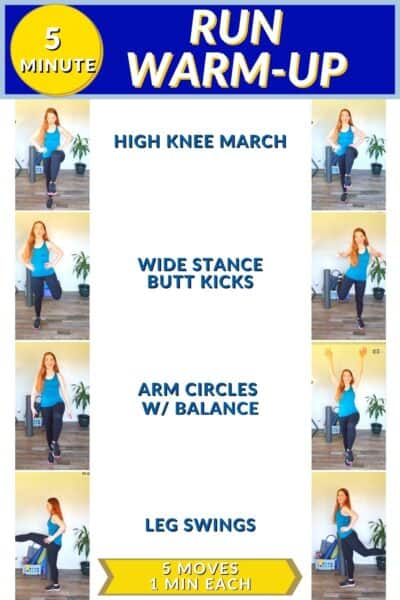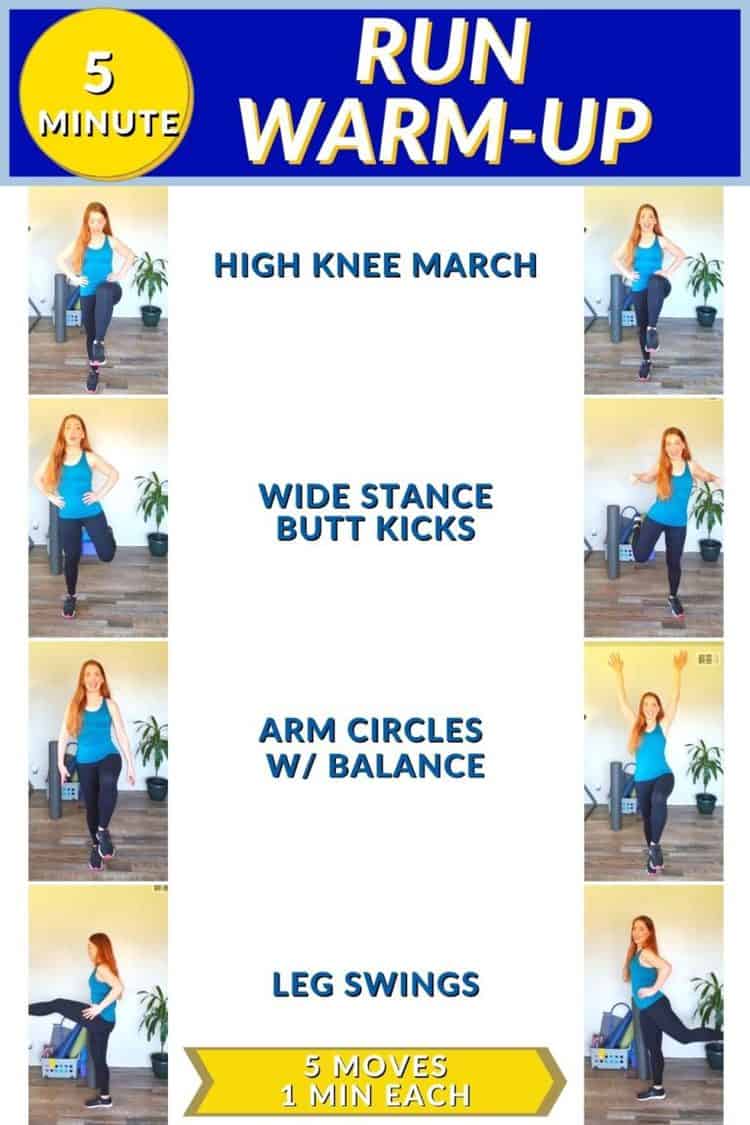 MORE running warm-ups and workouts are coming soon. So be sure to follow along on IG & Subscribe to the Run Eat Repeat YouTube Channel so you don't get left behind!
Running Questions
Do you have a question? Ask me!
You're probably not the only one with that question and it helps other runners when we talk about common Qs and concerns.
How to Ask: Email [email protected] OR DM me on Instagram @RunEatRepeat
Keep Going with these:
Follow @RunEatRepeat on Instagram for the latest Running & Eating updates!! And use #RunEatRepeat to connect with other runners on Instagram and Twitter! See ya there!