How to Make the Air Fryer Banana Split
This recipe is viral on Instagram and TikTok right now, but I think it's inspired by a campfire Banana S'mores Recipe that goes back to the dawn of time (or maybe the dawn of the Food Network because I saw Pioneer Woman do it in a camping episode).
View this post on Instagram
Air Fryer Banana Split
Ingredients:
Banana
Almond Butter (or Peanut Butter)
Chocolate Chips
Cinnamon
Yogurt or Ice Cream
Optional: nuts, shredded coconut, granola…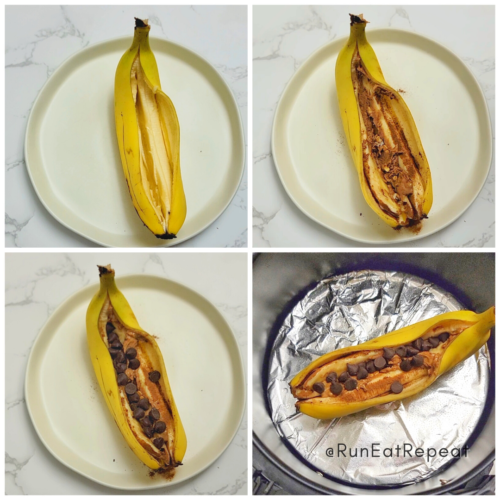 Air Fried Banana Split Directions:
Pre-heat Air Fryer to 350 degrees. (If your air fryer requires pre-heating, mine doesn't.)
Slice the banana long ways through the peel, but not all the way through.
Sprinkle it with cinnamon, spread almond butter and top with chocolate chips.
Cook in air fryer for 5 to 8 minutes, checking periodically. It's done when the banana is warm and mushy and chocolate chips are melted.
Top with yogurt or ice cream and your favorite toppings. Enjoy!!
Air Fried Banana Split Tips & Notes:
Making it in the banana peel helps keep the toppings together and prevents a mess. But you can take it out of the peel to serve it in a bowl. <- Noting this because I gave this to a friend who was a lil put off by the way peel turns black in the air fryer.
You can also peel the banana, slice it in half and follow the rest of the steps to make it without the peel. <- I made some this way too and lined the basket with foil first.
If your air fryer works with foil, you can use some to help with clean up (but check the directions first).
My air fryer is small and cooked the top of the chocolate chips too fast at 400 degrees, but the banana wasn't done. So, this recipe suggests 350 degrees. Your temperature and cooking time will vary depending on your machine, adjust accordingly.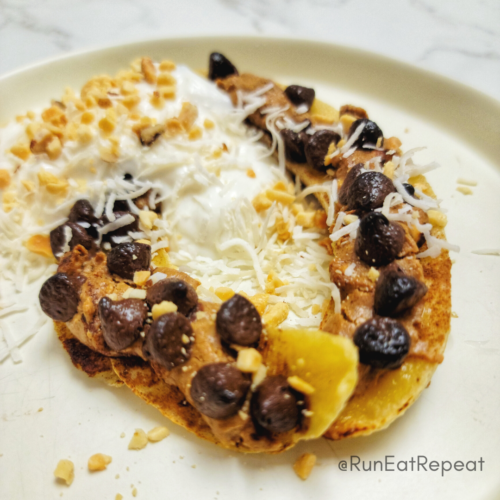 Keep Going with these: