Podcast: Play in new window | Download
Subscribe: Google Podcasts | RSS
`Run Eat Repeat Podcast 133. We're talking about the Fun Run Challenge, the London Marathon 'bubble' and how that worked and giving more support to female athletes!
Instead of the usual Running Calendar with suggested workouts – I have a FUN RUN Challenge for you this month! And The London Marathon is the biggest race to actually be held this year. 
But it was very different from any other race we've ever seen. Race officials set up a biosphere for the runners and their teams. 
And I'm sharing of the super fun and interesting rules and tools they used to keep everyone safe!!
But before we get into that… Let's Warm Up
Warm Up: 
Fun Run Challenge! I like to share a Running Calendar each month to help keep you accountable and motivated to run. But even though we're talking about a real live race today – I know it's been very hard to workout and run this year. 
There have been so many obstacles that have gotten in the way of our running and fitness goals. I feel like everyone I know has said they've gained weight since the start of the pandemic and safer at home orders. 
And it's weird but I feel like I'm more discouraged when I feel like I've gained weight. I wish I was more determined! 
So instead of the usual running workout calendar – the October Calendar is a Fun Run Challenge! There are 31 days of ideas and inspiration to help you have fun on the run. 
I truly believe running is one of the best ways to get fit. And I truly believe it can be fun!
Please join us! It's a great way to meet other runners!! 
How to Join the FUN RUN Challenge:
Run & Have Fun!

Follow along and share your updates on Instagram or Facebook tagging @RunEatRepeat and #RunEatRepeat
We've obvi already started – but it's not too late to join! I'll put a link in the show notes so you can check it out.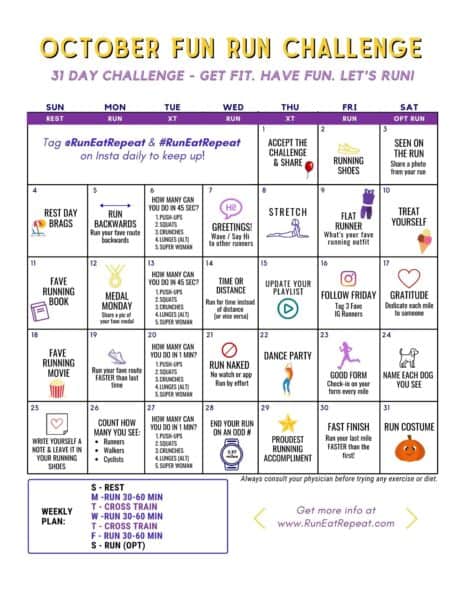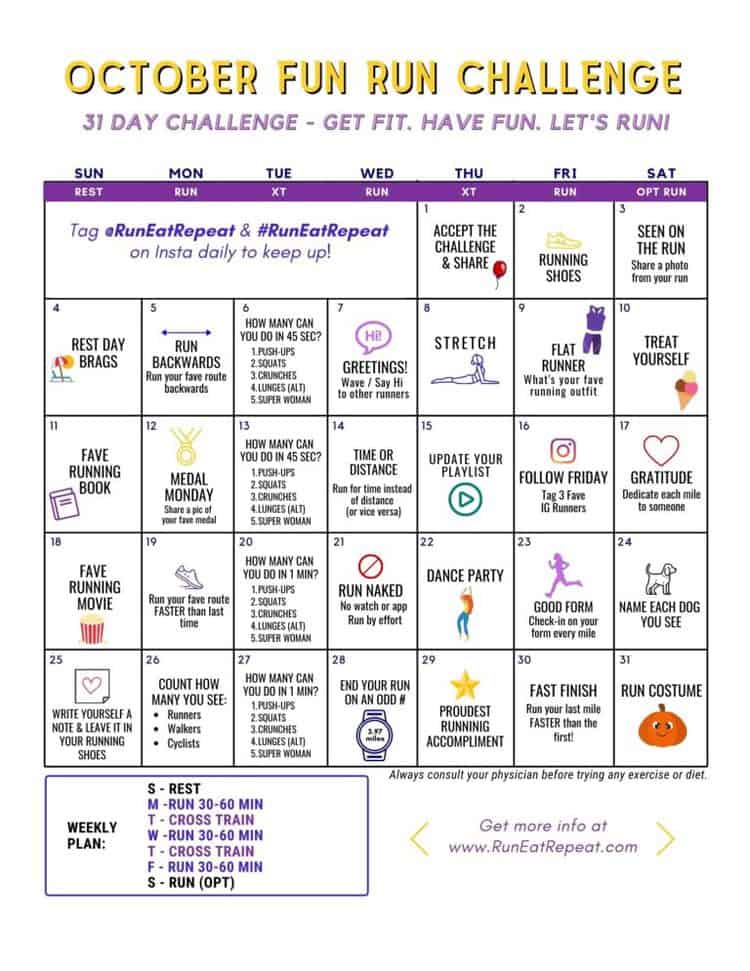 London Marathon Bubble Fun Facts and Supporting Female Athletes
Before athletes & any of their team members traveled to London they were tested for Covid.
Then, they were tested again upon arrival.
And even though it's far from the norm pre-race prep… that's not
And that's when it got interesting…
All the athletes and their team members stayed in an undisclosed location where they eat, slept and trained. They weren't allowed to go more than a certain # of yards away from the location.
Molly Seidel on the London Marathon… "It's very fancy. The food is great. It's wild."
Within the bubble social distancing they are all required to wear 'beepers' that make a noise if you get within 6 feet of anyone else. 
The 'beepers' are small and attached to a necklace. Everyone has to wear it anytime they leave their hotel room. The system doesn't track where they're going, just goes off when one beeper is too close to another. 
The London Marathon course – 20 laps around St. James Park.
Check out Sara Hall's instagram for a clip of her finishing kick. This pic is from her IG. Follow her at @Sarahall3 and Ryan Hall has an amazing clip too! His IG is @RyanHall3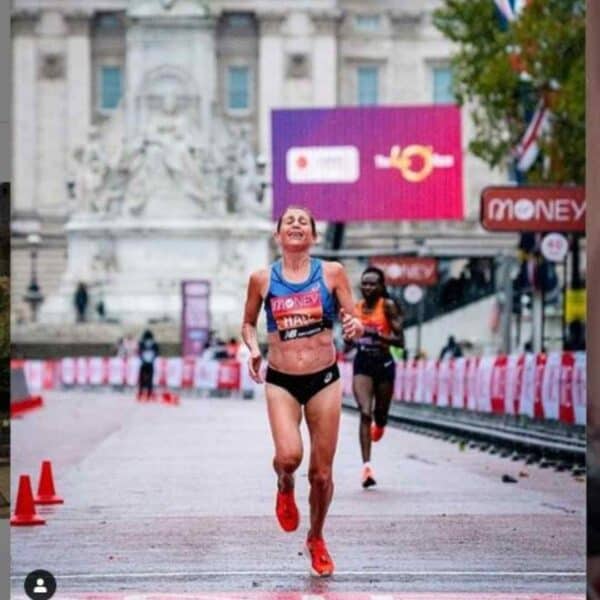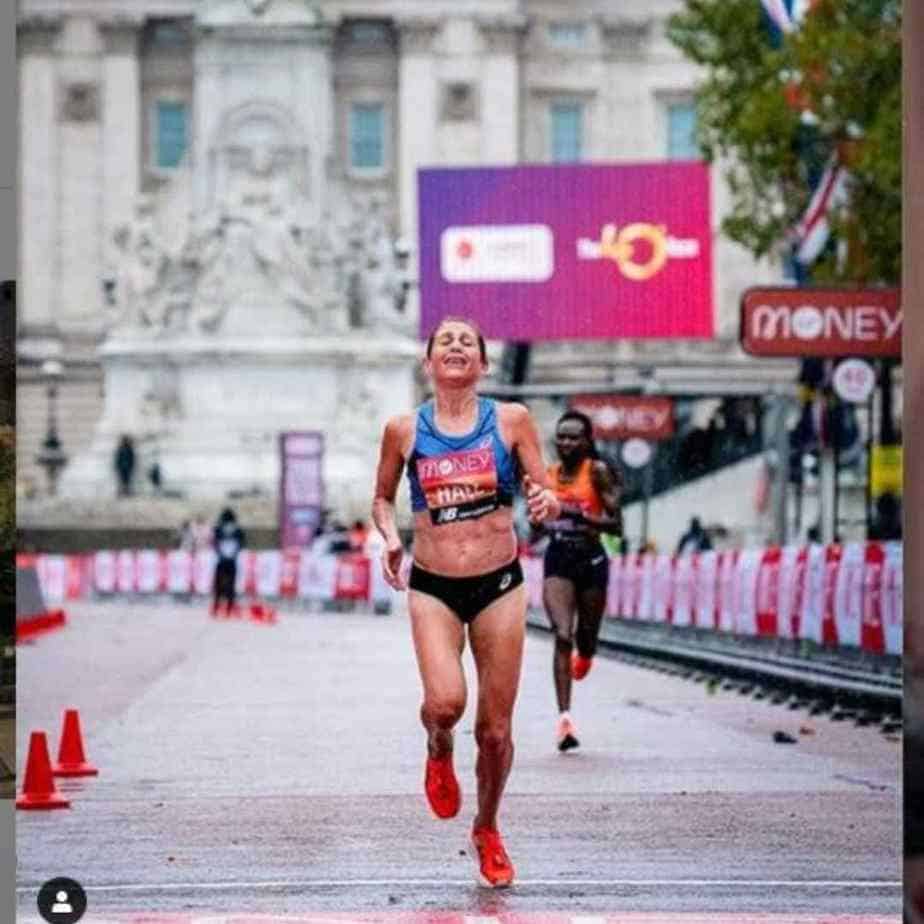 (source: Sara Hall on Instagram @Sarahall3)
From Runner's World – details on the London Marathon bubble:
Details of the meet hotel were kept secret all week, with athletes warned not to identify their location online. (And they weren't kidding—Seidel posted an Instagram of herself training on the grounds, but was asked to take it down.) Set on 40 acres of land, the hotel grounds provided enough room for runners to log their final sessions, while wheelchair racers trained on stationary rollers in their bedrooms.
At most events, athletes share a twin room, but this time everyone had their own place to sleep. Masks were mandatory at all times around the hotel except while training or eating, and athletes were given bump technology pendants to wear around their necks, which made a beeping noise if they got too close to one another. They also worked with staging experts like https://www.stagingspecialists.co.uk/ for their brand new podium.
From the UK Telegraph – on the winners:
Eliud Kipchoge's reign as the king of the London Marathon came to a shock end as Shura Kitata emerged from the rain and the gloom to become the new champion.
In a stunning upset Kipchoge, who had won all of his previous four London Marathons and had not lost over the distance in seven years, dropped alarmingly off the pace around the 22-mile mark.
The 35-year-old world record holder had no answer as a seven-strong lead group edged away from him, and he ended up finishing down in eighth. He revealed after the race that he had suffered with a blocked right ear with 15km remaining. 
But despite the slow pace he came up short and Kitata took full advantage, as Kipchoge was beaten for the first time since he came second in Berlin in 2013.
London Marathon Winners…
Women's Top Three:
Brigid Kosgei (KEN) 02:18.58

Sara Hall (USA) 02:22.01

Ruth Chepngetich (KEN) 02:22.05
Hall's second place means she is the first American to finish on the podium of the London Marathon since  Deena Kastor won the race in 2006. 
Just a reminder, she will not be representing her country at next year's Olympics in Tokyo (if they go ahead) as she didn't finish in the top three at the trials earlier this year.
Men's top three
Shura Kitata (ETH): 02:05:41

Vincent Kipchumba (KEN): 02:05:42 

Sisay Lemma (ETH): 02:05:45
I still love Eliud Kipchoge and can't wait to see him CRUSH the Olympics!!
And most inspiring finish award goes to  Sara Hall – 2nd place in a big kick finish.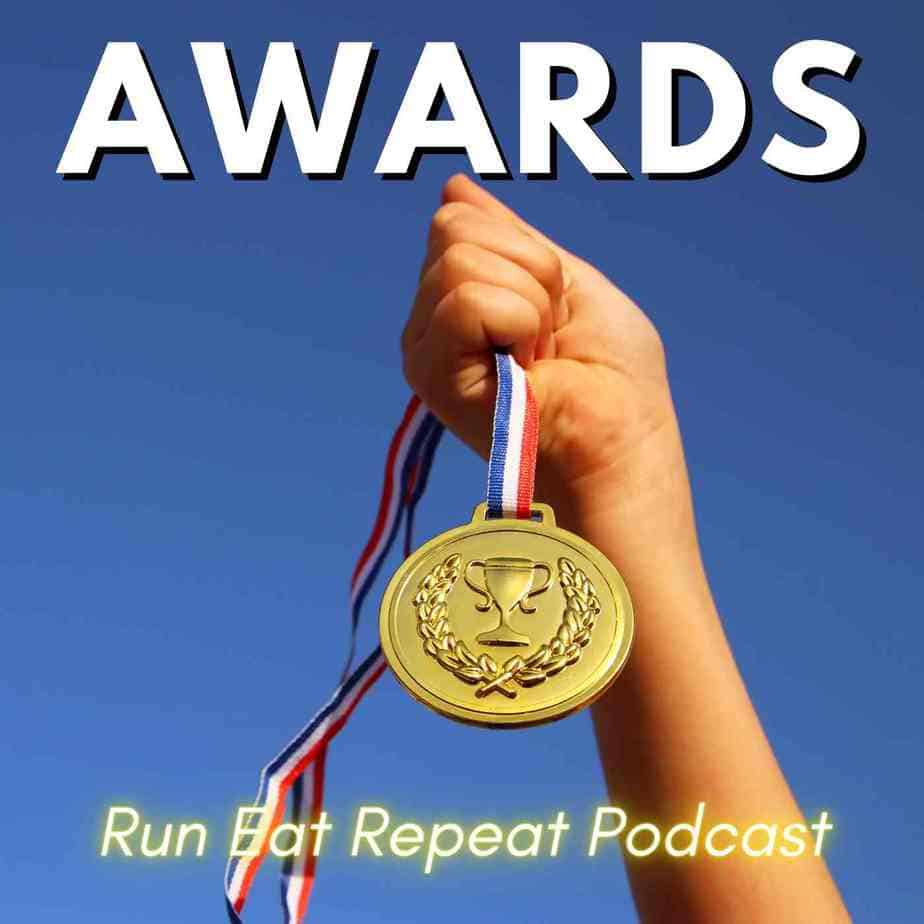 Awards: 
Everyone participating in the Fun Run Challenge! Keep it up!!

Diego for being such a good sport with all the Halloween costumes. He's @DiegoRedvera on Instagram 

Heather McDonald Podcast interview with Caitlin Jenner – I don't watch Keeping up with the Kardashians because I don't have E! (the channel their show is on). But I do like to keep up with them by listening to podcasts with episode recaps. 
I didn't super closely follow everything that happened with Caitlin Jenner and her transition either. But I thought it'd be a good listen while running – it was. 
I think Heather McDonald was such a good person to interview her because they've known each other for years, but aren't really close friends. So it was a good mix of familiar without it being all inside jokes or bubble gum level. It's not crazy juicy, but it's interesting and it made me appreciate Caitlin more. I'm thinking about listening to her book now.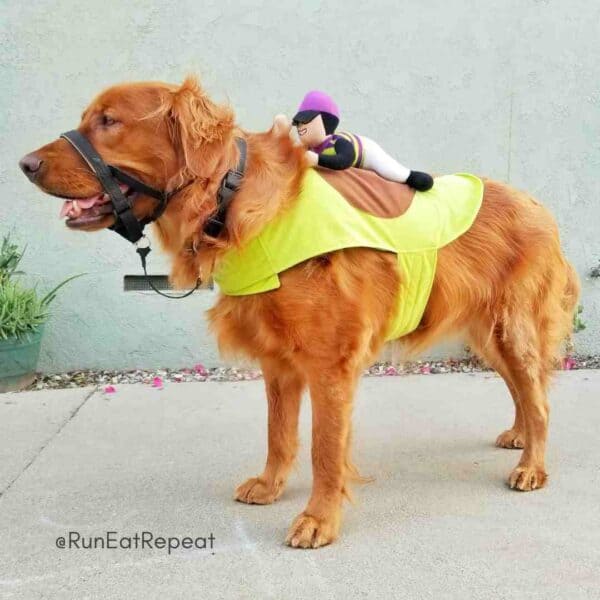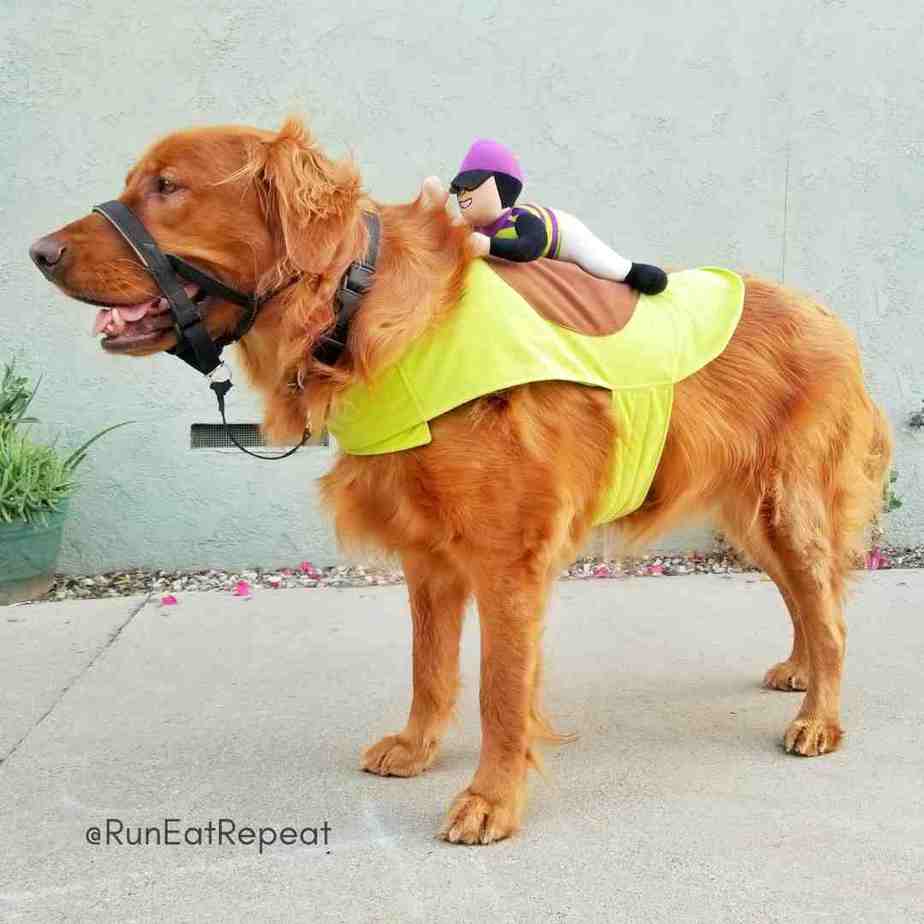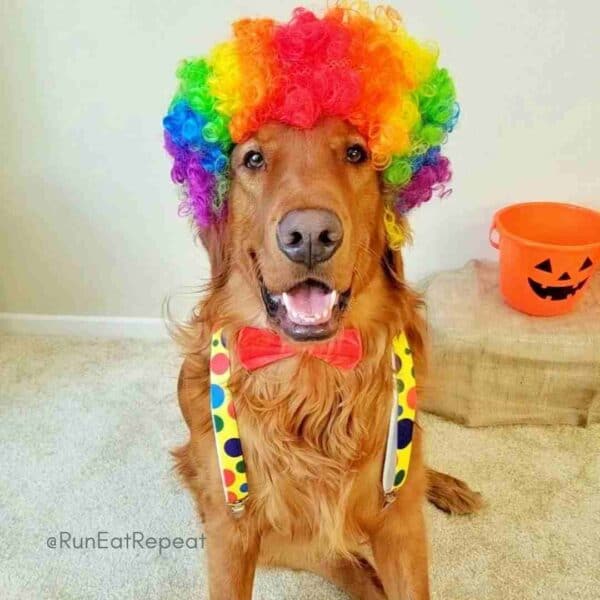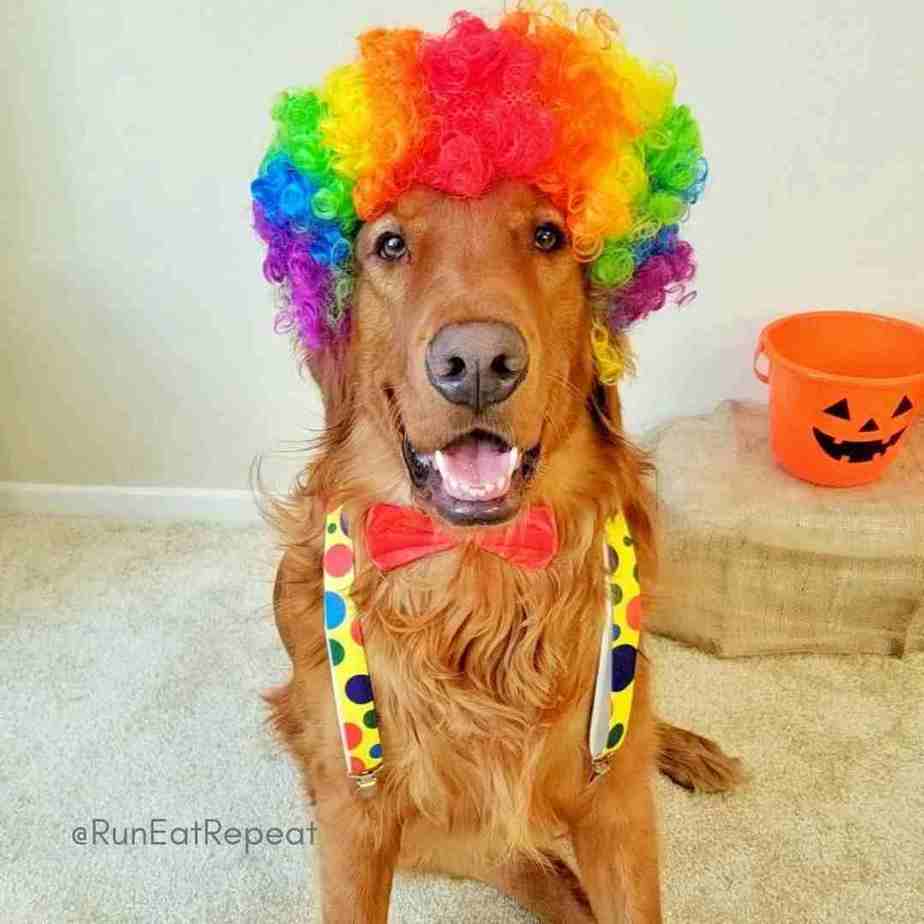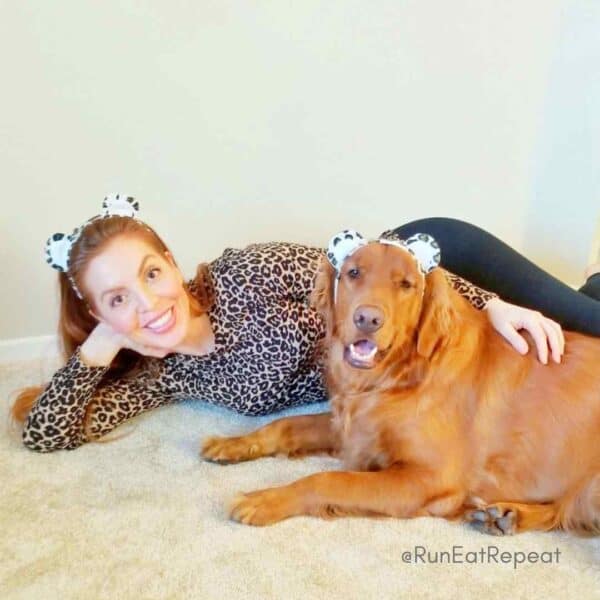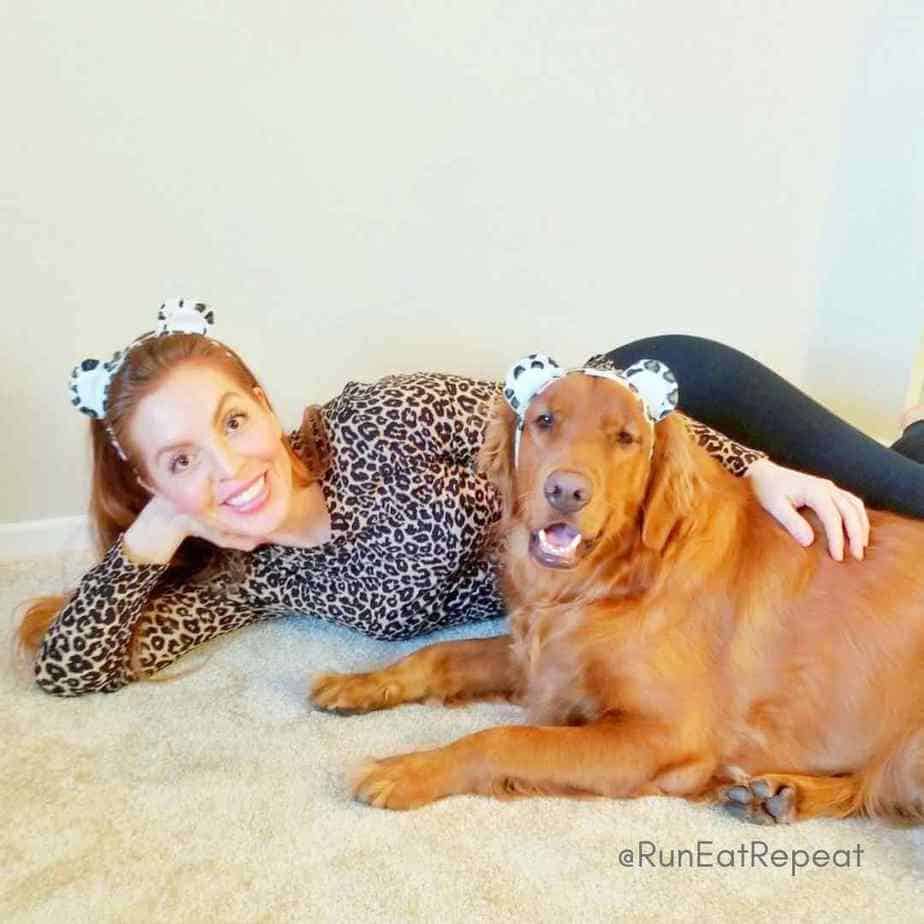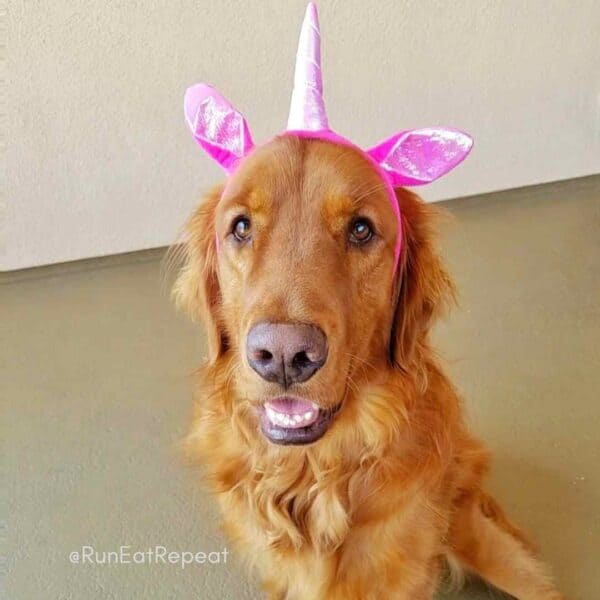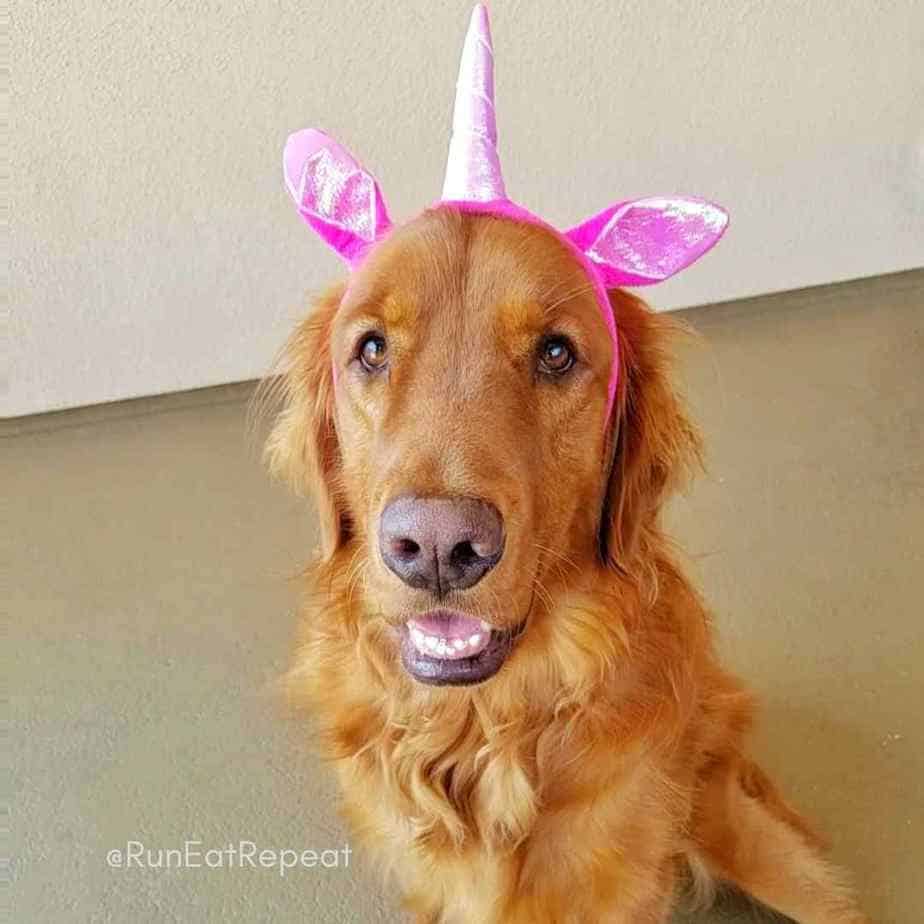 Next Steps: 
Get the printable Fun Run Challenge October Calendar and Running Log here. 
Please tell someone about this podcast, preferably someone who has a smart phone and likes running, eating or Red headed Mexicans. 
If you're in a good mood, have an extra 3 minutes and just had a snack… please rate and review the show in Apple Podcasts or Stitcher. Every time I get a 5 star review I'm nice to Diego. Every time I get a bad review or get no new reviews – I tell him I'm sending him to the dog orphanage. So, it's up to you. 
Thank you so much for listening! Have a great run!!