List of the 21 BEST new Running Songs for your playlist. Add this new music to your run or workout playlist so the miles fly by fast!
Today's Fun Run Challenge is to update your playlist. It's a simple but effective hack to help you enjoy your run more and it may even help you run FASTER.
Fun Run Challenge – Update Your Running Playlist
You can get the Fun Run Challenge Calendar printable here.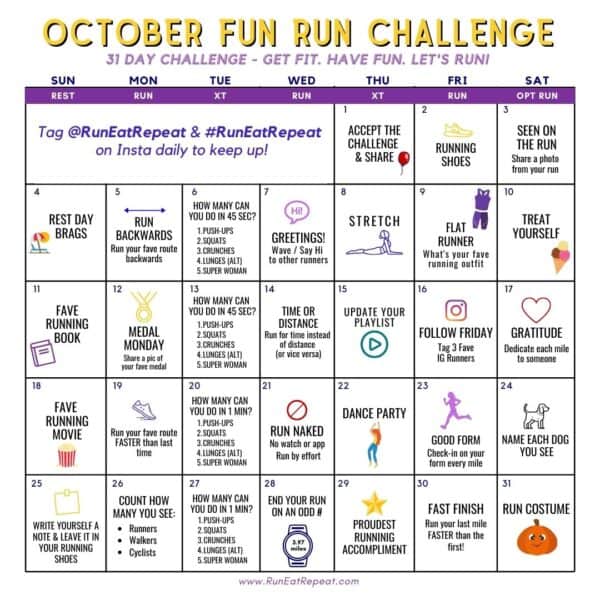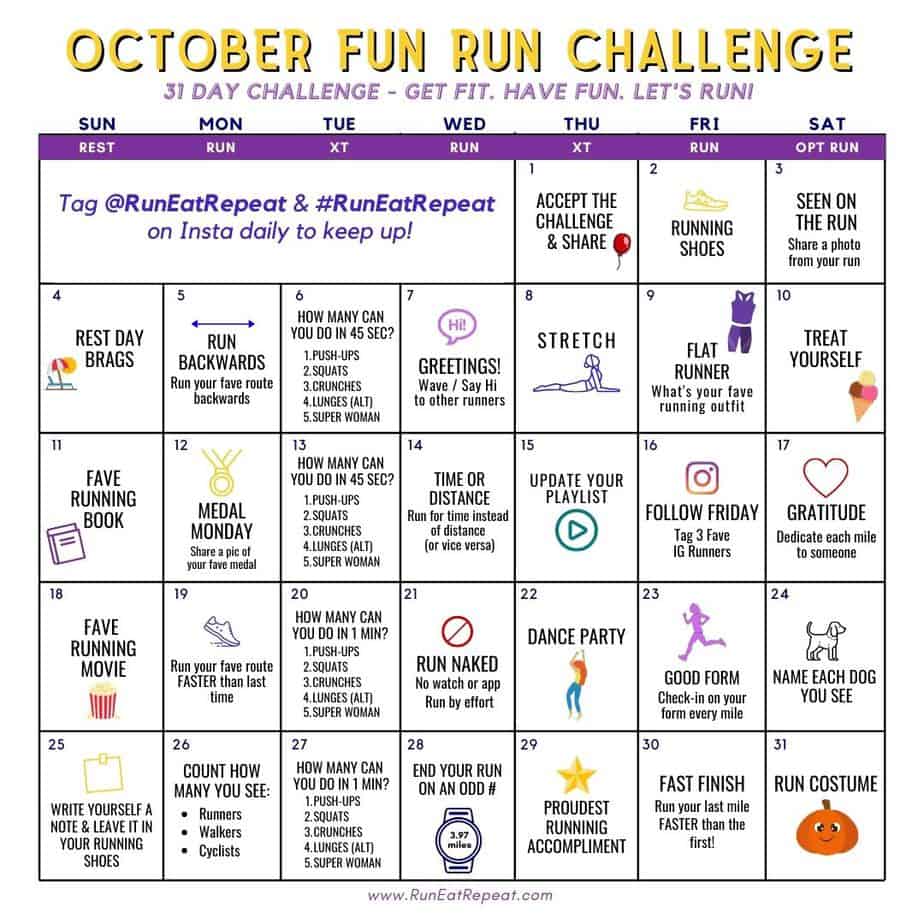 Studies have shown that listening to music can help with running performance [The Sports Journal]. And one recent study specifically looked into if listening to a runner's preferred music helped them pace themselves during a short workout [NCBI].
Before you update your running playlist – please be sure you're keeping safety top of mind. You need to be able to hear what's going on around you at all times. If you run with headphones – consider using ones that go around your ear & don't cover your ears – so you can listen to music and your surroundings. If you can't afford that – try just wearing one ear bud so the other ear is open to listening to your surroundings. Check out the inks below for top runner headphone suggestions.

21 Best Running Songs of 2020 (so far)
"Blinding Lights" by The Weeknd
"Savage Remix" by Megan Thee Stallion ft Beyoncé
"WAP" by Cardi B Featuring Megan Thee Stallion
"Dynamite" by BTS
"Physical" by Dua Lipa
"Rain on Me" by Lady Gaga & Ariana Grande
"Savage Love" by Jason Derulo ft Jawsh 685
"Ice Cream" by BLACKPINK X Selena Gomez
"What a Man Gotta Do" by Jonas Bros
"X" by Jonas Bros with Karol G
"Watermelon Sugar" by Harry Styles
"Snakeskin" by Rina Sawayama
"Circles" – Post Malone
"Be Kind" by Halsey ft Marshmello
"Godzilla" by Eminem ft. Juice WRLD
"Don't Start Now" by Dua Lipa
"Dance Monkey" by Tones and I
"Bang!" by AJR
"Stupid Love" by Lady Gaga
"Me Gusta" by Shakira ft Anuel AA

"Levitating" by Dua Lipa
You can Listen to the Best Running Playlist October 2020 on Spotify here.
'
Running Podcast – Run Eat Repeat
And while you're at it – Subscribe to the Run Eat Repeat Podcast on Spotify so you can keep up with the next episode!
You can search 'Run Eat Repeat' in your fave podcast app OR click the link for the Run Eat Repeat podcast on Spotify.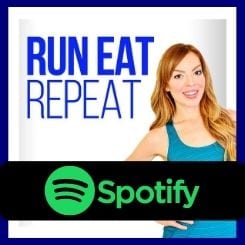 Shop Running headphones here:
AfterShockz Bone Conduction Headphones – they don't cover your ears so you can hear what's going on around you. This is a good safety choice if you want to listen to music, books or podcasts while running and stay aware of your surroundings.
Apple Air Pods – You can use these with Android phones too. These are my favorite for using on a walk if I want to talk on the phone. The mic is a little better than the Samsung Galaxy buds (below). But these are harder to use if you want to pause or skip a song.
Samsung Galaxy Buds – I think these are the easiest wireless headphones to use while running, walking or working out. It's easy to pause songs, audio books or podcasts. Also – these ear buds make it easy to play again and skip songs.
More Running Songs & Playlists Posts:
The Best Running Songs NOT on your Playlist
New Tunes Tuesday Running Playlist
The Best Workout Playlist for Fall 
Best Running Songs of Summer 2016
Next up – Follow @RunEatRepeat on Instagram for the latest Running Tips, Workouts and more!