Hello! Global Running Day 2022 is June 1st this year (it's usually the 1st Wednesday in June). And here's a list of ways to celebrate plus links to events, promotions and sales for runners who want to participate.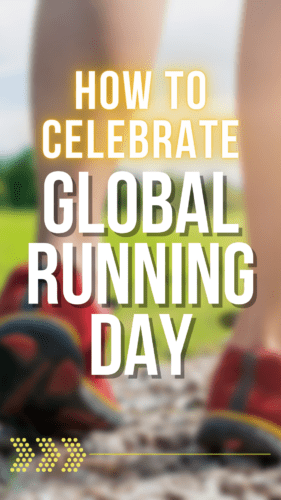 How to Celebrate Global Running Day:
RUN!! Go for a run to celebrate Global Running Day. While you're running – make a gratitude list in your head… maybe include the ability and time to run as something you're grateful for.
Attend a Group Run. If you run with a group, buddy or have been thinking about joining a local run club – GO FOR IT.
Run a Virtual Race. There are tons of virtual races all the time now and some are specifically planned for Global Running Day.
Do a Challenge. Strava, Coros and other GPS running apps and watches are hosting running challenges. Sign up to stay accountable & push yourself.
Register for a race. If you want to run a certain race or distance this year – sign up now. Prices increase as the race date gets closer so this is probably the cheapest it'll be. BONUS: Some races offer a one day discount on Global Running Day so be sure to follow them on Instagram or Facebook to see if they're running any promotions.
Sign up to volunteer at a race aid station or expo. They're aren't a lot of races on Wednesdays, but you can research & register to help at an upcoming race. Sign up to help out at a local race today.
Encourage other runners. Cheer runners on in person or virtually! During your morning run write a few motivational messages with chalk on the sidewalk. Leave encouraging comments on other runner's instagram posts. Plan to spectate a local race with signs & noise makers.
Support a Running Organization like – Girls on the Run  //  Latinas Run //  Black Girls Run   //  Black Men Run  //   Latinos Run   //   Front Runners   //   Back on My Feet  
Give yourself a gift for running all those miles with a lil self care. Running is hard! Show yourself some with a pedicure, massage, new running shoes or whatever you need right now to feel pumped for your next run.
Thank your favorite Running Instagram account, online Running Coach or running influencer for their helpful or entertaining content. DM or leave a comment letting them know you appreciate it. (I know social media seems easy breezy, but it's nice to hear that other runners are learning, improving and enjoying the content.) And if you're not following yet – follow @RunEatRepeat on Instagram.
Global Running Day Resources:
Keep Going with these: