Using a Run Log can help you run faster, stronger and better. But I know it's not a super fun or exciting part of running… so I have 5 reasons you should use one. AND I have a FREE RUNNING LOG & CALENDAR you can print out and start using right away! (Scroll to the bottom of this post to get it now or read my reasons if you need some convincing.)

5 Reasons Why You Should Be Using a Running Log
Packed with helpful information
Can help you avoid injury
Can help come back from an injury or time off
Reminds you to celebrate progress
Can help you run faster & run further
Whether you're training for a half marathon, running for exercise without a specific goal or anything in between – YOU SHOULD NOTE EVERY RUN. I've been singing this song for a long time now, but if you're a new runner (or new to Run Eat Repeat) or have one of the personality types considered a 'Questioner' – here are 5 reasons to start now.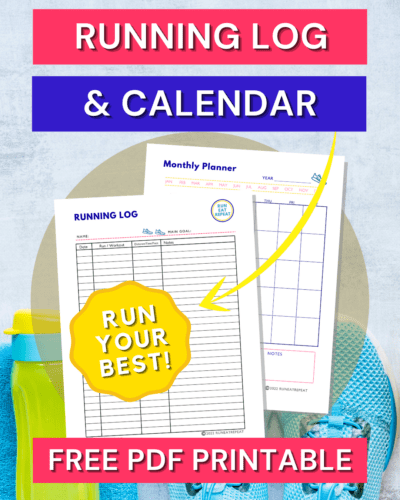 5 Reasons to Use a Running Log (for every run)
1. It's YOUR personalized Training Guide 
You should note some basics after each run like: Date / Distance or Time / Pace or Workout / Location / Physical or Mental Notes
This information can be very helpful to let you know what's working and what's not regarding everything from what you eat before a run to what you wear.
If you're training for a race: Tracking your runs for the entire training cycle gives you the BEST TRAINING GUIDE for your next race. You can look at the training plan along with how your body responded physically and mentally, any speedbumps, successes, etc. Then, use this info to adjust your next training cycle with these notes in mind.
If you're running for fitness or weight loss: Tracking your runs helps you see your progress and where there's room for improvement. When you're not following a training plan you may get bored running the same route or time – so a running log can help you see when you've been doing the same workout for a while and switch it up.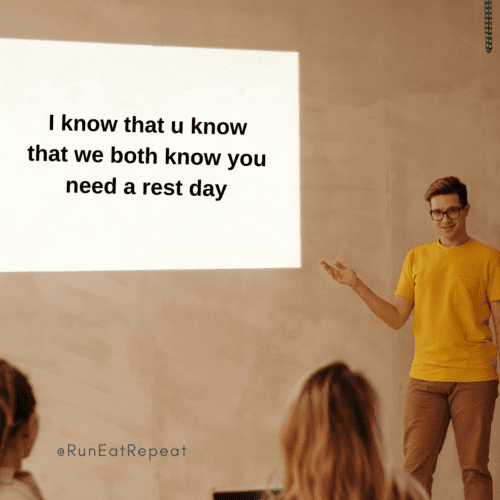 2. AVOID INJURY
Your running log should include a space for you to write anything you notice about your body. It can be good, bad or in between – anything that impacts your run is relevant. You may be able to avoid a running injury if you see a certain body part has been sore, sensitive, aching, tired, weak or hurting – and take time to let it recover before pushing yourself.
Your Running Log is unique to YOU and YOUR BODY. Include anything you want, but here are some ideas in case you're new to tracking your runs.
Examples of things to note in your running log:
I felt really good today! Could have run longer. Might've been my pre-run banana and PB?
Quads felt really tired on the 2 steep hills in the last mile.
Good run, but my feet were tired at the end. Time for new shoes.
Right knee started hurting at mile 3 so I cut it short. Iced for 15 minutes post run.
Great run but I overdressed & was way too hot. Wore blue long sleeve & run pants.
3. Comeback from an Injury
It's hard to know how hard and how much to push yourself after an injury. Runners can handle pain and being uncomfortable – but you're not supposed to push yourself too much after time off. That's frustrating – especially if you feel like you're not making progress as fast as you'd like!
Some running injuries feel sensitive or weak even after you've been cleared to run again. This can feel like a setback if you're not paying close attention while you run and then noting it in your log.
When I was cleared to run after breaking my foot there were days when it hurt or felt sensitive and it scared me. I didn't want to run on it if it wasn't healed. But it didn't hurt as much as when it was broken… how was I supposed to tell if it was an injury or a weak spot or ?!!? So, I used a running log to note any pain or sensitivity and this helped me recognize that it wasn't getting worse (which was a sign that it wasn't an injury but probably scar tissue).
It took a really long time for it to not feel sensitive or a lil achy sometimes. But using my running log helped me see the pain was not injury level and that taking an extra day of rest really helped.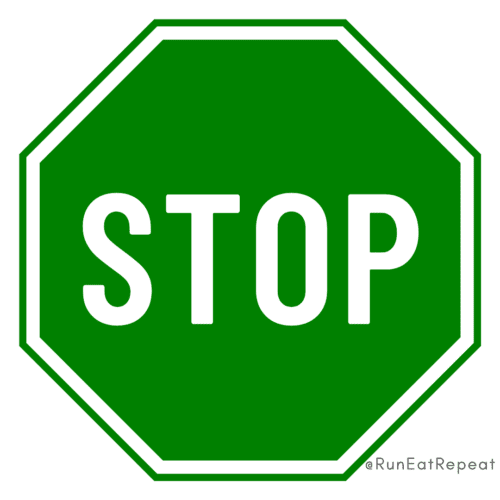 4. Celebrate Progress
Running is hard. Celebrate every tiny victory! Give yourself credit for every mile, every day, every time you laced up and ran. You are doing something most people won't push themselves to do. You are amazing.
Read your running log from when you started running (if you're a new runner – start a running log now) – look at how far you've come! Be proud of yourself for where you are today and keep going.
You may also need a reminder of your progress before your next marathon or half…
It's normal to get nervous before a race. But it's not helpful to doubt yourself or think you can't hit your goal. If you start to feel like you're not ready for your race and really get in your head with negative thoughts – focus on everything you did to prepare. This is another way your running log comes in handy!
Before your next race look over your running log and give yourself credit for all those miles and minutes and days you laced up and got it done. No training cycle is perfect, but you did A LOT OF WORK. And that's what you should think about to help boost your confidence.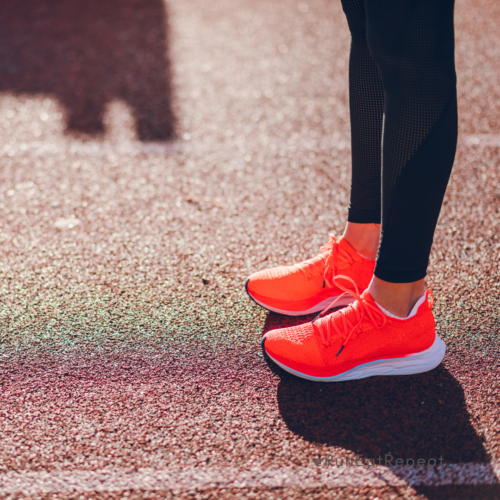 5. Run Faster & Farther
Your Running Log is a tool to help you learn about your body and how it responds to your training plan, running gear, fuel, hydration, weather, elevation and more. When you track your runs and anything that may impact your performance you're drawing a map future you can follow to make progress faster. It's a training guide specific to YOU.
Learning from what works (do more of that) and what doesn't work (try to learn from that) can help you run faster and farther over time. You're going to do the run either way, might as well get as much from it as possible by taking notes in your log!
FREE RUNNING LOG & CALENDAR pdf printable
I'll send you a RUNNING LOG (to track your progress) & CALENDAR (to help plan your training and goals). Complete the form below and you'll have it in your email faster than you can think of an excuse to skip your next hilly run!
KEEP GOING with these: