Podcast: Play in new window | Download
Subscribe: Apple Podcasts | Google Podcasts | Stitcher | RSS
Hello!! Welcome to Day 16 of the Pile on the Miles Challenge! Check in below and let me know how you're doing!! Today I'm recapping the Disneyland Super Heroes Half Marathon!
Today is National Fast Food Day! Question… Do you consider pizza fast food?
I'm going to take a poll on Instagram because I really want to know!
Disneyland Super Heroes Half Marathon
I'm sharing how the Run Disney Super Heroes Half Marathon went…
My Running Costume:
In keeping with the Super Heroes theme I dressed up as Wonder Woman. Some people pointed out that WW isn't an Avenger… but I didn't really care about making it an Avenger because I don't know anything about this stuff and just wanted it to be a female superhero.
My costume was last minute – just like my registration! But Sparkle Athletic saved the day and gave me a blue star skirt that's perfect for Wonder Woman!! They also gave me a cape! I love it! I've run in their skirts for a lot of races and they're super cute and you don't even notice it when you run.
The biggest hurdle in my costume was finding a red tank top. For some reason there were NO – 0 – Nada – ZERO red tanks at the 4 different stores I hit up = Target, Walmart , JC Penny, Marshall's! I was on a wild red tank chase and finally found one at a little store at the mall. It wasn't technical fabric but I had to make it work.
I bought gold fabric from Walmart and made the 'W' for Wonder Woman and glued it on my tank. Oh, in outlining the "W" with sharpie the ink went through and is now on my kitchen table.
My entire Wonder Woman Running Costume:
What being in the last corral means for my time:
I was in the last corral for the Tinkerbell 10K because I was only originally signed up for the half marathon and added the 10k a few days before race weekend.
At the 10k I ended up walking most of the first couple of miles – it was hard to get around people to run.
Finish Time for the Super Heroes Half Marathon = 2:01:07
2:43:11 – Gun Time
2:01:07 – Chip Time
Basically… I didn't start until 40 minutes after corral A started. But that did allow me to arrive at the race a little later than I would have normally and there were no lines for the bathroom. Boom.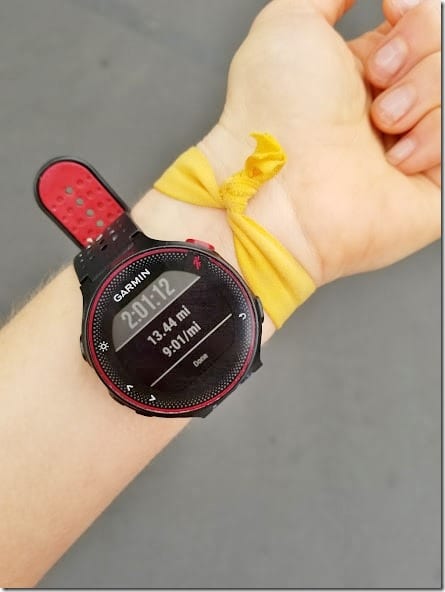 Here are some pictures from the race – the first ones I took where super dark since the sun wasn't up yet. Again – 5am start time! They are not messing around with that.
The START…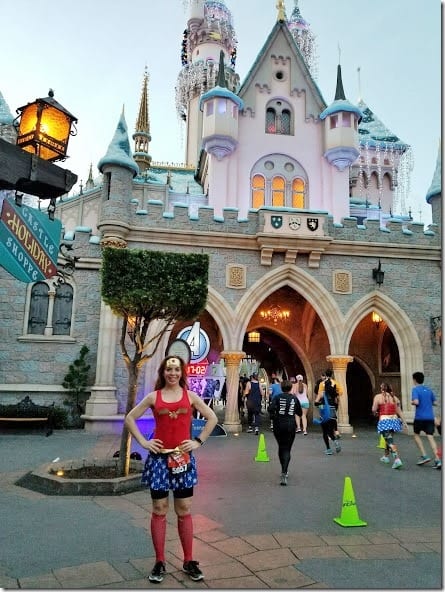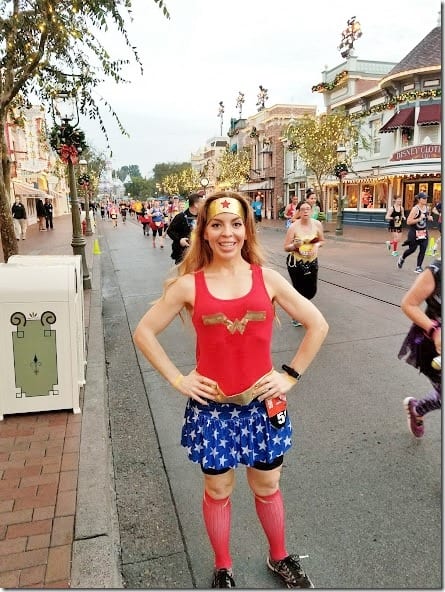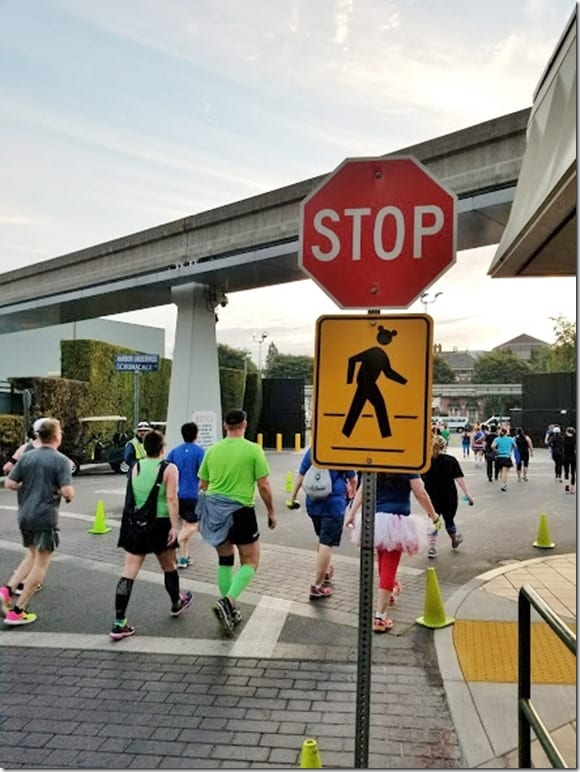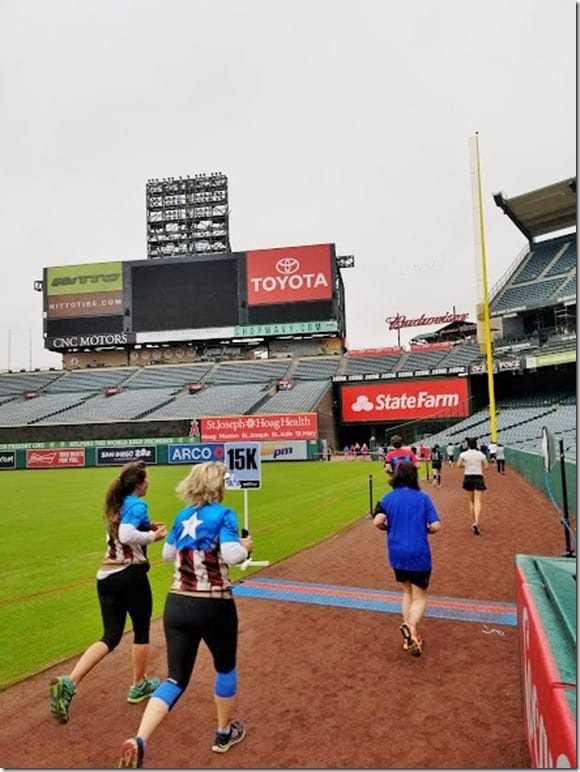 It was fun! I got to run in and around Disneyland and California Adventure! I got to run in costume and with a super hero cape! I didn't fall! I saw mariachis. I met some blog followers! (Hi!!)
Disneyland Cancelled All Other Races in 2018…
In October reps from Disneyland announced they are cancelling all Disneyland races in 2018. Races in Orlando / Disneyworld will still continue. They're saying it's because of construction.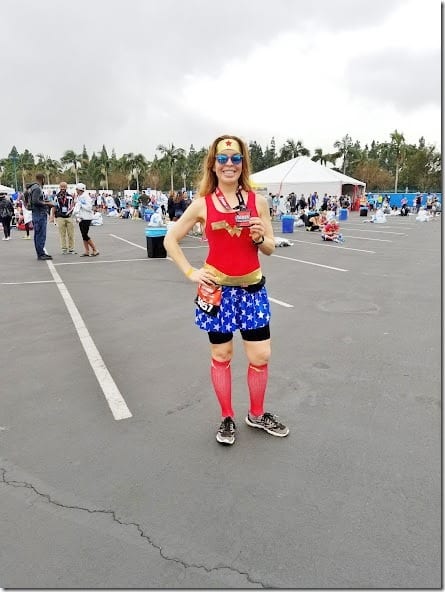 Instagram Running Scavenger Hunt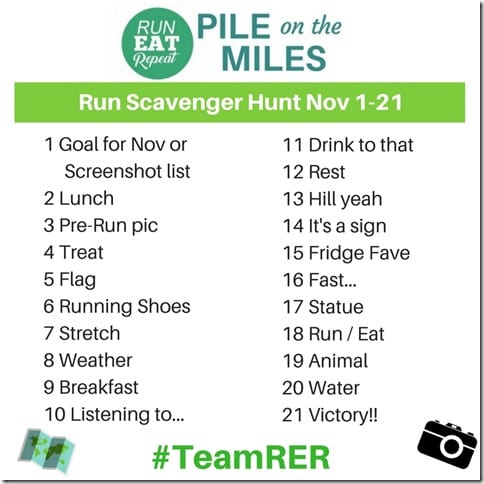 Today's Running Scavenger Hunt Item is… Fast!
What is your fast today?
Remember to tag @RunEatRepeat and use #TeamRER when you post on Instagram!
Got a question for me?
Email it to [email protected] with "Podcast Question" in the subject line.
Pile on the Miles
Check in Day 16! Leave a comment with what you're doing today!