This is a sponsored post written by me on behalf of Farmer John California Natural Fresh Pork. All opinions are 100% mine.
Hello! I have a quick and delicious weeknight recipe for you. And I'm trying something new – but I had a few taste testers and so far the reviews are coming in that it's delicious!! This Teriyaki Pork Sheet Pan Recipe comes together in about 30 minutes and only requires a few ingredients. I think that qualifies it as a good idea for weeknight dinner, right?
I usually made pork in the crockpot. But I wanted to try something new (and something that cooked faster). But dirtying 88 dishes doesn't really seem like a good idea if you want a FAST recipe, right? So this one only uses 1 pan for the protein and veggies. You can pair it with rice or whatever carb you're loving right now.
Rice is my favorite carb to eat before long runs and races. I'm a 'salty sweater' meaning – I feel like I have a lot of salt in my sweat when I run so I've found a good rice & soy sauce meal before a warm weather race helps make me feel balanced. But do what works for your body.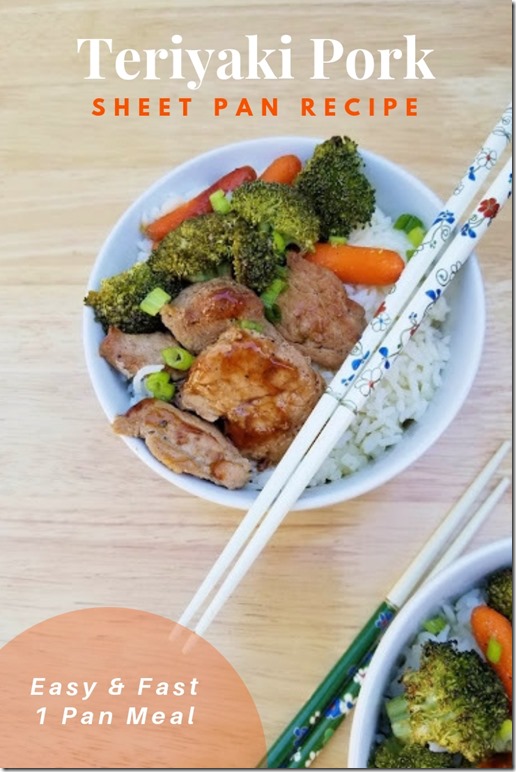 Sheet Pan Teriyaki Pork Bowls Recipe
Ingredients:
1 Farmer John® boneless pork loin

16 oz. stir fry veggies (broccoli, carrots, onions, etc)

12 oz. Teriyaki Sauce

20 oz. sliced pineapple (canned in juice)

Green onions

Steamed rice
Directions:
Pre-Heat oven to 400 degrees. Line sheet pan with foil & spray with non-stick.
Cut pork into thin slices (the thinner you slice it – the faster it will cook).
Season boneless pork loin with salt & pepper. Mix with teriyaki sauce 1/2 the teriyaki sauce.
Season veggies with salt & pepper. Spread on pan with pork. Cover with pineapple slices.
Bake for 15 minutes. Flip. Cover with remaining teriyaki sauce and bake for an additional 10 –15 minutes or until cooked through.
Plate with steamed rice and top with green onions and extra teriyaki if desired.
Oh, and Sriracha – I always top this type of meal with a lot of Sriracha!
This post is in partnership with Farmer John Fresh Pork – the company's been around on the west coast since 1931. And I learned something fun when I was looking at their products page … they make Dodger Dogs too – my dad is obsessed with them so I had to let him know. They also have ground pork which can be used in place of ground beef or chicken in some of your go to recipes.
Quick Recipe Tips:
Use your favorite stir-fry or seasonal vegetables. Make sure to chop in pieces that'll cook in the same time as the pork.
Slice pork ahead of time and marinate with teriyaki sauce overnight. (I used a gallon size plastic baggie.)
Make this for meal prep – portion out servings in microwave safe containers for grab & go lunches.
Swap the teriyaki sauce for BBQ sauce.
Enjoy!
For more recipes and information check out Farmer John California Natural Fresh Pork