Welcome to the Run Disney Page featuring Race Recaps, Training Plans, Costume Tutorials and more! I've linked to many of the BEST posts on all things running and Disney related below. *Scroll down for links to the 2022 Walt Disney World 5K, 10K, Half and Full Marathon Race Recaps*
I'm training to run the Dopey Challenge right now! I'll share my training plan, updates and more daily on the blog. Yes, we're going back to a daily training running site (I missed it). So check back often for daily blog posts and check-ins on Instagram @RunEatRepeat
Run Disney Race Recaps, Tips and more…
This page has a big list of Run Disney race recaps, training, travel tips and more. I'll link to the most popular ones below. (Unfortunately I didn't label all of them under 'Run Disney' from the start – so some of the training updates and more 'day in in the life' posts are hard to find and not on the list yet.)
Run Disney World Marathon Weekend 2022 Posts
Let's get right to the good stuff – the latest Run Disney Race = Disney World Marathon Weekend, which includes the 5K, 10K, Half Marathon and Full Marathon. If you run ALL THE RACES it's called the Dopey Challenge. If you run the Half & the Full it's called Goofy's Race and a Half (aka Goofy Challenge).
I ran the Dopey Challenge this year and have separate posts for each race distance. PLUS – posts on the course, hotel, travel and what I ate. (I'm writing this a few days after getting home from Orlando, so some posts are coming soon! Check back for those.)
Here are the Disney World Marathon Weekend Race Posts…
Walt Disney World Marathon Weekend Race Recaps Dopey Challenge
Disney World Wine and Dine Half Marathon Race Recap
RunDisney Wine and Dine Half Marathon Race Recap
Pack with me – Disney World Wine and Dine Half Marathon 
Get this FREE RUN DISNEY PACKING LIST here!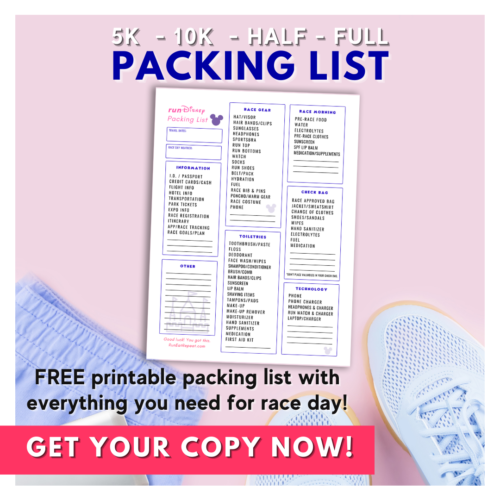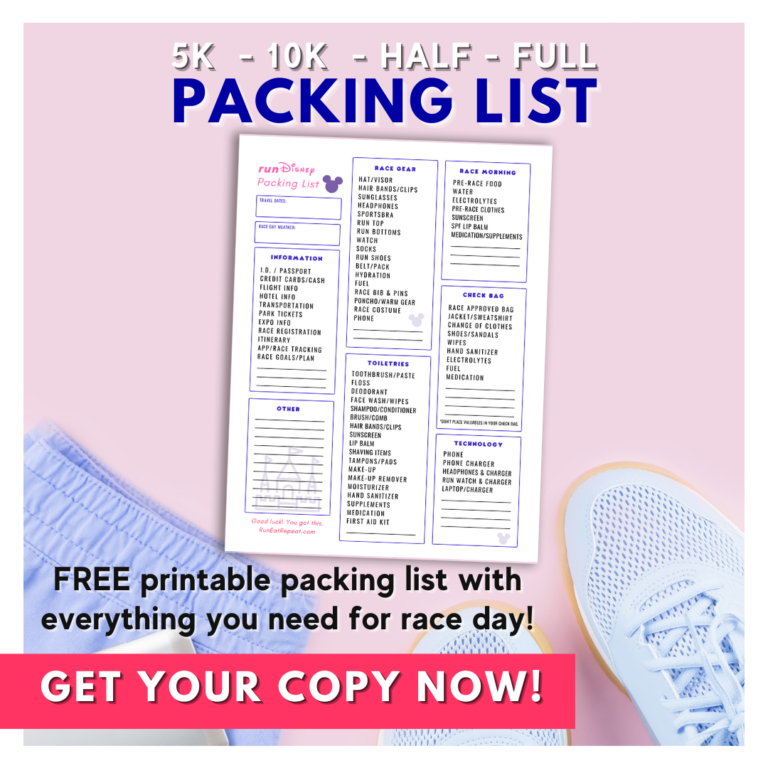 Run Disney, Parks and Travel…
I've run several Run Disney races at Walt Disney World and at Disneyland. I'm born and raised a Southern California girl who still lives pretty close to Anaheim. Unfortunately, the Run Disney events at Disneyland were stopped a few years ago with no set date on when they're return. If and when they're back up and running (pun intended) I'll post an announcement and update ya!
Since I live Anaheim adjacent I have a lot of posts and pictures from Disneyland and California Adventure. I'll link to non running Disney related posts below too.
Run Disney Race Recaps, Expo & Training Tips
Disneyland and Walt Disney World Travel Posts
These are Disneyland and Disney World related posts more focused on food or travel and less about running or race weekends.
Want to Keep Going?