Here's a round up of some of my favorite home strength training workouts for runners. There's a list of runner's workouts below you can scroll down to see if you want a short cut (because I start off with my thoughts on why it's important). Hope it helps you run better, faster & stronger! Let's go…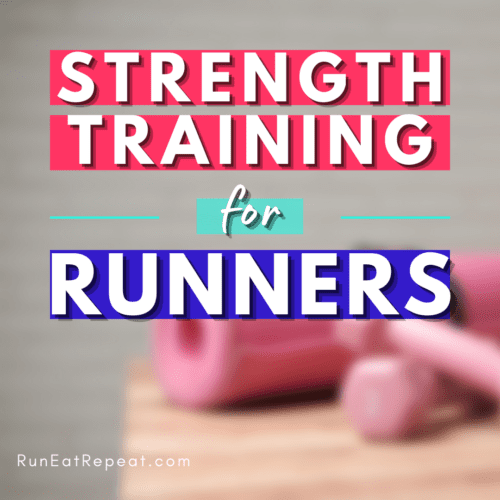 Hello! I've been doing more strength training since running the Dopey Challenge in January. While I was training for the WDW Marathon Weekend I did a lot of recovery and stretching but let strength training fall off the training plan. (The Dopey Challenge is to run the 5K, 10K, Half Marathon & Full Marathon during the Walt Disney World Marathon Weekend in January.) It requires A LOT of running because it's back to back races and you need to be ready to run on tired legs.
But even with ALL THAT RUNNING I wasn't in great shape at the end of training for the Dopey Challenge. I gained weight. I felt bigger and more jiggly on race day than I was just a few months before. Part of that has to be that I was eating more than I was burning. But another reason I didn't feel in shape is because I was skipping the strength training that really helps me look and feel stronger.
After the Dopey Challenge I took two weeks off from running and had a lot of extra time and energy to get back to strength training. I'd forgotten how much I liked it and how fast it makes a difference in looking more fit and in shape. Every body is different so ya know… results may vary and all that. I just know that my body responds pretty fast to strength training and I look more toned after just a few weeks.
Why am I raving about strength training? I put up a question box in Instagram Stories (@RunEatRepeat) and someone asked for strength training for beginners. This runner's question is… 'Beginner Strength Training for Runners? I prefer at home workouts with dumbbells, bands, body weight.'
And I got excited because I think strength training is an important part of running. Whether your running for fitness or weight loss OR running to train for a race – strength training can help you crush your goals. I'm hoping this whole happy rant helps pique your interest in strength training if you're a new runner, new to strength training or just skip it.
Here's a round-up of Strength Training Workouts for Runners that I've shared in the past. I wanted to respond to the question fast so you can use those right away. And I'll share the new strength training workouts I've been doing lately in another post.
List of Strength Training Workouts for Runners
KEEP GOING: