Podcast: Play in new window | Download
Subscribe: Apple Podcasts | Google Podcasts | Stitcher | RSS
Hello! Welcome back to the Run Eat Repeat Podcast! Today I'm answering your questions – and they cover everything from my first marathon time to how I started blogging! We're covering a lot of different topics and
In case you're new to the show… my name is Monica Olivas, I started RunEatRepeat.com about 10 years ago to document my running and weight loss journey. Since then I've run dozens of half and full marathons, become a Holistic Health Coach and RER grew into an amazing community! Follow along on Instagram @RunEatRepeat or check out our Facebook page at Facebook.com/RunEatRepeat !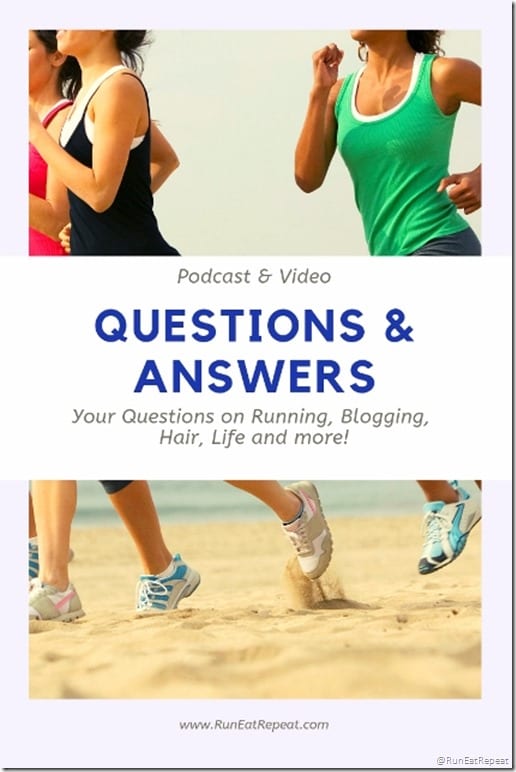 Before I get into the Q&A… Let's Warm Up!
RER Updates…
1. Diego is growing like a weed. He's 15 weeks old!!
I've taken a big step back with running since getting him because trying to get him crate trained and potty trained and get him some exercise pushes my run back. And for a while I was constantly cleaning up after him – I'd mop multiple times a day! But I think it was a blessing disguised as pee on the floor because my piriformis has been super tight and this cut back in weekly mileage might be part of the reason it hasn't gotten worse! Yayy!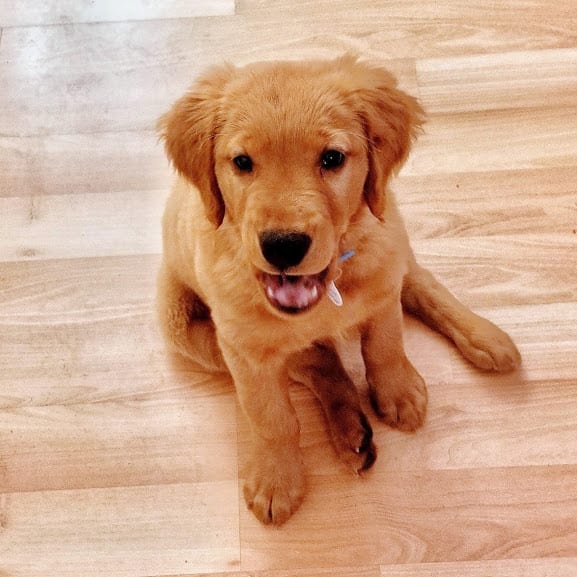 Related – someone asked about what I've been doing to help my piriformis on a previous IG question. I made an Amazon store page with all my favorite recovery tools. Check it out here – Runner Recovery Must Have Tools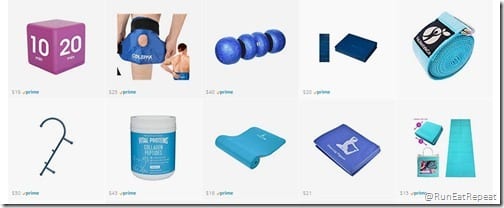 2. I went to Medieval Times this weekend – I wrote a short recap of it and I'll post to it.
Medieval Times Recap with Family
3. Today was my deadline to decide on my New Year's Resolution and plan my race schedule for this year!!
So… that's what I'll be doing tonight. I'll keep ya posted!
Questions and Answers January 19
These questions came in this week. If your question wasn't answered here it probably was answered in a previous video. I try to save all the answers in my Highlights under the month name and Q&A. So you can check out Jan Q&A – the first questions that came in this month will be there.
Follow @RunEatRepeat on Instagram  -> Go to my Profile Page –> The circles on the top are "Highlights" (aka stories that are saved) –> Jan Q&A
Note: These questions came in from followers on
Instagram
stories. If you have a question – you can leave it in the comments below, email, call the podcast voicemail or put it in my nextcall for questions on Insta.
I tried to keep the answers short because I've been answering a lot of questions in Insta Stories and they're only 15 second clips so it's trained me to answer in bullet points. But you can always use that lil fast forward button to skip ahead if I'm going off on a tangent about Bubble Gum and Britney Spears or something…
The video is cut into 3 parts because it was long – here's the 1st part:
Q: What was your time for your first marathon?
My first marathon finish time was 4:15:38
You can check out my race recap here – My First Marathon (Surf City Marathon)
Q: What's your strength training? Do you still do Beach Body?
(BB = Beach Body for this question)
At this point I create my own strength training plan most of the time. I try to do exercises that will compliment my running and training since that's the priority.
I have basic equipment at home and can get in a good strength session with it.
Check out my Home Gym Must Haves & other favorites on my Amazon Shop page 
 Q: How have you kept running for so long? What helps keep you motivated?
I just love it!
Q: I know you've probably been asked or responded, but how did you get started blogging?
I got into this a bit -mainly I focused on how I came up with it and why I started the blog and social media. But if you want to know about how the site and social media grew let me know.
Q: What is your least favorite strength exercise?
Q: How do you braid your hair for runs?
Q: When do you anticipate your next Run Bet? My current one ends this week!
The last Run Bet / Pile on the Miles Challenge was in Nov and it was huge! New one coming soon!
Q: I'm trying to start running but keep getting shin splints (even with newer shoes). Any tips?
Here's the second video:
Q: Do you ever run East Coast Races?
Yes! I used to run a lot of east coast races but it's been a long time since I've done any!
I've run the New York City Marathon, Marine Corp Marathon, Boston Marathon and Disney World Marathon! (Does Disney World count as East Coast?)
Q: Please tell me 3 cheap but good skin products to use. I'm lost.
If I had to pick 3 cheap skin care favorites I'd go with… a good wash, moisturizer and spf.
Lately I've been using…
Alba Face Wash with Coconut Milk
Murad Night Cream with Vitamin C (this isn't cheap – but I really like it, a cheaper option is below)
*Check out my full list of Skin Care suggestions here*
Q: Your hair looks so healthy. How often do you wash? Supplements??
I try not to wash it too often. Knowing how to time up your training and hair wash schedule is helpful to wash less. And use dry shampoo on the front / anywhere that looks oily.
I take supplements – but not ones that are made for healthy hair. Sometimes I switch it up but right now I'm taking…
Basis supplement – I started taking it after discovering it while working with the company on this post New Supplement I'm Loving. I did a lot of research and reading on it and really think it's amazing.
Vitamin C drops – I take these as needed/wanted
Q: Maybe I missed it but where is Vegas? I haven't seen him in a while.
Yeah, very sad. Here is One Last Love Letter to My Cat Vegas.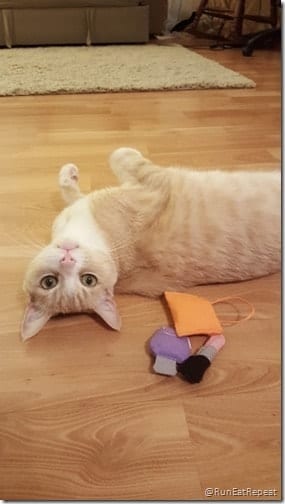 Q: How do you find safe running routes?
Tips are in the video but also check out – Safety Tips for Runners with Self Defense Expert Gloria Marcott
Q: I'm a newly certified run coach leading my first group training (all moms). Any advice?
Q: What is your go-to music playlist while running?
Lately I love these songs…
Taki Taki by DJ Snake ft Selena Gomez,Ozuna
Thank you, Next by Ariana Grande
Girls Like You by Maroon 5
MIA by Bad Bunny and Drake
Money by Cardi B
And this is the last video segment with answers to the questions towards the end:
Got a Question for an Upcoming Podcast or Post?
If you have a question for me… ask!
Ask your question on my IG story box – I post one at least 2x a week.
Call the RER voicemail or email – [email protected]
Awards:
It's a tie!!
1st place is a tie between
1. Diego for going pee pee outside
1. My neighbors for putting up with me enthusiastically praising Diego for going pee pee outside and sometimes singing him a song.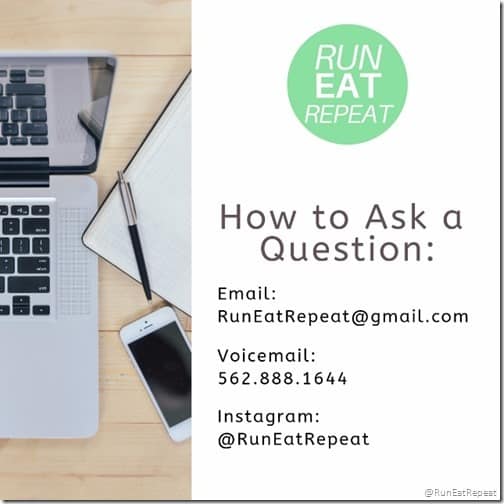 Check out the show notes at RunEatRepeat.com for all the links and information mentioned on today's show!
Tag @RunEatRepeat on IG and let me know what you're doing right now – like Britany who's training for a 5K!
Thanks for listening!! Have a great one!