Podcast: Play in new window | Download
Subscribe: Apple Podcasts | Google Podcasts | Stitcher | RSS
The best treadmill buying guide is about getting the best treadmill for YOU. Here's a list of 5 things to keep in mind when deciding which treadmill to buy for your home. PLUS – The treadmill I bought and why.
5 Tips for Buying a Home Treadmill
If you're shopping for a treadmill to use at home be sure to identify – how often you'll use it, if it'll be used by other people, your fitness goals, budget, space and any 'must haves'.
Then, use this list along with these tips to help you find the best option for your home.
Price
Size
Speed and Incline
Horse Power
Display and other features
Run Eat REpeat Warm Up – New Tips and Book Review
Before we start talking about treadmills – some quick updates and reminders…
1.New Post on RunEatRepeat.com with what I'm using as a face mask while running. I did a video sharing what I'm using when I need something handy that works as a face mask while running or walking.
See it here: My Running Face Mask – best option for walks or runs outside with this mask
2. I listened to the book Before We Were Strangers and did a quick review of it. You can watch it on the @RunEatRepeat IGTV channel or on the site.
See it here: Before We Were Strangers – Book Review 
3. Now I'm listening to the Breakdown podcast by the AJC. I love it and super don't love it at the same time. But I want to talk about it because I have all the thoughts! I recently went back and listened some of the old seasons of the podcast and want to talk about season 5. If you haven't listened to it yet – you should so we can talk about it.
That's all for the warm up – let's go!
5 Things to Consider When Buying a Treadmill:
1.Price
Start by writing down your budget. Then, only consider treadmills in this price range. There are thousands of different brands, types, sizes and features of treadmills. It can be overwhelming!
And you can significantly cut back on the overwhelm if you limit the number of 'mills you're looking at. Step 1 is to set a specific budget and make sure every search is within those parameters.
2. Size
The size of a treadmill is broken down into 2 main factors –
a.) size of the treadmill belt – aka the running area you'll step on
b.) size of the treadmill overall
Size of treadmill belt – This is one of the most important factors when choosing a treadmill. Don't assume all treadmills are the same or similar to ones you've used at the gym. (The gym is a place people used to go to get exercise before everything closed.)
The width and length of the treadmill belt = the size / space where you'll actually run.
In this case I think bigger is better. So if I was choosing between a few different treadmills, I'd go with the one that has the biggest treadmill belt within my price range.
Ultimately it depends on your preference and stride length. If you have a short stride and/or are on the short side – you may be happy with a shorter option.
Generally a treadmill belt that's 55 inches long works for most people under 6 feet tall. If you're over 6 feet you may want to consider a belt 60 inches or longer.
Overall size of treadmill – Measure the space you have for a treadmill. If you have limited space make sure it will fit with room to get on / off and plug it in.
Also, you may want a exercise equipment mat to go under and around the treadmill. This may stick out around beyond the edges of the treadmill – factor in a 'bumper' around the size of the treadmill for this. (A treadmill mat is great to help minimize noise and protect the floor around it. I definitely recommend getting one if you are buying a treadmill.)
3. Speed and Incline
Check that the speed and incline features are enough for your fitness and goals.
Some treadmills max out on speed at a pace that's not fast enough for you to do tempo runs or speed work. If you're buying a treadmill for walking a max speed of 10 mph may be fine. But if you're planning on training for the 100 meter dash – you might need super speedy options.
Some treadmills do not have automatic incline adjustments (meaning you have to get off to adjust the incline manually). Be sure that the incline options work for you.
4. Horsepower
For treadmills horsepower is noted at CHP = Continuous Horsepower. This measures how much power it has during continuous use. So if you plan on long workouts, using the treadmill for long stretches of time – you'll want higher CHP.
Most home treadmills have a CHP of 1.5 to 4. If you plan on using the treadmill for walking look for – 1.5 CHP or higher. If you plan on using the treadmill for running – opt for 2.5 CHP or higher.
And if you are over 200 pounds choose a CHP on the higher side of your price range.
5. Display and other features
New treadmills have so many fun features! And there are so many different types of treadmill displays. Let's break it down into main features:
Display Size & Style –
Workouts –
Fitness Tracking & Apps –
Wifi Compatible –
Fan –
My New Treadmill:
I got a ProForm Performance Treadmill. It's not very fancy but my main reason for getting a treadmill was to be sure I could run during the social distancing situation and in case the rules became more strict.
Updated Jan 2021: The treadmill I bought is sold out or out of stock at the online retailers I checked. And because gyms are closed – it's hard to find good home workout equipment that's actually available. So here are a few similar treadmills…
Treadmills for Your Home Options:
More Treadmill Options
If you have a bigger budget or need a treadmill multiple people will use – consider one that's made for commercial use like these:
Also – Make sure you get a Treadmill Mat like this one to put under it. Buy it when you buy the treadmill so you don't have to try and move the 'mill after and squeeze a mat under it. Another option is this – Heavy Duty Treadmill Mat. 
My current fitness goals are to get back into 365 half marathon shape (be ready to run a half marathon all the time) and to run a PR marathon (this may be delayed due to race cancellations).
But I don't plan on training for races on the treadmill – it's a supporting player in the marathon training movie that is my life.
I live in southern California so the weather is fairly runner friendly all year (at least to me). I prefer to run outside. So I wasn't shopping for a treadmill that I'd run 50 miles a week on for months.
My treadmill wish list:
cheap (relatively low cost while being motorized & fitting my CHP & size requests)
motorized and had automatic incline
has enough horsepower for running an hour or more
a decent length belt
had a 300 pound weight limit
would arrive quickly (I ordered it online)
folded up / wasn't too big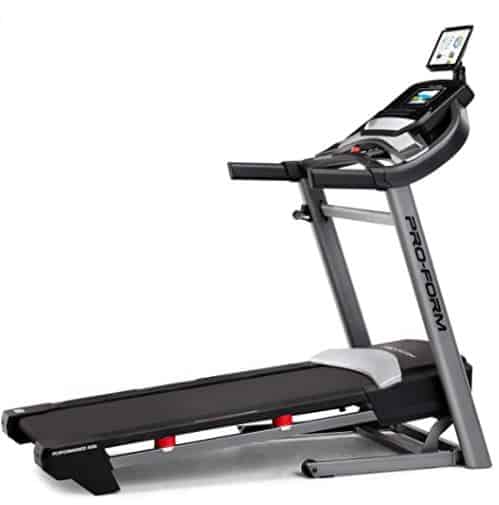 I didn't care if the treadmill:
programmed workouts
wifi enabled
tracked my runs or activity
display – touch or big picture
had a fan
I decided on the treadmill I bought because it fit all those requirements. It works and I'm happy with it. But if I was going to be running on it frequently or for a longer period of time (past the social distancing situation) I'd probably get a treadmill that has higher horsepower. That would mean it would also be more expensive.
And all these tips will be in the podcast show notes at RunEatRepeat.com
Check out my HOME GYM MUST HAVES available on Amazon here > > > RER's Home Fitness Must Haves 
Awards:
Today I think you should give an award to someone in your life – text, email or write a letter to someone just to say hi and let them know you're thinking about them.
Thanks for listening… have a great run!
Keep Going with these…
Follow @RunEatRepeat on Instagram and tag me with what you're doing while listening!
You'll find training plans, recipes, tips and more at RunEatRepeat.com