Podcast: Play in new window | Download
Subscribe: Apple Podcasts | Google Podcasts | Stitcher | RSS
These are the latest questions from the @RunEatRepeat question box! Here are the notes and links from posts, gear and tips I mentioned. We're talking about… how to get back into running when you're not motivated, last minute half marathon tips, my favorite quote from various places, hypothyroidism, tart cherry juice and more! 
If you have a question ask it on the @RunEatRepeat Instagram Stories
or email: [email protected]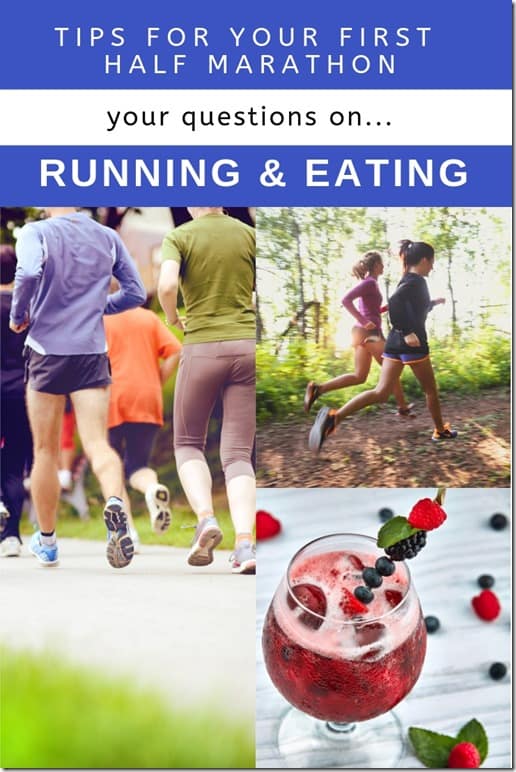 Your Questions from April… here's the video answering all the new questions on running, eating, hypothyroidism, tips for your first half marathon and more!
The full answers are in the video…
Why are you all dressed up?
I was meeting up with a friend and felt like a tragedy so I needed to get it together and put some makeup on.
Have you ran the Chicago Marathon? If so how was it? If not would you ever?
I haven't!! But I really want to. It's on the list for sure. The problem is it's the same weekend at the Long Beach Marathon / Half Marathon and that used to be my favorite race. I didn't do it last year because I went to San Diego with my ex-bf…but I missed it!
Were you diagnosed with Hypothyroidism? And if so, were you TSH levels in the 'normal range' when you were tested?
Yes – I was diagnosed with hypothyroidism years ago. I don't remember if my TSH levels were normal. I do remember that it was one of my T levels… T3 I think that was low. At first my doctor just put me on 1 medication to get that up. Eventually we transitioned to another one.
I have been tested for Hashimoto's thyroiditis – but do not have it. Hashimoto's thyroiditis is the most common cause of hypothyroidism in the US.
Losing Weight When You Have Hypothyroidism – podcast 69
Are you going to do a scavenger hunt thing again? I don't need the prize… just loved the game.
Yes! I thought it was so much fun too! But it is a lot of work so I'm glad you reminded me so I can plan it into my calendar.
Favorite quote from a book?
The Bible? Love is kind. I love the verse from Corinthians 13:4-7 … Love is patient. Love is Kind…
A movie? From The Spirit of the Marathon movie – … Deena Kastor is training for the Chicago Marathon. She's in Mammoth and it's super windy. She talks about the weather and says she'd hate for it to be like this on race day. Then she says, "Well at least I can't say I didn't train in it!"
A family member? *We can talk about this next time!
Your best friend? It wasn't my best friend but someone once said something to me that I always remember… "It's never too much to ask that someone is kind and respectful."
Have you ever tried tart cherry juice?
Hmmmm??? I think so? Apparently it doesn't help with your memory… But it can help prevent soreness / inflammation.
How to Get Motivated to Run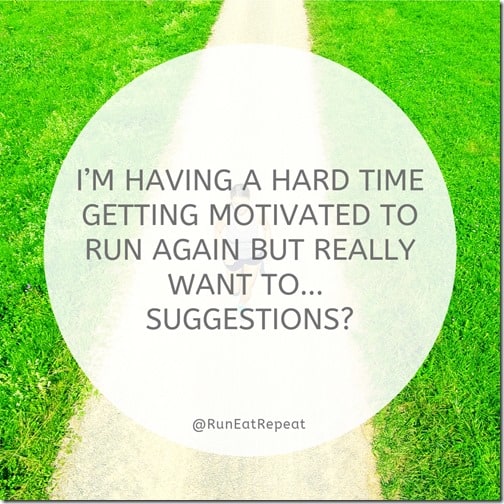 I'm having a hard time getting motivated to run again but really want to… suggestions?
Yes!
A. Check in everyday on the Run Eat Repeat Instagram post asking for your run report. Whether you're running, it's a rest day, you're skipping out, you're sick, you're walking your dog… make it a habit to report it and hold yourself accountable.
B. Make a realistic plan for when you will run. Plan 3 days & time into your week. If you have time for more – great!! But you must do at least that and start building the habit back up.
C. Sign up for a race. Choose a race that's a ways out so you have enough time to ramp up and train. Then, get a training plan and start!!
D. Make it easy for yourself! When you're doing your laundry… put your workout gear into complete outfits – everything you wear to run. Then, place them bundled up somewhere easy so you can grab it and change or put it in your bag and you're ready to go!
E. Join a running club or group. Make a running buddy date. Find a way to be accountable in person to someone else.
Do you take/have any favorite extra protein or supplements?
Yes – I use protein powder in my smoothies and have started to use collagen powder too. I also take vitamins and a few supplements.
My favorite protein powder and supplements right now:
To stay hydrated – both before and during a run I love Spark drink mix.
I use Spirutein Protein Powder – I buy it from Amazon. Some health foods stores carry it but the company has a ton of flavors and I haven't seen a good variety in any grocery store or health food location.
And I take vitamins and supplements. I take a multi-vitamin and a few other supplements.
First Half Marathon Tips
My first half next Sunday – OC Half. Any last minute tips? Nervous and proud!
Good luck!! Have fun and try to enjoy it and remember it!
Half Marathon Tips:
Have fun!!

Lay out all your stuff before the race.

Stick with what you know – gear and fuel. (Wear the same thing…eat the same thing.)

Believe in yourself – You got this!
Here are some good blog posts with tips for your half marathon:
* Follow @RunEatRepeat on Instagram for more! *