Your NEW Running Workout Calendar is here! Print out the December Calendar for Runners now to join us!
And be sure to follow @RunEatRepeat on Instagram for check-ins to help you stay motivated and accountable. Let's go!!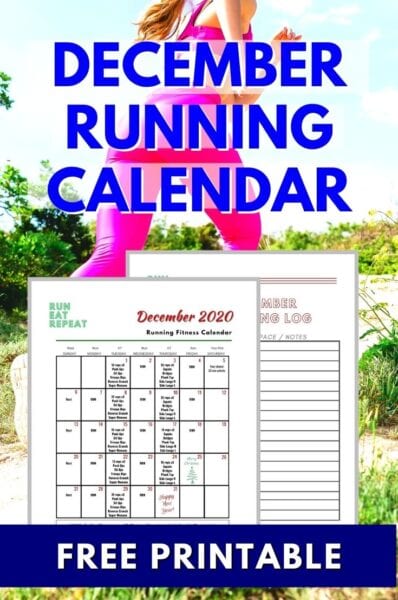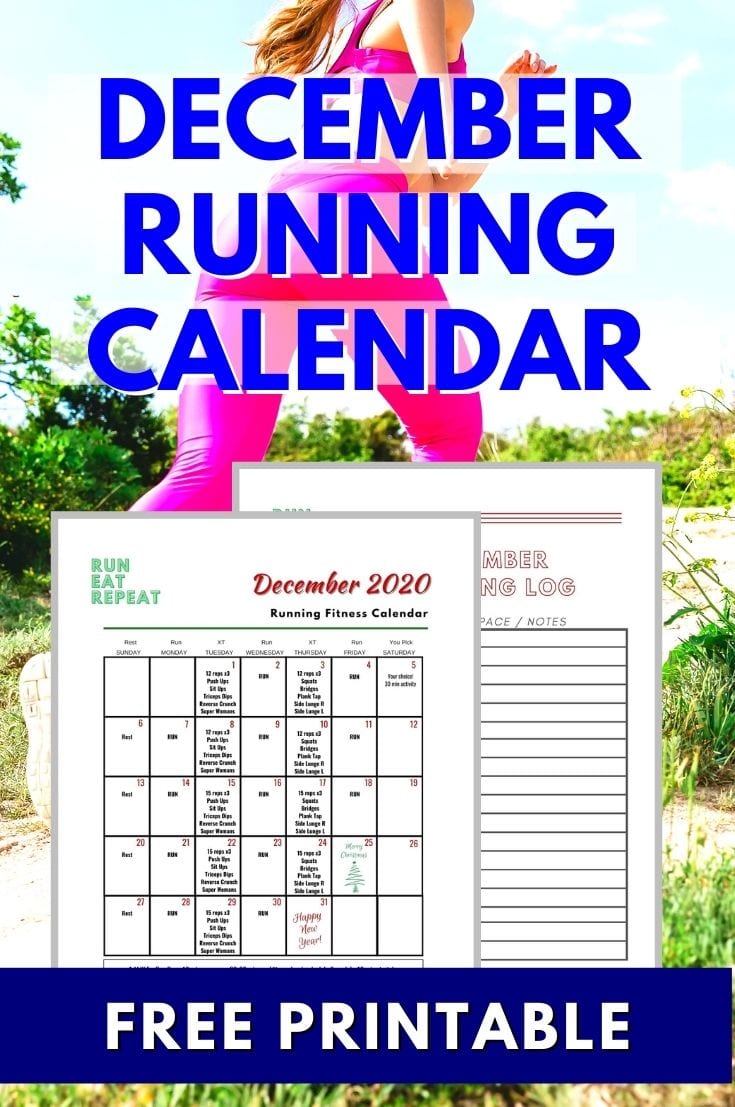 What you get when you join the December Running Challenge:
1. CALENDAR – with tips, reminders and workouts
2. RUNNING LOG – to track progress & stay accountable
3. Check-ins with Running Coach Monica on IG @RunEatRepeat and on www.RunEatRepeat.com – to keep you on track!
Want to Run Better, Faster, Stronger, Further?
The biggest challenge for most people who want to run – better, faster, further, etc =is that they fall off the wagon.
Consistency is everything! This December Running Calendar AND daily check-ins with me will help you stay accountable and motivated.
December Running Challenge Calendar Free Printable
Get the printable Running Calendar and Log by filling out the form on the BOTTOM OF THIS POST.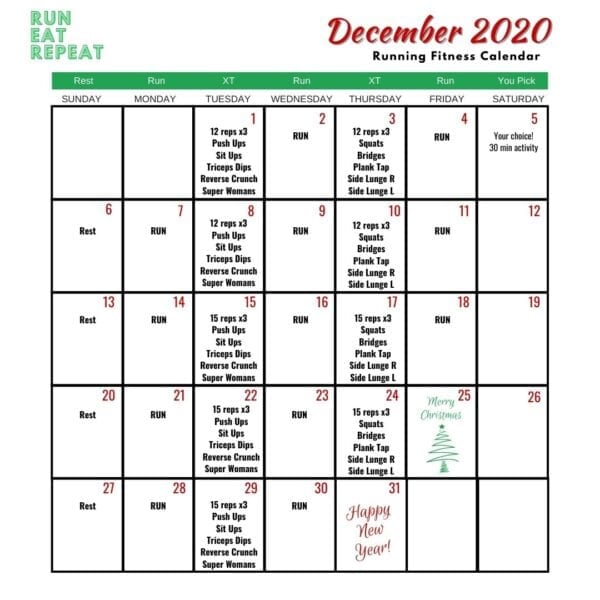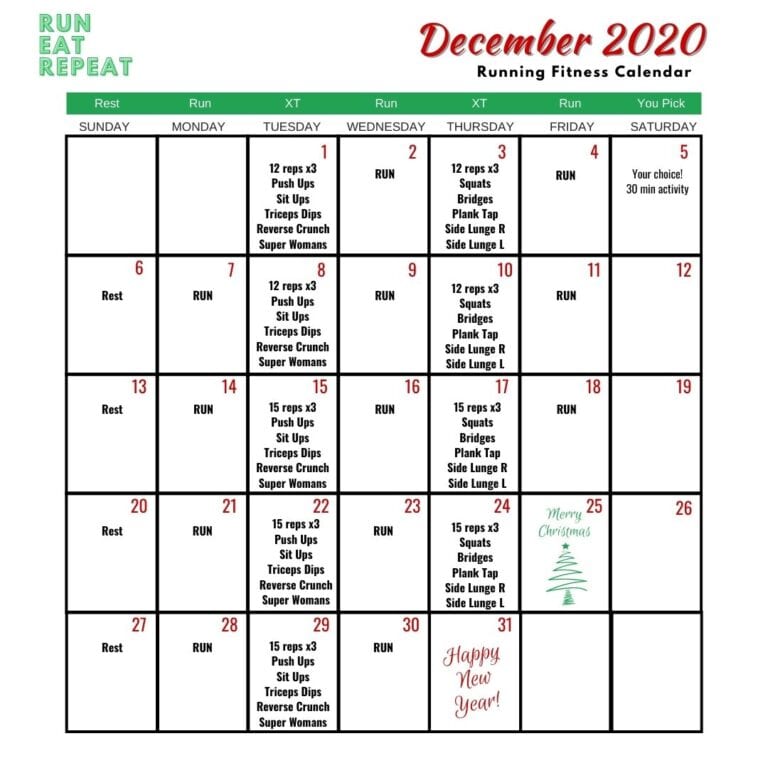 How to Follow the December Running Calendar:
This Running Fitness Calendar Features: 
3 Runs a Week

2 Strength Training Days

1 'You Choose' Day 

1 Rest Day
Running
Running = There are 3 days scheduled for running on this calendar, Monday, Wednesday and Friday. The calendar suggests running between 30 to 60 minutes, but that's up to you. You should run the time or distance that's appropriate for your current fitness, health, injury history and goals.
First assess where you are right now with your cardio fitness, your injury history, your overall health and your goals.
If you are coming off an injury or are new to running – Check with your physician for clearance before starting anything new.
To figure out how much you should run – ask yourself these questions:
Do you need clearance from your physician before starting a running program? [Always start there]
What's your current fitness level? Do you have a base? Have you been running 3 days a week for at least 30 minutes for 3 months recently? If you haven't been running often or consistently lately you must start off slow with a shorter run and consider doing Run/Walk intervals.
What's your goal?
This will help you figure out if you should focus on walking right now, do run/walk intervals or run more.
Running Days Tips: 
Run / Walk Intervals or Walking the whole time – is okay. Do what you can.

If your goal is fitness, health or weight loss aim for  >>>  30 minutes of running or Run/Walk – Monday / Wednesday / Friday. 

If you're very fit and an experienced runner – you choose your mileage or time to run based on your current fitness level. 

If you're currently training for a race – you can follow that plan and use this calendar for the strength workouts and reminder to check in.
New Runner or Returning Runner
If you're a new runner, coming back after time off or need some flexibility in your plan due to other factors – use the Run / Walk Strategy. Start off with shorter amounts of time to build up your endurance. Listen to your body and take breaks or push yourself based on what your body is feeling.
Note how long you run and how long you walk (usually in minutes) and how it feels. Use the blank spaces on the calendar to track your progress. This will give you extra insight on when you can run for longer intervals if you want to build that up.
Running Log Free Printable Comes with the Calendar
A Running Log can help you run faster, longer, better and hit your goals.
Use the Running Log to write down your runs and workouts. Write notes that will help you stay aware of your progress, challenges and wins. It can include things like:  a great running route that you want to go back to… running gear you wore that chafes in certain conditions… a tight area you want to stretch extra or get a massage to work out… etc.
And you can use training logs or journals to see what type of workouts help you get faster or run longer… how much mileage your body can take without injury… your fitness level at different times in the past and how those compare with your race times… and more.
This will help you see your progress, observe your body's signals (good or bad) and track your mileage and pace so you have more information to decide if you're ready to run more or run faster.
Strength Training
There are some body weight exercises on the calendar to get you started. Check back here each week. I'll share new workouts every Wednesday this month to give you more ideas!
*There's a super fun holiday themed workout coming soon!*
Your Choice
Saturdays are up to you. If you're training for a race – you probably have a long run on the schedule either Saturday or Sunday. This way you can follow along with the calendar and make it work for your training plan!
If you are new to running or don't want to run more than 3 days a week – just be active this day.
Things like cleaning, hiking, biking, dancing, etc – all can be great workout options.
Rest Day
Sundays are a required rest day. And you should also take additional rest days when your body needs them. This is why it's important to use the Running Log to track your workouts. It's a great tool to check in with your body and listen to every lil whisper.
If you are very sore, tired, feel injured, suspect something feels 'off' you should always stop and fully rest and recover before continuing. And always see a doctor if you feel injured or sick.
How do I get the December Calendar and Running Log?
If you're already on the Run Eat Repeat email list it should be in your inbox. Check your spam folder and if it's not there either.
Or fill out the form below to get it now!
Runner Resources:
Check out these links for more info and running tips mentioned in this post.
–– How to do the Run / Walk Strategy
— How to Use the RPE Chart to Run Faster 
— Best Gear to Run Safe at Night 
— The Ultimate Holiday Gift Guide for Runners 
ALWAYS check with your doctor before trying any new diet or exercise routine.