Hello! I ran the Lexus Lace Up Riverside Reindeer Run – half marathon this weekend. Here's the recap. If you're looking for a discount for the next race – scroll down to the bottom of this post!
And I hope that makes Santa happy enough to get me all the running gear of my dreams for Christmas! Let's talk about the race… yeah?
I ran the half marathon and my mom ran the 5K.
There's also a kid's race – this is definitely a family friendly event!
I've done this race before so I knew the course and I knew it's super festive! I love an excuse to dress up for a race so I was all about it! I was going to borrow a Sparkle Athletic skirt from my friend Kelly but I didn't have time after all and last minute had to tape a few things together and hope for the best.
I bought a dining chair cover from the 99 cent store to try and make it work as a skirt. I cut the top off and pinned it to stay around my waist. And I figured my running belt would help it stay on too.
It worked okay.
Half way through the race I suddenly felt like it was riding up in the back so I kept pulling at it and trying to re-adjust.
Well, that isn't fun and it's especially not fun to pull at your clothes when you're trying to run 13.1 miles. At one point I was pulling it down because I thought it had bunched up in the back and realized – nope.
I just pulled it completely under my butt. Fantastic.
I messed with it a bit to try and just get it to 'good enough' (which is my motto) and tried to ignore it for the rest of the race. I considered just taking it off all together but figured that would be more trouble.
Moral of the story: I need to get it together and not moon people during a race.
Now I'm on the naughty list. 
And I wore my fancy new Ugly Sweater Running Shoes from Brooks!!
(Note: These are the Brooks Revel Running Shoes. Holiday and Special Edition shoes may no longer be available.)
So many people dress up for this race! It's super fun and festive!!
Lace Up Riverside Half Marathon Race Course Review
The Lace Up Riverside Half Marathon Race Course and Recap:
It's a fairly quiet course with a lot of it on a bike / pedestrian trail. I would love to run here for training runs.
There are a few steep hills that I walked. When running is slower than just walking up a hill – I walk.
Running Tip: Fighting up a hill can sometimes fatigue you more than it's worth. Know yourself, your fitness and the course so you can plan when to walk and when to run. 
The Lexus Lace Up Race Series is well organized and has a lot of perks for runners.
They were giving out Santa hats or Reindeer Antlers when you got your bib!
There are food trucks, fancy water and a nice post-race party area. AND – FREE race photos.
(That would be the best part if it wasn't for the fact that I look like a sick kangaroo marching to its death in most of my pics.)
Let's see all the impressions I do while trying to run…
Free Race Photos from Riverside Half Marathon Reindeer Run
Runner trying to speed walk:
Runner pretending to play the drums:
Marching in place during Zumba class warm-up:
Reminding myself to add "Gloves" to my Christmas Wish List:
''
My impression of a depressed kangaroo with honey on their hands:
Runner auditioning for the marching band:
Or maybe I'm marching over to tell you that I really like this race series?!!
I feel like the Lace Up Race Series is put on my runners. By that I mean – organized and the perks are ones that runners really enjoy.
The fun, the food trucks,  the post race party, and pics – all the perks are runner and family friendly things we really love. 
Lexus Lace Up Reindeer Run
Riverside Half Marathon finish time: 1:50:32
I ran all 4 of the Lexus Lace Up Races in the series =
Irvine Half, Ventura Half, Palos Verdes Half and Riverside Half.
After the race I went to get a bonus medal for completing all of them.
And someone at the booth said to check at the booth right next to it…
As a total surprise I got another medal for finished 7 races in the Cal Half Series.
I didn't even know that was a thing!!?! Ha!
So I was asking a ton of questions because I wasn't familiar with them at all… It's the California Half and Full Marathon series – they partner up with different races all around the state.
There are different levels of challenges – 4 races, 7 races, 10 races, 15 races and the most you can do 20 races!!
California Half and Full Marathon Series
And I really love the Riverside Run medal!
I feel like this would completely work as a Christmas ornament.
And the best part of the whole thing…
Santa's there and the whole race is so festive and fun – it really gets me in the lil holiday spirit.
And that's my last race of the year!!
Now I need to figure out what's next! I want to start planning my race calendar for next year. I didn't really plan anything this year and I definitely didn't improve or chase down goals, which makes me a lil bummed at myself. The main thing is to move forward and get it done for the future.
Lace Up Riverside Reindeer Run Half Marathon and 5K Race Discount Code
Discount code: MONICA10
Use the discount code MONICA10 to save 10% on any Lace Up Race Series Half Marathon, Full, 10K or 5K race. The Riverside Holiday Race is Dec 8th! Register now with the coupon code – last call!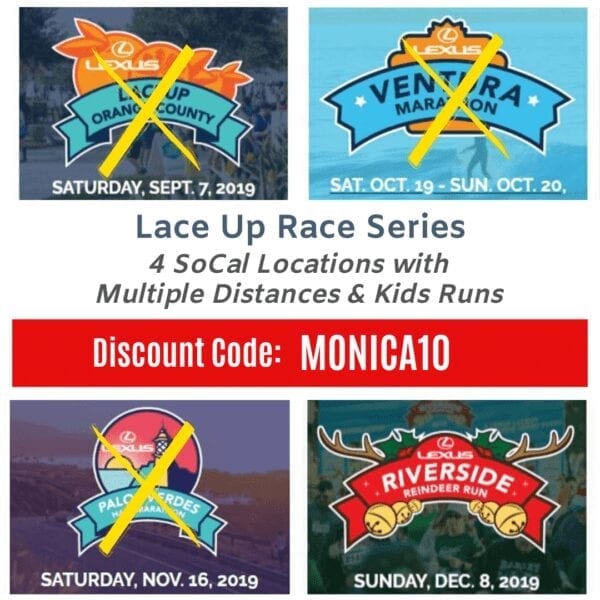 * Get more race discounts on the Race Discounts Page here * 
Question: Are you doing a holiday run or race?
You might also enjoy:
Half Marathon Race Morning Routine Video
Never Have I Ever Game for Runners
5 Reasons to Dress Up for Your Holiday Run