The BEST Running Books List – by an expert in all things reading. Today I have an amazing guest post by Christine from Bookishly Boisterous. She's passionate about literature and reviews books on her site. And when she's not reading she enjoys running too! So she's the perfect person to create a list of Must Read Running Books! These are some of the best books written by runners, about running and good listens on the run.
Chime in with your favorite running book in the comments! I mainly listen to books so I'll share links to how to buy or get the audio version of each suggestion.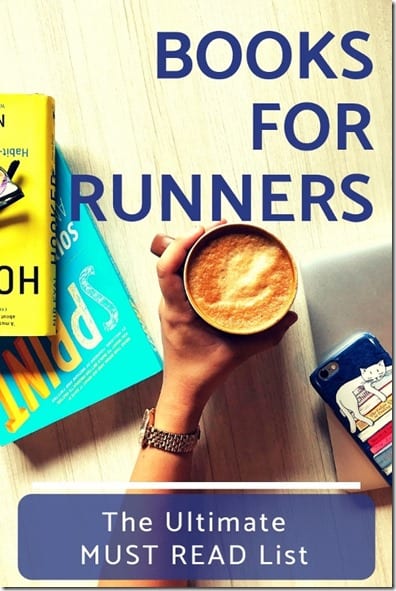 Best Books for Runners List with a Short Review
If we're going to be quite honest, I think I actually prefer reading about running that actually lacing up my shoes and pounding the pavement (or, in my case, the treadmill). Over the past ten or twelve years I've run fourteen half marathons, a handful of 5 and 10ks, and diligently get in three or four runs a week, and yet I still much rather stretch out on the couch learning from someone else than actually putting their words to use. And because of that I'm here to share some of the best running books I've read, leaving the actual running tips to Monica.
So whether you need inspiration from someone else's story, want to explore new running plans, or just need some new reading material for a holiday flight, I've got a few options for you:
The Best Running Books for Inspiration:
We've all read Born to Run by Christopher McDougall, right? If not, buy or download the insanely popular book that helped put the infamous barefoot running craze on the map, while also discussing trail running and ultramarathons. It was the first running book I ever read, hooking me to the genre immediately.
Deena Kastor's Let Your Mind Run is a fabulous memoir recalling the blood, sweat, and tears she put into becoming an Olympian. The time she spent training, mostly with men, to be a cross-country champion was especially fascinating and shows her incredibly determination. Kastor spends a lot of time discussing how she trained herself psychologically, as opposed to focusing mainly on the body (super important when coping with injuries).
I found myself channeling my inner-Kastor on a 10k I ran a month or so ago that I was not feeling it mentally or physically ("Come one, Christine, if Deena can run up a dirt hill in the rain with her male teammates nipping at her heels you can do this!")
In The Long Run: A Memoir of Life and Loss in Motion by Catriona Menzies-Pike uses running to help push through coping with the loss of her parents' deaths, while exploring her identity and women in running as a whole. I honestly didn't anticipate the historical component, but I actually learned quite a bit while being able to identify with her as an average runner who uses running as an awesome therapeutic option.
Running Man by Charlie Engle starts off with the author about to run the equivalent to Badlands around a prison track, since he wasn't able to attend the actual event. I know. Badlands. Prison. Tough stuff.
Charlie Engle is most known for the documentary he starred, Running the Sahara, where he did just that. Like him or love him, he accomplished some amazing running credentials and has had to overcome some serious personal demons.
The Best Running Books for Training Plans and Philosophies:
I'm a high school teacher, the mom of a four-year-old, and a classic over-extender (my to-do lists have subgroups, I kid you not). I also have some foot issues, so between my time-limitations and chronic sore feet, I simply cannot spend a million hours a month training. Because of this, I've always welcomed training plans and books that are realistic and efficient. I really learned a lot from Matt Fitzgerald's 80/20 Running: Run Stronger and Race Faster by Training Slower.
The basic theory is that we can run at a slower pace 80% of the time while going balls-to-the-wall the other 20%. He offers a great deal of research supporting this idea, as well as countless training options. While I didn't follow any of his plans completely, I did start adapting the philosophy and saw a definite increase in endurance and decrease in pain.
I also appreciate pretty much anything by Hal Higdon and Kara Goucher. Goucher's Running for Women is an awesome guide for beginners, focusing on different training options and how to handle problems that are unique to women, like menstruation and pregnancy (I also have her newest book, which is more like a goal-setting journal, but I haven't really dove into it yet).
Higdon's Marathon offers training plans for every level for every distance race- I consider it a solid instructional guide (he also wrote about his time at the Boston Marathon when the finish line was bombed, in 4:09:43 Boston Through the Eyes of the Runners, which definitely made me tear up a few times).
Extra Credit:
A few more just to finish up! If you're a slower runner like me but still keep signing up for races, you will adore Confession of an Unlikely Runner: A Guide to Racing and Obstacle Courses for the Averagely Fit and Halfway Dedicated by Dana Ayers. This slim volume is a collection of humorous anecdotes of her time running in Washington DC and will make you feel good about running, no matter what your times are.
Given my love of literature, I could barely contain my excitement several years ago when I saw that Haruki Murakami had written a memoir about his time running (amazing writer with a book editor salary and speedy runner? My hero!). What I Talk About When I Talk About Running discusses how his two passions intertwine and his discipline at both.
I hesitated about this last one, since it's maybe not wonderfully written and can be criticized for many reasons, but it was just so fascinating I had to. I listened to this memoir a few months ago, not familiar with the story of Suzy Favor Hamilton, Olympic runner turned escort.
The first half of the Fast Girl  is definitely about how she became an athlete… while the second about her other career. It's definitely PG-13, but her discussion of competition and obsession is definitely a trap that runners can fall into if they're not careful.
And if you don't want to read about running, I highly suggest David Sedaris' Calypso, There There by Tommy Orange, or The Incendiaries by R.O. Kwan.
_ _ _
Our running book reviewer and literature blogger, Christine…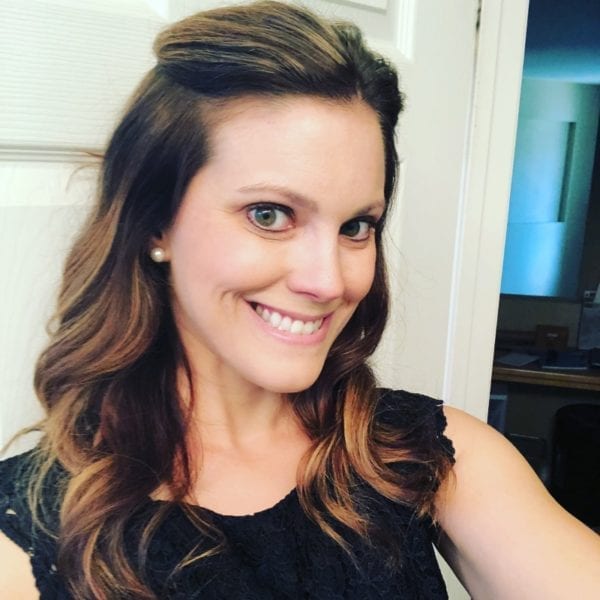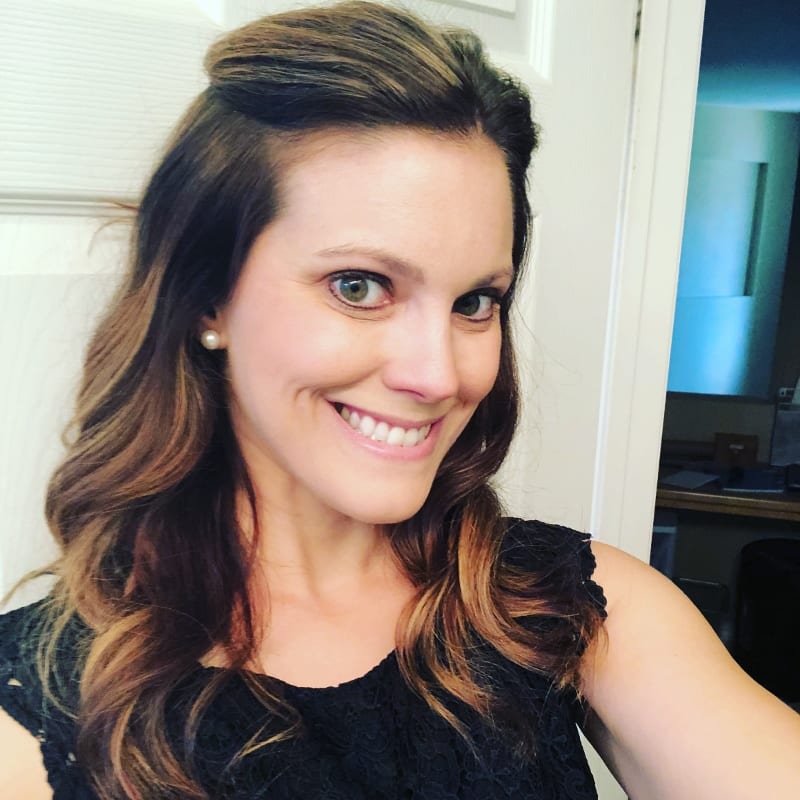 Check out her other book suggestions and reviews on http://bookishlyboisterous.blogspot.com/
All these books are linked in the Run Eat Repeat Amazon store – check out the Running Book List to see them!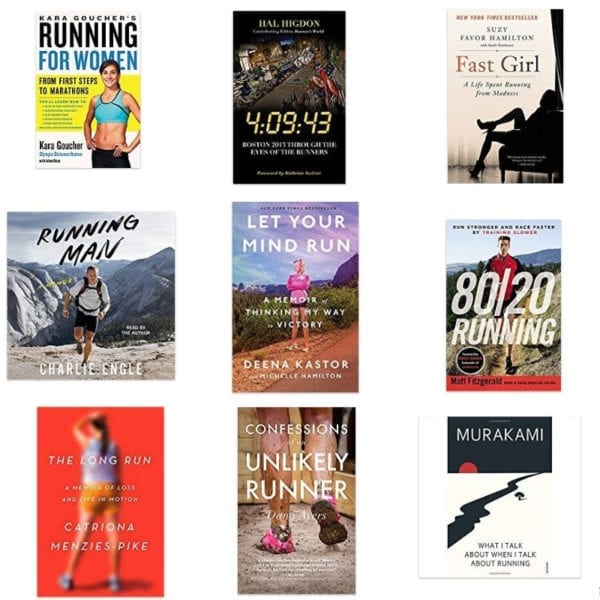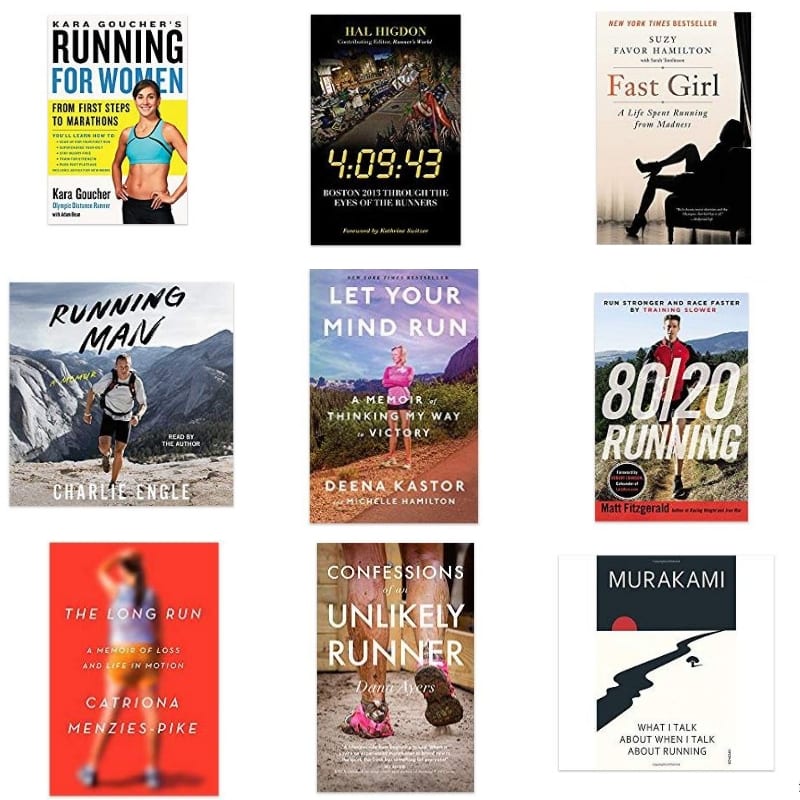 Question: What's your all time favorite Running Book?
(Did you read it or listen to it?)
Keep Going with These…