Hello!! I ran the OC Half Marathon yesterday and have a ton of fun to share from the race… What are you doing today? Did you race this weekend? Check in on the Run Eat Repeat Instagram now!
I have 13 highlights from my race to share…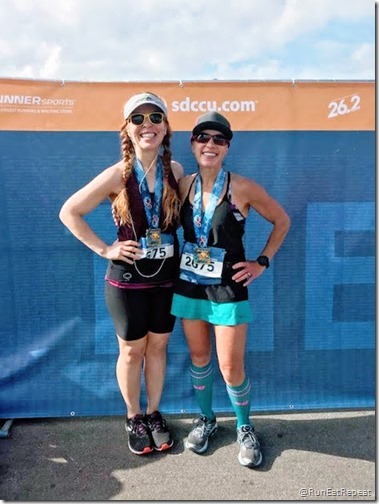 Highlights from the OC Half Marathon:
OC Half Marathon finish time: 2:01:46 average pace – 9:18

Last year my time was 1:45:07 average pace – 8:02 I was a lot slower this year for a few reasons…

Taking time off from running to freeze my eggs last month and the recovery following that.

I'm training for a full marathon – I wanted to add a few miles to the end of the race so I needed to pace myself for more.

I stopped 2 times during the race [explained below]

I ran the race with Kristin @Stuftmama and she is building back up and a lil slower right now [she's fast but hasn't run a full marathon in 3 years]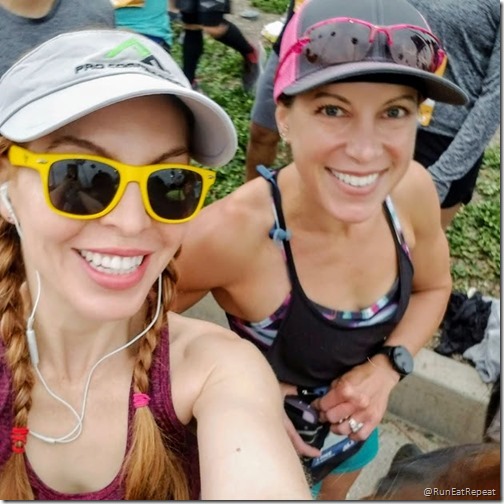 7.
7.  I live in Orange County and saw a ton of familiar faces!! Love that! Pam (and guest on the RER podcast) ran and it was just her birthday!! I also saw a few Sole Runners… Natalia pacing… Sheila running with Kids Rock and Kelly dressed in the cutest Sparkle gear! 
8.  My first stop during the race was to take a pic with the Star Wars guys!
9.  A few miles later we ran by some houses and I noticed a woman holding a cute lil baby… I thought she looked familiar and told Kristin I think I know her… wait, I think she's Kate Casey, host of the Kate Casey podcast.
So I insisted we go back to ask. Yep – it was her! Her show is about reality TV if ya wanna check it out. Her website is Love and Knuckles … but if you want to check out the podcast just search her name in your favorite pod app.
10.  After the race Kristin and I didn't feel like running more – it was getting hot and for some reason we both didn't feel great. And I was worried Diego should be let out [ I'm going to have to get a pup sitter for long runs and full marathons soon!]. So we went to my place, let Diego out and then ran 2 more miles.
Starting line: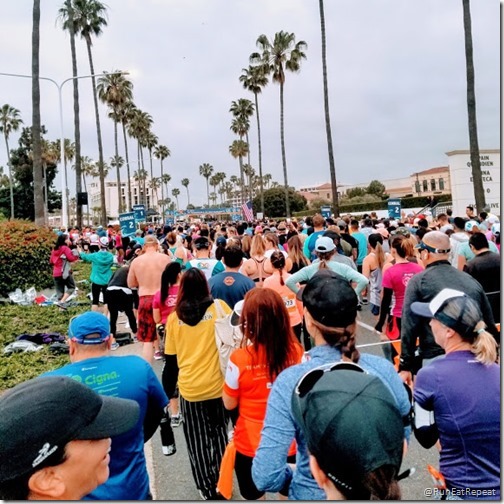 OC Half Marathon run and done in 2:01:46…
I saw Charlotte at the finish line too! She was volunteering at the finish. She's @ccclbc on the gram.
11. Total mileage for Sunday – 15.6 miles. It was slow, but it's the first time I've ever made myself run extra after a race so I'm proud of myself!!
12. I thought I had never run extra mileage before or after a race but I just remembered I have!! A few years ago I ran the Duxberry Half Marathon with Tina from @carrotsncake – she was training for Boston and needed to run 20 miles for her last long run.
We ran the extra 7 miles before the half marathon. I think that's the way to go – run it before if you have extra mileage. So I have done that! I've added extra miles before just not after (which is 100% the way to go.)
Diego and Medal Monday…
13. Want to run a race?
Check out these Race Discounts posts with a list of all the latest discount codes for upcoming races!!
Race Discounts – Revel Marathon / Half Marathon and Renegade Race Series
Lexus Lace Up Race Series Discount Code – MONICA10