Hello! I get a ton of questions in my Instagram Stories on everything from running to nutrition to why I'm so loud (or similar random questions). But Insta Stories only last 24 hours… and they're video. So you might miss it OR some people don't like to watch 88 videos of me way too excited to have a friend on the internet ask me a question. That's why I'm sharing a short run down of all the questions I got each week.
The questions are a mix of everything so I can't really organize them by category. But at least you don't have to watch 1 hour's worth of videos to find your question?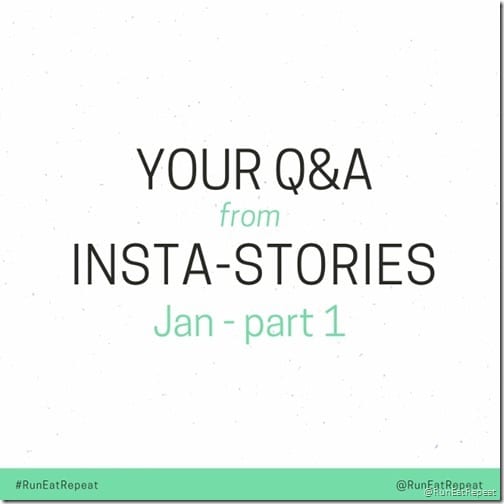 What's your favorite pizza topping?
RER: mushrooms, tomatoes, onions, bell peppers, basil, garlic
Favorite Taco Tuesday Place?
RER: I was going to a place near my bf but we're not hanging out anymore so I need to find a new one…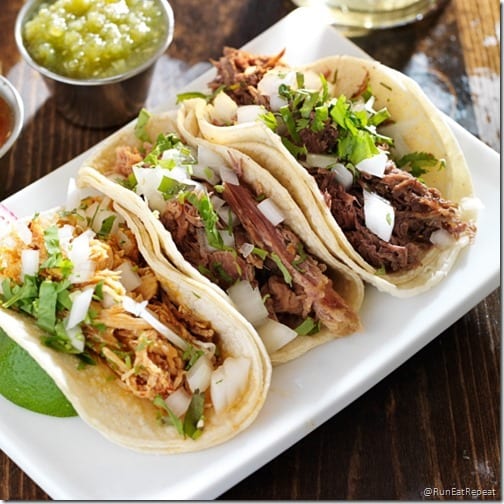 What's the longest race you've run?
RER: I ran the Born to Run Ultra Marathon 50K – it's about 31 miles
Any plans for a full marathon beginner plan? Pretty please??
RER: Yes!
How's puppy potty and crate training going? I'm trying to decide when we want a puppy…
RER: A little rough. I had a hard time with Diego one morning – he got his mouth stuck on it. I think it mainly scared me because I had a dog get hurt on a fence before and triggered some PTSD situation. And after that I kind of quit…
Will you be doing another Run Bet Challenge soon?
RER: I'm working on it! I put a call out on Instagram for your feedback on it.
Do you want it just for accountability? Do you want it to be more challenging??
If you couldn't run for one year, what sport would you choose to stay active?
RER: Probably tennis… or maybe soccer!
On a scale of 1 to 10… how good of a boy is Diego? 12 or 13??
RER: Sometimes he's a super good boy! And sometimes we have communication problems (he doesn't speak English) so we're working on things.
How do you carb-load for a half marathon? I'm in Hawaii and will be doing the Hapalua in April.
RER: I keep it the same as my long runs during training.
Here's some information on what I eat before a race or run…
What to Eat While Training for a Half Marathon podcast 71
What to Eat DURING a Run or Race podcast 72 Fuel Series
What to Eat Before a Run or Race podcast 73 Fuel Series
And check out my Fueling Cheat Sheet for even more info on this. (It's a free pdf with tips)
How did you pick Diego's name?
RER: I don't know! I made a list of dog names – specifically good names for red dogs, and I asked my favorite people for their thoughts on it. And I wanted to wait until I met him to pick a name. I ended up thinking about a few names not on the list and went with a surprise addition to the list! Diego Redvera is named after the Mexican artist Diego Rivera.
You can follow Diego Redvera on Instagram
Diego and I are looking into dancing lessons. Check out my IG stories under Diego if you want to see that.
If you want to watch the video answers to these questions – they're saved in my highlights on Instagram under Jan Q&A
In other news…
Today is National Peanut Butter Day! Here's a round up of a few of my favorite PB recipes…
3 Ingredient Peanut Butter Cookies